News
Liberal Daryn Kagan, 54, Married Twice in 2012: A Wedding Tale of Two Different Families- Conservative Single Father Husband
If you are unmarried and lose your job at the age of 40, you have to realize that you don't have too many options left. Some people may get depressed in such a case, and some may get crazy- but not Daryn Kagan. Like her, there are very few who start over when things fall apart. 
Seems like it wasn't that long ago that the big boss at CNN called me into his office.  I thought he was calling me in to tell me what a great job I had done on breaking news that day. Turns out, he called me in to tell me that after more than 12 years, CNN would not be renewing my contract.  I never asked, "Why?"  Something deep down told me this was about something bigger than just a boss who didn't appreciate my talent and skills. It was a really hard time for me–out of work, single, no kids. Certainly, not the life I had dreamed of for myself. I read in one of the many inspirational books that I was clinging to a phrase that really stuck with me."Create what you seek," it said. I certainly was seeking to look for anything uplifting, to give me hope, to see how folks overcome their obstacles. That's why I created this website where every story fits the theme, "Show The World What's Possible!" I figured that traditional news is important. It's vital to be informed. It's just as important to be inspired. I know focusing on this content has helped me. In the years since leaving CNN, my career is back on track. Most joyously, I've gotten married for the first time and have the family I've always dreamed of having. Along the way, my husband discovered this geeky, amazing hobby of collecting frequent flyer miles without flying. It means we are able to travel around the world in luxury for mere pennies.So many folks have asked him how he does it, I've now created a page where he shares many of his secrets and tips.Thanks for hanging out with me here and showing the world what's possible!If you like this kind of content, please spread the word.If you want me to create content for your company, book me for a speech or corporate event, or just say, "Hey!," you can always find me at Daryn@DarynKagan.com.
If you are a regular viewer of DarynKagan.com, you probably know about Daryn Kagan. A former news anchor of "CNN Live Today," "Eastern Time" and "People in the News," Daryn has been writing inspiring stories on the website since 2006.
From her articles on the site, you can presume that she is a bold woman and also a motivator. Let's compare your assumption to the reality.
Currently working for Tree Swan Publishing, RLTV and Cox Newspapers, Daryn, aged 53, got married at the age of 49. Daryn got married twice to "Mr. Summerfest" ( they met for the first time at Summer Festival) in 2012. 
Wedding, Married, and Husband:
Why did they wed twice? How about we do a reversal to how they met. 
When she first met Mr. Summerfest, he was a single father raising his 11-year-old daughter. You may not be aware that Daryn likewise has an adopted sister from the Big Brothers/Big Sisters program. 
Later when  Mr. Summerfest house was sold, they were in a dilemma of whether to combine their household or not. There wasn't enough time for them to get married in just three weeks.
Plus, they didn't want to get married right away. Mainly, Daryn wanted to see their respective families tuning up before starting a new life.  Furthermore,  they had experienced different upbringing. Daryn was raised in a liberal family whereas M.r. Summerfest was raised in a conservative religious family.  
Moreover, both M.r. Summerfest and Daryn were also conscious about how their small ones would react to their wedding decision. So, they didn't want to rush the wedding.
Listening to their wedding dilemma, Daryn's  liberal mother had said:
"Can't you just live together?"
On the other hand, M.r. Summerfest family wanted a big wedding. Consequently, Mr. Sumemrfest came up with the idea of enjoying two weddings, so as to respect their diverse family.
Daryn welcomed the idea, as for her, the first small wedding was a chance to strengthen the bonding between them and the two kids. Furthermore, they married for the second time following the first wedding. The second wedding was a big one - where everyone was invited.
Their first wedding was held by the waterfall in North Carolina in the presence of just the two girls and a photographer.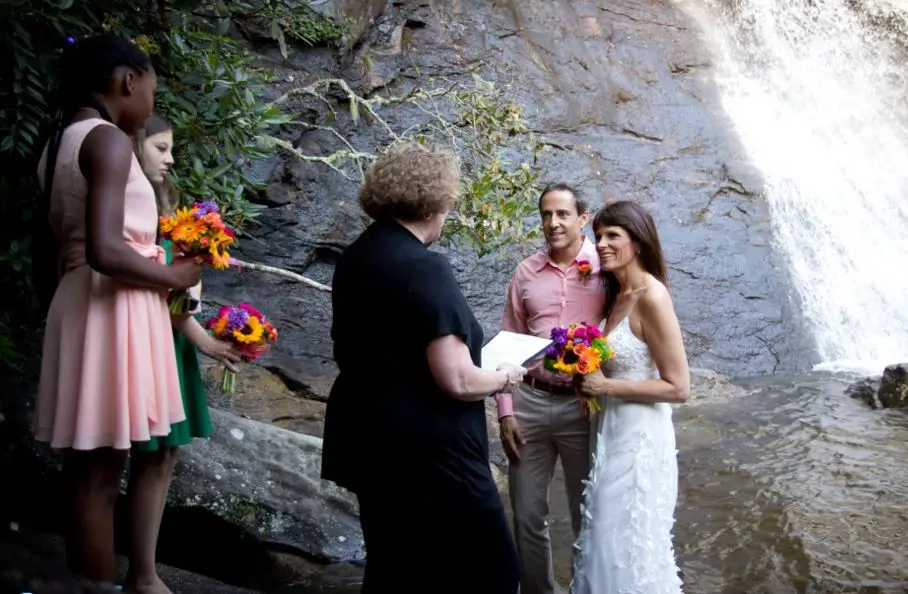 Caption: Their first wedding was held by the waterfall in North Carolina in the presence of just the two girls and a photographer.
Source: cmgdigital.com
After deciding to get married to M.r. Summerfest, Daryn first went to her the-then fiancée's daughter's room and asked if she could adopt her. She said to the 11 years old girl:
"This isn't about replacing your mom. The way I see it, your mom did something I couldn't. She gave birth to you. Could you imagine if I had done that? Your mom started the job of raising you. I know if I had started that amazing job and had to leave too soon, my biggest wish from heaven would be that someone would come along and love you and rise like you were her own. That's how I feel, and that's what I want to do."
Isn't that beautiful? You can guess what the answer of that little girl was.
Author of "Hope Possible!", Daryn has been motivating numerous people through various means. She has been discussing her life experience such as "Older Brides," "Adoption," "Not Changing your name when you marry" on her website. She has also been talking about several life issues on Twitter. 
Despite her busy career, she has always maintained her family-work life. She has been able to give back something to the people despite being discouraged in her career. She has set an example for those who get dispirited after a small fall in their life. 
Caption: Daryn introduces her book 'What's possible.'
Kagan's life after CNN
After CBB told her contract wasn't being renewed, Daryn was distraught. This felt like a kick to her, especially after more than 20 years of success as a Journalist in Mainstream media. The ex-face of CNN decided News Journalism wasn't the career for her at all, so she decided to get a new take on life. Since then, she has succeeded, but not in an orthodox, career based sense. 
On live television, Kagan talked about her experience since getting away from CNN, and she was quite ecstatic to share what she has attained in the recent years and going as far as saying
Hope is something that I have been holding on to for a long time.  My story and my life has pretty much reinvented in the last few years.
Since then Kagan wrote about failed romances on her syndicated column named 'What's Possible,' got married and received a warm family with a loving husband and caring children. We sincerely wish for here happiness henceforth!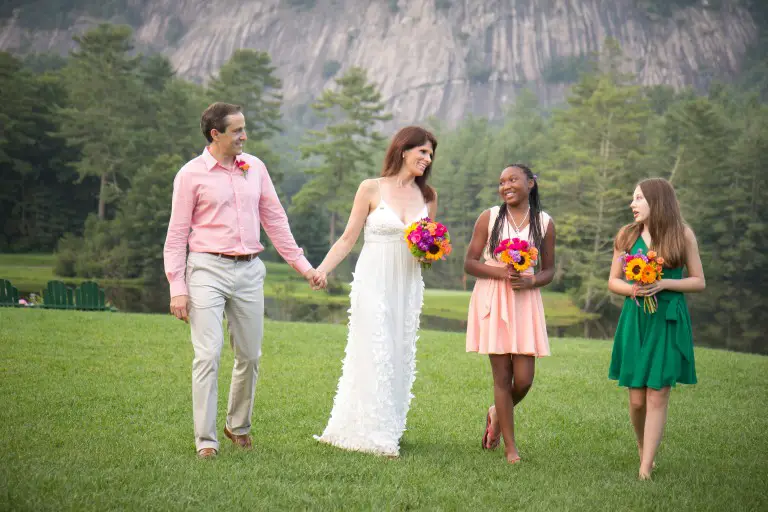 Caption: Daryn Kagan with her new family.
Source: inspiremedia360.com