Trending
Luka Sabbat Flaunts His Girlfriend! Perfect Dating Affair At Such Young Age
Young lovers can never get enough of themselves. They love to hang around in each other's company as much as possible. It is no different for young Luka Sabbat, who loves his girlfriend and enjoys her company. So when he is not busy working, he is engrossed with his beloved.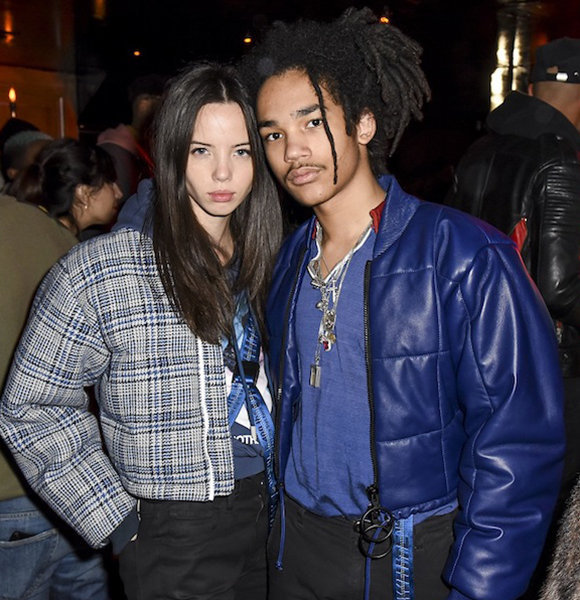 Young lovers can never get enough of themselves.
 It is no different for young Luka Sabbat, who loves his girlfriend and enjoys her company. So, when he is not busy working, he is engrossed with his beloved. 
Read here to find out more about Luka Sabbat and his bae. 
Grow-insh star Sabbath is dating  Costa Rican fellow model and influencer, Adriana Mora, since they met at a Prada runway show. 
When Luka is not busy with his friends Kanye West and Virgil Abloh, he can be seen walking and driving around, "flaunting his Mora," as he calls girlfriend Adriana Mora, to the delight of his trailing fans and stalking paparazzi. 
Like her boyfriend, Adriana is a successful model. She has worked in renowned fashion cities such as New York, Paris, Milan, and Tokyo.
Last September 2016, they were all lovey-dovey, walking hand-in-hand and going somewhere. 
Caption: Luka Sabbat can make all the ladies jealous with a stunning girlfriend in tow. They look happy together.
As much as the Young Gun model likes to show off his girlfriend on the streets, he also loves to flaunt her on his Twitter posts. 
He uploaded a tweet on May 24, 2016, writing 'Me being antisocial and only talking to my girlfriend at the party':
Again, on August 12, 2016, he praised Adriana's beauty via the tweet. 
Later, on March 14, 2017, Mora's boyfriend Luka was happy to compare his bae hotness on social media. 
Likewise, Luka was never tired of complementing his girlfriend during his interview with sense.com. He said,
She's the best. Just her energy. She has her own opinions and she's super unbiased. If something is garbage, she's gonna tell me it's garbage, even if I love it. She's super creative. She has a really good eye, really good taste in general. She grew up in Costa Rica, away from fashion. Now she knows her shit. She has the best intentions, the most good-hearted person. My whole Hot Mess collection is all stuff I want to see her wearing. A lot of things I do are inspired by her, or based on her. I guess she's my muse.
It is not just Luka Sabbat flaunting his girlfriend, Adriana also reciprocates her love for him on social media.
On August 10, 2017, the famous model shared a picture of them in a limo, writing "First Lady on the way."
And on November 2, 2017, Mora wrote "not so spooky" about her bae's nip expose.
Of course, the duo isn't afraid to show their love and care for each other on social media. 
Short wiki like bio of Luka Sabbat
New York native Luka Sabbat was born on November 26, 1997, in New York, to creative parents, a fashion stylist mother and fashion designer father. He grew up in Paris and New York. 
Already a fast-rising star in the world of high fashion, Luka Sabbat stands tall with the height of 5 feet and 10 inches and has net-worth in millions.
Sabbat, at a young age, is a social media sensation with a large fan base. He has garnered quick and increment success as an influential media personality, A-list model, actor, and creative entrepreneur.
When Luka was just 17, the famous style writer, Nick Grant, ranked him 15th among the "25 New Young Leaders of Style."
Started His Career
Sabbat began his showbiz career on the fast lanes of modeling. However, he first started out as an intern in a store named "The Hundred."
Luka's first fashion shoot was a Jimi Hendrix inspired Vogue's runway show. 
Importantly, Sabbath has featured in ad campaigns for Hood by Air, Stussy, VFiles, and others. Nevertheless, Luka has walked on the ramp for Kanye West's Adidas collection. 
Also, numerous famous magazines such as OUT Magazine, ASSK Paris, Alfie, Mass Appeal, and Complex, have featured the rising star.
In television, fans can see Luka in ABC's comedy series Grown-ish. Furthermore, Sabbath is also known for his Nordstrom and Forbes interviews, in which he has talked about his creative company "Hot Mess" and its future.
Brand Name
Luka's brand name is in huge demand in the states.
John Jannuzzi, the United States deputy editor of Twitter Moments, has offered the following explanation for his quick success.
"He represents a life a lot of people want, and that's important to advertisers. I wish I was that kid."
Whether by plain luck, a quirky twist of fate, or by his hard-work and personality, Luka Sabbat, has made it big, big, much bigger than his creative parents.
In upcoming years, Luka is looking forward to more fashion shows, a furniture collection, movies work, more fashion books, and increment in overall projects.