News
NBA Star Luke Kennard's Girlfriend Savannah Chrisley Opens Up About The Split! Break-Up Couldn't Be More Lucid
NBA Star, Luke Kennard's former girlfriend Savannah Chrisley opened up about their break-up in a candid chat with E!'s Daily Pop on Wednesday, November 1.
Caption: Luke Kennard's former girlfriend Savannah Chrisley opens up on their break-up.
Video Credit: E! News
In the interview, Savannah shared that she is over the break-up with Luke. She divulged,
"Obviously, any breakup you go through, it's going to be hard, especially when it's in the public eye and people are watching. I love putting things on social media, so it was all over social media. That's my fault at that point, but I'm great today."
She added,
"I mean, you live and you learn. I've learned a lot of things that I don't want and that's what relationships are for. You date people to figure out what you want and don't want, and thankfully, I dodged a bullet on the last one."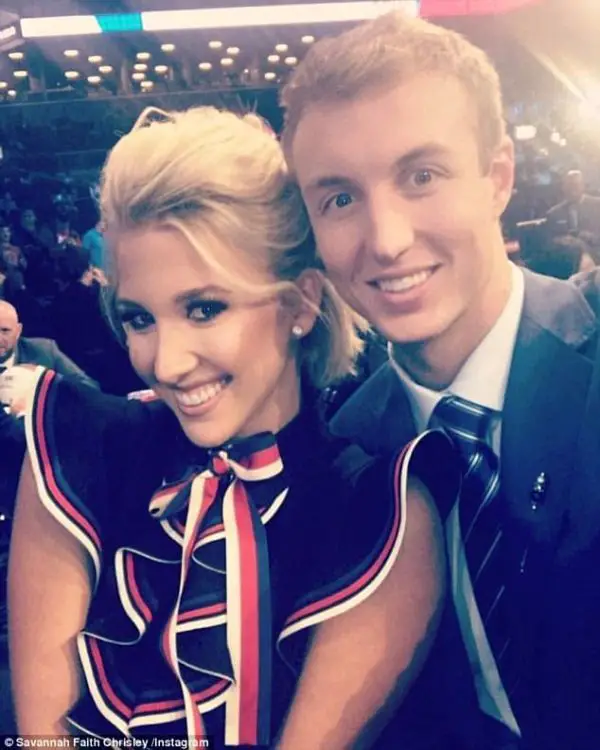 Caption: Luke Kennard and girlfriend Savannah Chrisley split after four months of dating.
Photo Credit: Daily Mail
Luke and his ex-girlfriend, Savannah suffered a split after a whirlwind romance of 4 months in August 2017. Chrisley released a statement, stating her reason for the break-up that said,
"The last 4 months I've been dating Luke have been great but as a young woman of faith I made the decision that with where Luke and I both are in our careers, it was best to part as friends rather than deal with the pressures of wondering if you are the only one. I was brought up to know my worth. I'm 20 now and so excited to live my life as beautifully as God intended. I will forever love the Kennard family."
Luke and Savannah made their dating affair public with an announcement in June 2017, when NBA player, Luke was drafted from Duke to Detriot Piston via Instagram. The caption read,
"Yep y'all…he's my guy could not be more proud of him!! Thank you for choosing me @lukekennard5," "#myboyfriendishot."
Sorry for those who want to have a look at the announcement, as Savannah has deleted the post!
Moreover, back in August, Luke went on a vacation with Savannah for her birthday to the Cayman Islands and was doting on her. During the vacation, he showered Savannah with luxe gifts, including a Cartier Love bracelet. 
Before dating Luke, Savannah was dating her longtime boyfriend, Blaire Hanks, with whom she split in January 2017 after two years of relationship.
It's only Savannah who came forward and spoke on their break-up, as Luke is yet to make any statements on the matter.