News
Lynn Bowles Takes Leave From Radio 2 After 18 Years of Service
Radio 2 Loses a Gem!
Veteran Travel Presenter Lynn Bowles announced her leave from Radio 2 live on air. The presenter will be taking the leave just before Easter on 29th March 2018, after 18 years of service.
Lynn's leave from the station comes with her decision of retirement from the national radio.
Announcing her leave from the station earlier with Ken Bruce, she stated:
"I have a small announcement to make, I'm afraid I'm going to be leaving Radio 2."
Despite her leave from Radio 2, Lynn will present her Sunday afternoon show on BBC Radio Wales.
Lynn, who joined Radio 2 back in 2000, stated in her announcement:
After 18 long years of my alarm clock waking me at 4am, it's time to destroy it with some heavy machinery.
Stating about her partner and friend Ken Bruce, she added:
During my time at BBC Radio 2 I've done my best to make Ken Bruce acceptable to polite society. I'm not entirely sure I have been successful in my endeavours.
Moreover, she stated:
"Working with Sir Terry Wogan was a joy. I was inducted into the practice of eating curries and full Christmas dinners early in the mornings. Luckily for me the madness continued when Chris Evans took over the Breakfast Show. I'd like to thank Radio 2 and all the fabulously informative motorists and truckers who have allowed me to do my bit trying to keep traffic moving around the UK."
BBC Radio 2 expressed its sadness on Lynn's decision to leave Radio 2 through its official Twitter account.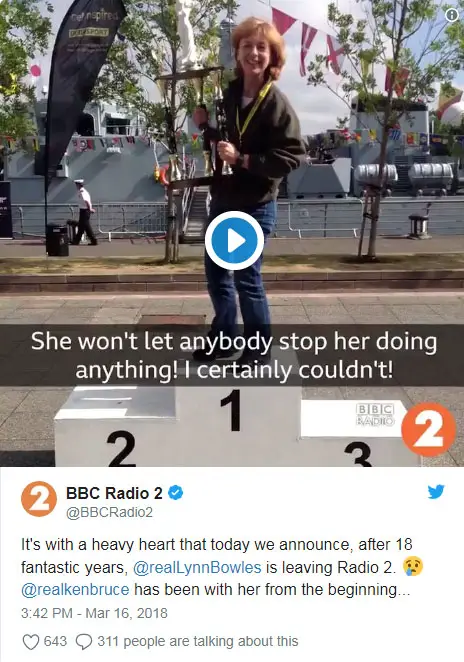 Photo: BBC Radio 2's Official Twitter
Similarly, Ken Bruce, who was already emotional on the announcement, paid his tribute to Bowles through his Twitter, stating it was indeed "a sad day for us all".
Sharing a tweet on her own feed, Lynn expressed:
"There is not enough space here to say everything I would wish, Apart, of course, from my debt of gratitude to the BBC and all those with whom I have worked."
We should respect Lynn's decision of retirement from the national radio, but her absence will be sorely felt in Radio 2 by the team and mostly by her colleague, Ken Bruce!