News
Married in 1999, 'Money Honey' Maria Bartiromo With her Investor Husband. Her Net Worth and Divorce Controversy
Does the name Maria Bartiromo ring any bells? If not, you must know that  Maria was the first woman to report from the floor of New York Stock Exchange. 
Known as "Money Honey," Maria is currently working as an anchor of "Mornings with Maria" and "Sunday Morning Futures with Maria Bartiromo" of Fox News Channel. She is regarded as one of the hardworking television personalities.
Former  "Squawk Box" anchor  Kyra joined the financial reporting business during the times when people thought that being a financial specialist/ reporter of New York Stock Exchange is somewhat a boys' club thing. 
However, dedicated Maria remained unaffected by such prejudice and became one of the top journalists in the country.
If you want, she can be your motivational figure as well. Her piece of advice to the women who are just starting out in the business was:
"My first piece of advice is you have to love what you do. I would try as much as you can to take money out of the equation. Don't look for a career expecting to get rich overnight. You must love what you do and you'll be able to work really hard and possibly be in the right place at the right time to get a little luck."
Her Married Life and Husband:
Maria Bortimoro got married to Jonathan Steinberg in 1999. Her husband is the Founder President and Chief Executive Officer of "Wisdom Tree Investment." Jonathan is the son of Saul Steinberg, Chief Executive of Reliance Group Holdings. His father was known as "Early Corporate Raider." 
After their marriage, she got the nickname of "Econo Babe." "Wisdom Tree Investment" has an asset of $60 billion, and Maria enjoys a staggering net worth of 22 million US dollars
When they got married, Jonathan was 34 years old, and Maria was 31. Though they have been married for 17 years now, they do not have any children. As both husband and wife are "workaholic," it might be possible that they never pondered about having a child.
Divorce Controversy
In 2013, Maria was named as a potential witness in the divorce proceedings of Todd Thompson, an ex-Citigroup executive, and his wife, Melissa. Tabloids then reported about the one-sided fascination of Todd Thompson towards Maria. In 2007, Todd took Maria in his private jet just to spend more time with her. By doing so, he neglected other bankers, who had planned to travel with him to an event, which host was Maria. Many have thought the "Tod-Maria Jet incident" as the cause of the divorce.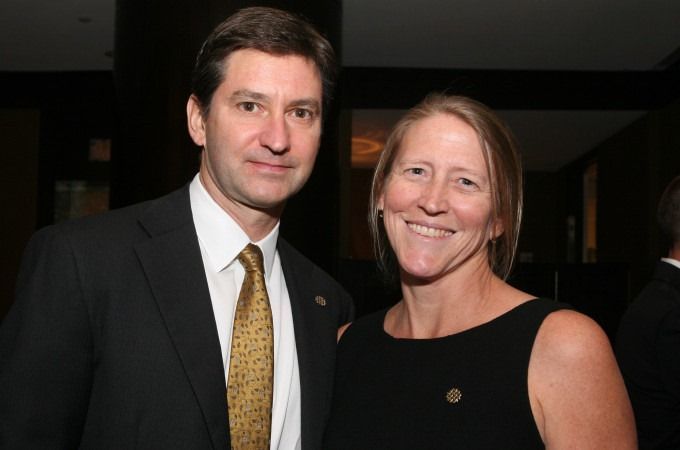 Caption: Melissa Thompson with Todd Thompson
Source: divorcedebbie.com
But Todd's other relationship also came in the limelight later in 2013, which might have led to the divorce of Todd and Melissa. Though it's obscure what might be the real cause for the divorce, the divorce controversies surrounding Todd and Melissa certainly dragged  Maria into the headlines.
Be that as it may, Jonathan and Maria are known as a happily married couple. When asked about what she likes to do for fun in an interview in 2014, she said:
For fun? I like to exercise. I do yoga. I love hiking and walking. We recently bought a house on the beach near the Hamptons, and we walk on the beach all the time, my husband and I.
A demonstration of Maria Bartimono-live
In recent news when it was revealed that 3 Muslim IT personnel accessed Congress people's computer networks without authorization, Maria had a lot to say.  Maria seemed quite aggressive during the whole segment, and she had full right to be so, considering the traces of this IT personnel goes back deep and has been even assumed to be linked to Obama. A video of the segment can be previewed below:
Just like this, Maria has proved why she the title of  'Money Honey' and why she has received multiple awards and recognition such as Coalition of Italo-American Associations' Excellence in Broadcast Journalism Award in 1997; Lincoln Statue Award, presented by the Union League of Philadelphia in 2004; Gracie Award, for Outstanding Documentary, in 2008; Emmy Award for Outstanding Coverage of A Breaking News Story in 2008 and Emmy Award for Outstanding Business and Economic Reporting, in 2009 as well as the listed as one of Financial Times 50 People Who Shaped the Decade in 2009.