Trending
Millionaire Larry Kudlow On Par With Mega-Rich Donald Trump. Also, Discover His CNBC's Salary And Net Worth
You probably know about CNBC's veteran journalist Larry Kudlow from "The Kudlow Report". You might have seen his inclination towards presumptive Presidential nominee of Republican Party, Donald Trump. Larry has supported Trump's tax-cut and immigration plan. But do you know he was against Trump's policy until August, 2015?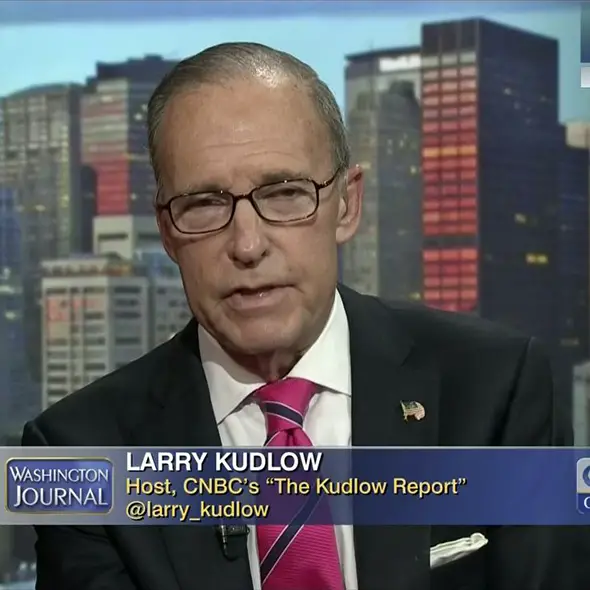 You probably know CNBC's veteran journalist Larry Kudlow from "The Kudlow Report." You might have seen his inclination towards the presumptive Republican nominee Donald Trump. If you don't know, Larry supports Trump's tax-cut and immigration plan. But do yo know that he was against Trump's policy until August 2015?
Caption: Larry Kudlow's views on Donald Trump's economic plan. 
Conservative commentator Larry had attacked Trump in August 2015, saying his economic plan will be a threat to the world economy. In May 11 edition of Politico, National Review's Jonah Goldberg told about Larry's flip-flop:
 In August, Larry Kudlow attacked Trump, focusing on what they called Trump's "Fortress America platform." His trade policies threaten the global economic order, they warned. "We can't help wondering whether the recent panic in world financial markets is in part a result of the Trump assault on free trade," they mused. As for Trump's immigration policies, they could "hardly be further from the Reagan vision of America as a 'shining city on a hill.'"

Months later, as Trump rose in the polls, Kudlow and Moore joined the ranks of Trump's biggest boosters -- and not because Trump changed his views. On the contrary, Kudlow has moved markedly in Trump's direction. He now argues that the borders must be sealed and all visas canceled. He also thinks we have to crack down on China.
You might not be aware that "Tax Foundation" has estimated that Trump's economic plan would add about $10 trillion deficit in the next decade.
However, here's what Larry thinks about Trump's tax and immigration policies.
1. About tax-cut policy
Larry has accepted that he opposed Trump's economic plan at first. In his defense, he has said:
First, I continue to oppose Donald Trump's trade policies. Even if his 45-percent tariff threat on China is simply a negotiating card, as Trump told me in recent interviews, I still think that's the wrong way to go.
He has also clarified why he loves Trump's tax-cut plan now.
Now, I think we need a very strong U.S. president to enforce current trading laws between the U.S., China, and the World Trade Organization. And perhaps some targeted economic sanctions on Chinese companies could work. For example, the U.S. has decided to sanction Chinese telecom giant ZTE for trade violations with Iran. This is a more precise response to trade violations than a 45 percent tax.
Also, he has been pretty vocal about Trump in this very regard in his social media. A tweet from him shall shed more light on it, 
2. About Immigration Plan
He has also clarified his position on the immigration plan.
I wrote a piece in mid-December where I announced a much tougher position on immigration — a big change in my thinking. But this had nothing to do with Trump. It was all about the war against ISIS.
Larry has invited lots of criticisms in social networking sites as well.
Moreover, here's what Larry had to say about Donald Trump being victorious in the recently concluded presidential election. This could be interesting to hear as the two have had several tussles regarding each other's views over the time period. 
Caption: Larry Kudlow on President-elect Donald Trump's victory. 
Larry also had some strong words for Trump regarding the Muslim ban.
What do you think about millionaire Larry Kudlow (net worth - $80 million & salary - $1 million) being on par with mega-rich Donald Trump? Is it because of Trump's driving factors? Or is it just the flip-flop nature of Larry Kudlow?