News
Mindy Kaling is Pregnant, But Who's the Baby Daddy? Boyfriend or Husband?
 Mindy Kaling, A Wrinkle in Time Actress, is pregnant with her first child, and the news about her pregnancy is "an unexpected surprise."
A source close to thirty-eight-years-old Kaling confirmed the news about her pregnancy to E! News and said that there would be no any changes made in her upcoming projects and production schedules.
In Kaling's 2015 book "Why Not Me?," she worried about some things, like-
"I will never have a husband and all my female acquaintances will and What if my kids are really young when I die because I waited too long to have them?"
Later, in a sit-down interview with Yahoo! Style in September 2015, Kaling openly expressed that she wants to conceive a baby. She gushed-
"I think I've decided that unlike everything else in my life, I'm going to be fast and loose about kids. I'm going to not actively plan, but if it happens, it would happen."
Mixed ethnicity actress, comedian, and author, Kaling even said that she doesn't care about the person with whom she will have a baby. Explaining that, she exclaimed,
"I'm not cavalier about who I would have a kid with. But the thing I ask every parent that I really admire, the one comment they all have is that they wish they had kids earlier."
Furthermore, she stated that she finds marriage less interesting.
"I admire [a good marriage] when I see it. I think it's a beautiful thing. In my 20s, and especially in my teens, I completely fetishized a wedding. But I think much less about marriage now. It's less interesting to me."
According to what Mindy said in 2015, it seems that she isn't expecting her baby with her husband.
However, she was spotted with a ring on her wedding finger on Saturday, when she attended  A Wrinkle In Time premiere in Anaheim, California. But remains a mystery if it is an engagement ring.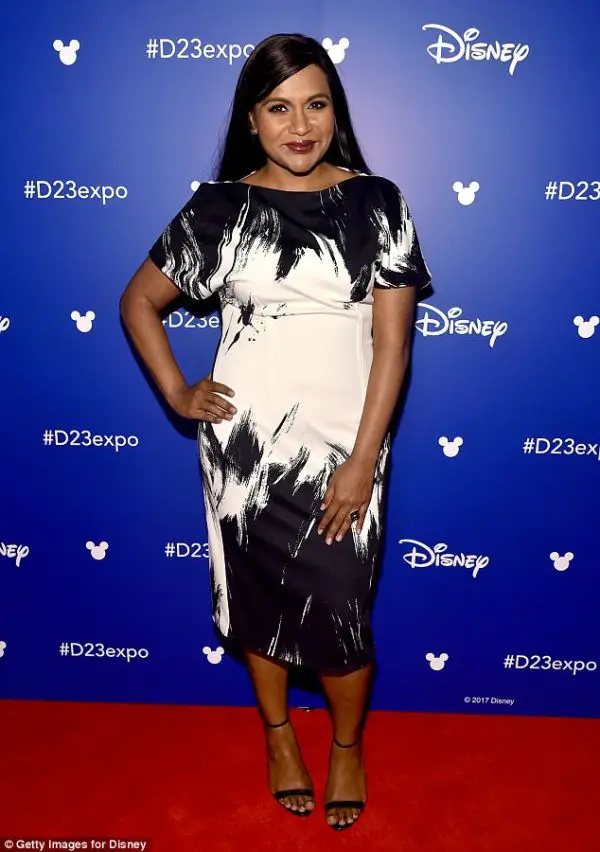 Caption:  Mindy Kaling at A Wrinkle In Time premiere in Anaheim, California on Saturday, July 15.
Photo Credit: Getty Images
Though father of Kaling's baby is unnamed, many people have speculated her to be expecting the baby with her mysterious boyfriend, as she is not married as of now.  
Kaling previously dated Benjamin Nugent from the year 2008 to 2012 and her Office co-star BJ Novak for two years, from 2005 to 2007.
Stay with us for the emerging updates on Mindy Kaling!