News
Beautiful Model Rebecca Judd Invites Twin Boys in Her Life, Announces Baby Names and Photos
Rebecca Judd and her former Australian rules footballer Chris Judd are the happiest couple AGAIN as they are recently blessed with twins on 29 September 2016 and both are boys.
We know the time when Rebecca shared her excitement mixed with an equal chunk of shock when she found out that she was having two baby boys and not one on air and she was due for October with her pregnancy.
Rebecca Judd talks on-air about her reactions and experience on knowing she was having twin babies earlier this year.
However, the handsome little guys have arrived a little earlier than expected but it was nothing but happiness they brought with themselves. Rebecca, 33, instantly took the pictures of her just born babies to Instagram. She named them as Tom and Darcy. The couples were already blessed with two children earlier and now they are gifted with two children
Caption: Rebecca with her husband Chris Judd and twin boys on September 29.
Now you might have already known by the caption that the two little guys are given name Tom and Darcy but the media found out something else from the names. Mamamia speculates that the boys are given the name inspired by one of Rebecca's favorite TV shows called 'Offsprings'. Rebecca has already named one of her children; her baby daughter Billie which is actually the name of Nina's Proudman's sister on the show.
Now, she has named one of her newborn baby Darcy which is the name of Nina's non-biological dad. Once might be a coincidence but twice, not exactly. However, Rebecca has not disclosed if it was her own choice or if she was inspired by her favorite TV show.
Apart from the twins, the couples who got married in 2010 are already parents to a baby boy named Oscar Dylan born on 2011 and a baby daughter born on Billie Kate born on 2014.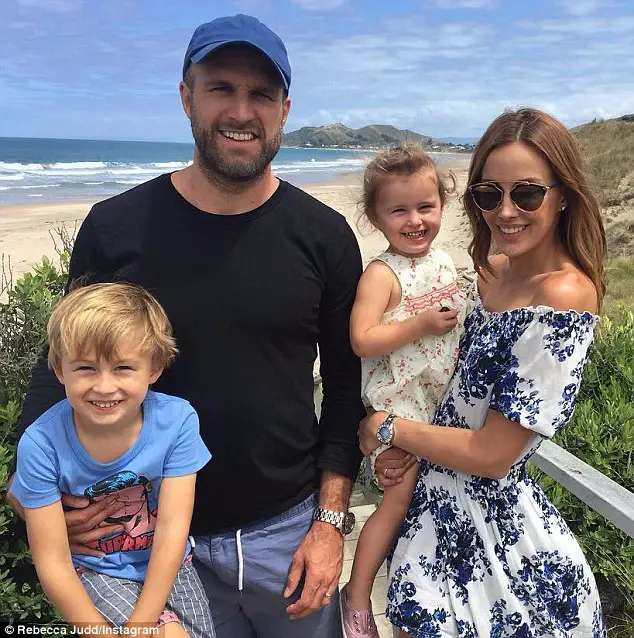 Caption: Rebecca Judd and husband Chris Judd with son Oscar and daughter Billie.
Source: dailymail.co.uk