News
Singer-Songwriter Nate Ruess Dating his Girlfriend Charlotte for Two years Now, When do they Plan to Getting Married?
With good promising music and chart-topping singles like "We Are Young" and "Some Nights", Nate Ruess and his band Fun had everyone loving them and appreciating their music which gave them a celebrity status.
And now that Nate has revealed that he is dating someone, he has become a person of interest for millions of fans. Now let us find out who is this lucky girl that has been able to sweep Nate Ruess off his feet.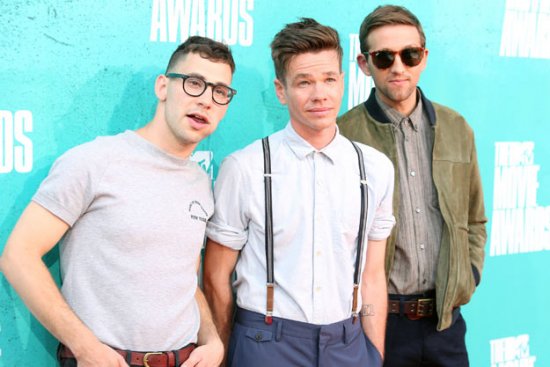 Caption: Fun at the MTV Movie Awards Red Carpet
Photo credit: thepoconos.com
Nate Reuss Dating and Gay Rumors
When Fun released their second album "Some Nights" in 2011, it included a song called "It Gets Better", that everybody believed was about growing up as a gay kid. But sadly, it wasn't (it was about losing virginity) and to all the people assuming that he is gay, he shut those rumors up by revealing that he has a girlfriend, in fact, he has been dating her for quite some time now.
In July 2014, Nate Ruess stepped out publicly for the first time in an event, with his super-secret girlfriend, designer Charlotte Ronson. The couple had been dating for several months before making it public and now it's been more than 2 years and they are still together.
2 years is a long time for a relationship to last don't you think? So do we hear the wedding bells ringing anytime soon Nate and Charlotte? That's totally up for them to decide. And since neither of them has ever been married, this might be the right time to call each other husband and wife
Caption: Nate and Charlotte celebrating Halloween together.
More about Nate and Charlotte
Nate Ruess (34) is a singer-songwriter who has been associated with the band Fun. since 2008. Fun. released their debut studio album on April 6, 2009, entitled Aim and Ignite. Even though the album was given positive feedbacks, they got the well-deserved recognition from their second album "Some Nights", released on February 21, 2012.
Before Fun., Nate was formerly with a band named The Format, which was formed in 2002 and sadly part ways in 2008. And now after announcing that Fun. was going to split, Nate has started out his solo career since 2014, doing solo projects and featuring various artists.
With more than a million records sold and numerous tours and concerts, Nate Ruess has been able to earn quite an impressive fortune. His net worth is estimated to be $10 million.
And for those of you who don't know who Charlotte is, we got you covered. Charlotte Ronson (39) is a celebrity stylist and a designer who owns her own fashion and beauty lines. Besides that, she is the twin sister of famous DJ Samantha Ronson and her brother Mark Ronson is the producer of the 2014's smash hit Uptown Funk. She was born on August 7, 1977, in England and is currently living in New York and has been in a relationship with Nate since 2014.