News
New Relationship In Town; Robbie Arnett Seemingly Dating Actress Girlfriend Elizabeth Olsen
The member of Indie pop quartet Robbie Arnett was spotted stepping out with her new actress girlfriend, Elizabeth Olsen on Monday.
It seemed the musician's new girl couldn't wipe off smile of her face as she was walking with arm- in-arm in the New York City.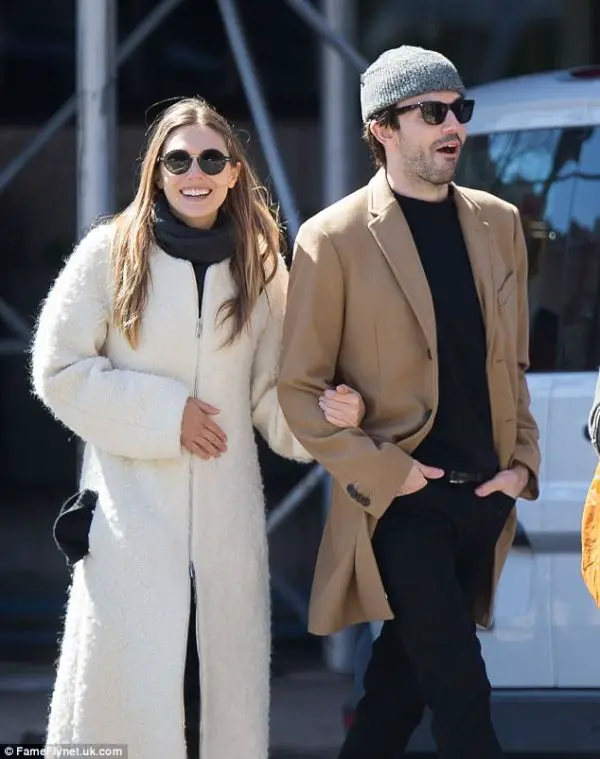 Caption: The New couple in the town; Robbie Arnett was clicked with her new actress girlfriend, Elizabeth Olsen (2017).
Photo Credit: dailymail.co.uk
The sister of the twins Ashley and Mary-Kate, dating songwriter of 'Milo Greene' pulled the eyes of many with lots of questions like how they met? And also people wants to know more about their relationship.
Well! Talking about how their dating sparkled? They started dating in early February when they met on vacation in Mexico. Hinting their romantic Mexican rendezvous, the singer shared a cryptic message in one of his Instagram posts. In that, he wrote,
"that time i was in san jose del cabo. rt after that hot tub. after those special gummies. after that mescal margarita. before the purple made my legs look really strong."
Yeah! That undoubtedly implied something about their vacation which had been memorable.
A source shared,
"They are in an exclusive relationship and Lizzie is excited about him. She deserves it"
The source continued,
"It's very new though, but they seem to like each other a lot already."
The "Captain America: Civil War" star was previously engaged to actor Boyd Holbrook, but called off their engagement in January 2015.
Talking about the young, dashing man, he is a musician getting along with a band Milo Green' which was started in 2009. Arnett started the band with his college friends, and the band got their first chart-topping success three years after the formation of the group with their self-titled album.
While going through the Instagram posts of Robbie Arnett, what we can see is, he is somewhat intrigued by his girlfriend's acting career. In 2012, when Milo Greene got their first breakout success, the band member intended to create tunes for movies and television. Marlana Sheetz, Milo Greene's band member, told,
"Originally when we started this band we wanted to create music that we could potentially see being placed in movies and TV. We really love scoring and that's how we wanted the music to sound.
That was something about the musician which says he might have future in cinemas too.