News
Nick Lachey's Married Life Details with Ex-Wife Surface a Decade after The Split!
After a decade of divorce, the NewlyWeds producer Sue Kolinsky is opening about working with then newly married couple Nick Lachey and Jessica Simpson.
In an interview with Complex, the producer Kolinsky has opened about "Newlyweds," and more about the pair Nick Lachey and Jessica Simpson, whose marriage ended up just a few months after the final season.
The pair got married in Oct 2002 and just a year after their wedding, the then-couple went on to go public with their marriage in the show "Newlyweds." The producer explained about their final season and told,
"You could feel there was tension between the two of them. They were very different people. He was a blue collar guy—he did a lot of things himself like he and his brother would build things. He was frugal, and she had an excessive taste."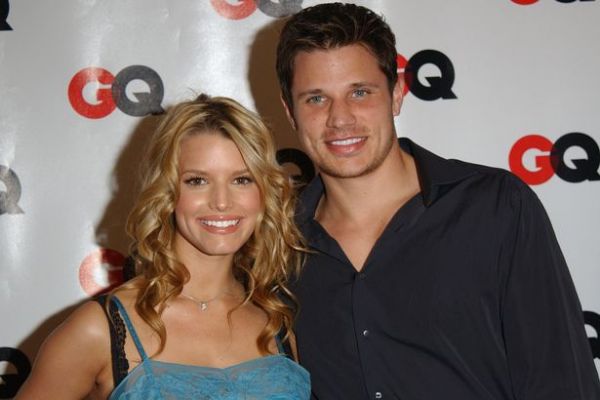 Caption: Simpson was just 22 when she became the wife of Lachey as he was seven years older than her.
Photo Credit: mirror.co.uk
The producer explained that the only thing the two had in common was their music. Lachey is a member of the boy band 98 Degrees and Simpson, a singer. Hence it was meaningful that at least they have music in common.
Kolinsky said,
"In the end, they weren't suited for each other. The only thing they really had in common was their music. She was really young; I think he's seven years older than her."
Furthermore, the 43 years old Nick wanting to increase the family and Simpson going just the opposite can be the added thing that prompted them to end the marriage. The producer, who has worked with the couple for all three seasons, said,
"He wanted a family, and her father thought maybe she was too young. Her father was very involved in her life."
Kolinsky revealed that she had an option with two shows and she went on with "Newlyweds" at that point when she didn't know who Simpson was. She later was very positive about the show, after she saw the cute dumbness of the blonde singer. She stated,
"As soon as we started looking at the footage and I saw the "Is this chicken or fish?" [scene], I knew it was going to be a really fun ride."
According to the producer, the pair was "polar opposites," and also, the show was presented in its "purest form." She said,
"[Nick and Jessica] were perfect because they were polar opposites, they were beautiful, and without even realizing it, they were very funny."
Furthermore, the Top Chef writer shared some of the funny moment, from which many went on to call Simpson "Dumb Blond," like the moment when she didn't actually know about "Chicken and Tuna" situation. She divulged,
"There were times when we were like, "Hm, does she really not know what this means?" I truly believe the whole 'chicken & fish' situation was accurate. She really did not know. I remember there was a scene where there was a dead mouse by their pool and it had been dead for a while. Nick said, "it's in rigor mortis" and Jessica said, "Riga-what?" I truly believe she didn't know what that meant. "
Caption: Jessica Simpson and her fish or chicken tuna is the most watched moment of Newlyweds. (Published on June 1, 2009 )
Well, that was about behind the scene and some pre-divorce information of the star of the Newlyweds. And that somehow proves that the reality show was not that scripted that many of us imagined.
For now, Nick Lachey and Jessica Simpson both are now happily married with their partners and children.
Nick got married to TV host Vanessa Lachey in 2011, with whom he shares three children Camden John Lachey, Brooklyn Elisabeth Lachey, and Phoenix Robert Lachey. The pair recently also bought a house which worth $4.15 million.
On the other side, Simpson got to married to Eric Johnson in 2014 and shares two children Maxwell Drew Johnson and Ace Knute Johnson.