Trending
"Overhaulin" star and Cars lover, Chip Foose's Splendid Net Worth of $18.5 Million
Chip Foose has always been the source of inspirations for the people who are a genuine automobile-nerds. His skills and designs have embraced the automotive world through a unique perspective. Besides, it is he, who have succeeded to show the love and bonding between man and the machine through his various designing and Overhauling.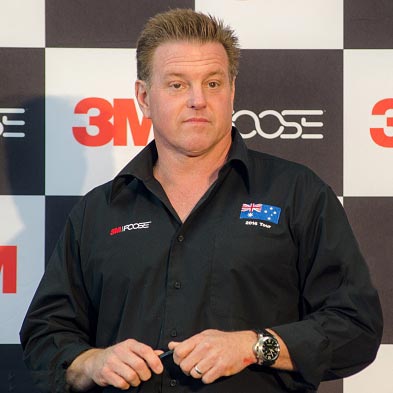 Now here's something that comes with a perfect combination of automotive design and automotive series. The irresistible passion for automobiles and his beauty of motion features made him a man of fame and glory. He is none other than Chip Foose.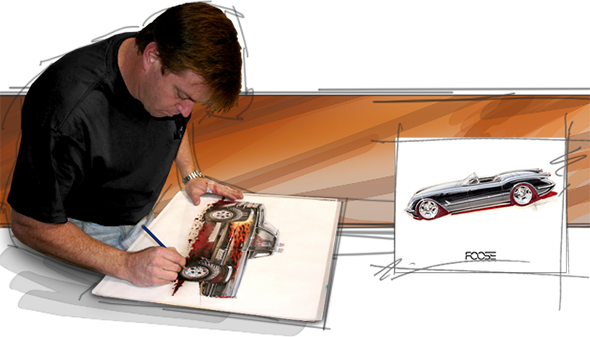 Caption: Foose busy in his design.
Source: chipfoose.com
Chip Foose, @chipfoose, who is currently in his early fifties has been consistently showing his passion for "achieving something" from his very first decade of life.
Today he is a more than just a designer or a television face; he is a man who has set an enormous example in the entire automotive industry being the producer of the Overhaulin' series, a series that pitched a sense of materiality and relevancy in the lives of car owners (the mark). The show was widely loved by the car enthusiast all over the world, as they got a television show that turned antique cars to a modern masterpiece.
Apart from that, he is also a businessman, fabricator, and entrepreneur. How can he be all that? That's why he's wonderful all around!
Passion for car: Like father like son
There's something fascinating about this man. You've already guessed a lot of that. From the very small age of seven till now, his contributions in the world of automotive designs are valued a lot. He has earned experiences of working in great companies, initially starting from his father's Project Design and rapidly moving onto Stehrenberger Design and Boyd Coddington, where his designs like Boydster 1 and 2 gained much popularity.
Later, he chose to start his very own Foose Design, which gradually designed masterpiece like 2002 Ford Thunderbird. For this design, he was given a significant exposure in TLC, where his series "Overhaulin" was also broadcasted later. Even during the 1990s, his design turned up in major Hollywood films. His significant designs include Hemisphere, Speedbird, Foose coup, Foose Ford, F150 and so on.
Here are some of the astonishing Foose designed cars presented for you: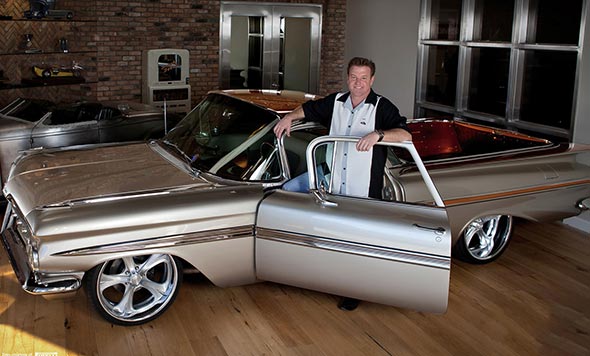 Caption: Foose with his Cadillac Sedan, Foose designed cars.
source: digitaltrends.com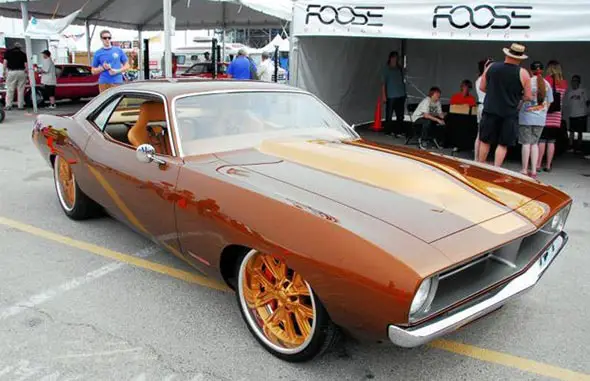 Caption: The Foose Tarracuda, Foose designed cars.
Source: complex.com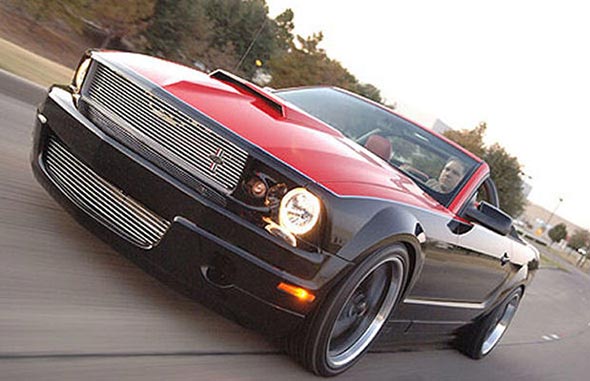 Caption: The Foose Mustang, Foose designed cars.
Source: complex.com
Foose and Overhaulin': The Overhaulin' Show:
The Overhaulin master designs are also the favorites among many famous faces. Johny Depp's former wife Amber Heard's 1968 was blessed to get a Foose touch. Lucky indeed! She still owns the car even though she is in 'long-gone' relationship with Depp.
Caption: Boss Ride for Johnny Depp's then partner Amber.
What a show to depict the emotional connection between the man and the machine? The Overhaulin' show, indeed, had been a synonym of a rising car culture and yes! Foose is a big man here. He was the star of Overhaulin' until 2008 (after which there was a pause until 2012).
Foose again came as a producer of the show. The episode was unique each of which ended with surprise and newly made-over car. The 6.7 IMDB rating Overhaulin' starred Foose in 55 episodes from 2004 to 2015.
An interesting wiki: He was one of the two initial hosts of Overhaulin' alongside Chris Jacobs when the famous producer, Bud W. Brustman, initially created the show. He has also formerly worked alongside one of the fastest women alive, Jessi Combs
Check out one of the amazing Magnaflow from the Overhaulin':
Bringing down the curtain on Overhaulin
Chip Foose and his journey with Overhaulin ended in November 2015 and the moments it entertained us with remains in our bittersweet memory. The show started airing on 2004 on the learning channel, and while it had low moments (especially during its hiatus during 2008-2012), it still is considered as one of the best car-building shows in the history of Reality entertainment. 
The show's glamor was its unique concept, where an owner of an old antique car (who is tagged as the mark) gets his car taken from him through interesting, different ruse ( such as Stealing/Misplacement at the garage/ Towed away). Only to have it rebuilt, improved and almost reincarnated by the show's crew. For years, Chip Foose and his crew 'stole' cars, restored them and breathed new life into them, and this adventure has finally ended. 
So what's next for Chip Foose? Well, lately he's been into building cars, such as the 'Madam X' Cadillac that he presented at the SEMA 2016 and countless other cars that he shows off on his Instagram. 
Furthermore, here's an episode of 'Talking About Cars' featuring Chip Foose, where he does what he loves the most, talk about cars.
Caption: Chip Foose on 'Talking About Cars.'
What is His Net Worth?
From being a great American television personality, businessman, entrepreneur to an automotive designer and fabricator, it is evident that Chip's net worth is a matter of concern for all his fans and followers. So, how much money does he made? It's plenty indeed!
A total net worth of $18.5 million estimated. He has earned a high reputation himself being a hot rod shop owner, automotive designer, and fabricator. Isn't he worth it? Of course, he is. Apart from this, now we all know he is the president and founder of Foose Design Inc.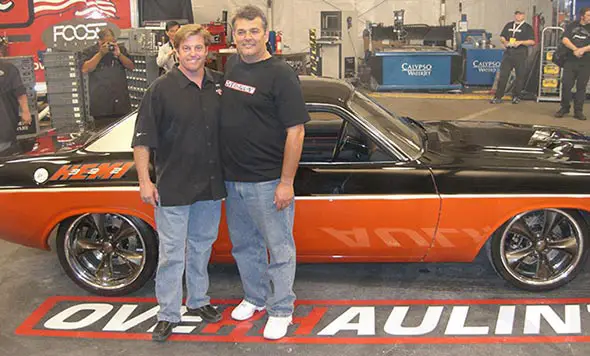 Caption: Foose and his colleague posing for the Overhaulin.'
Source: when-will.net
Currently, Mr. Foose lives in southern California with his wife and children. He is also a great charity man. He had won numerous awards for his impressive designs and including the Hall of Fame in 1997 when he became the youngest person ever to be abducted in the Hall of Fame at age 31. He is again the inductee of 2016 SEMA Hall Of Fame.