News
Paul Daley Lost the Match Against Former Welterweight Champion Douglas Lima in Bellator 158
On Saturday, at Bellator 158 event which took place in The O2 in London on 16th of July, 2016 , former Bellator welterweight champion, Douglas Lima (27-6 MMA, 9-2 BMMA ) returned back from more than a year long injury to score a fair and clean win over the knockout specialist, Paul Daley ( 38-14-2 MMA, 4-1 BMMA).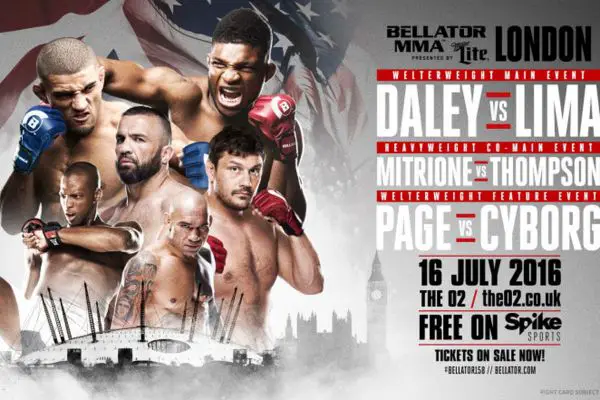 Caption: Bellator 158 cover photo in London.
Source: bloodyelbow.com
There has been dilemma regarding whether wrestling is fake or real. But people take MMA (Mixed Martial Arts) as a real sport that is played by real athletes such as Douglas and Paul.
"You hit me once, I hit you back. You gave a kick, I gave a slap. A kick in the teeth is good for some, A kiss with a fist is better than that."

A part of the lyrics of Florence and Machine's Kiss With A Fist
This song of Florence and Machine resembles MMA's fights. The notion of the song was clearly visible in the Daley Vs Lima clash.
Douglas Lima, who is a former Welterweight champion, spoiled the homecoming of former Cage Rage champion Paul Daley. Lima claimed a unanimous decision over Paul Daley.
All the cage side judges made a common decision in Brazilian welterweight's favor with 30-27 scores across the board in all the three rounds.
Paul Daley (38-14-2) was expected to turn his first appearance in London in almost two years into a victory, but the homecoming ended in the defeat. Paul "Semtex" Daley, who is a flaunt striker, was already down to the ground because of a counter left-hand shot he tasted in the first round, all courtesy to Lima. Lima added few more shattered shot and venomous leg kicks and kept Daley off balanced in the next two rounds.
In gist, it was a bad day at the office for Daley as he tried to make things happen that wasn't destined to be. Lima was the sharper man on the feet and fist department as well. Counter shots were from both sides, and Daley also hit back few punches. Daley wasn't someone to sit back and take as he also found some rhythm later. But it was meant to be Lima's day and he prevailed as the better one in the ring.
The former Bellator Champion, Douglas, has nailed his last six out of seven fights only losing to 170-pound titleholder Andrey Koreshkov.