News
Pia Miller: After Date Night With Tyson Mullane, Amazes Us With Sexy Figure in Bikini
One of the hottest stars of 'Home and Away,' Pia Miller had been having to go and do a lot in recent days. Firstly dinner date with boyfriend following with her hot bikini session and covering all: Their Bali holiday!
Pia Miller isn't one who is shy to show her relationship on social networking sites. That's the reason Pia Miller has kept the birthday celebration for her boyfriend Tyson Mullane alive and going who turned 28 just four days earlier with a romantic dinner date together on Saturday night in Sydney.
The 32-year-old Chilean-born actress was seen in a slinky black frock for their birthday celebratory dinner and the pair mellowed up together in a photo snap as she posted to Instagram captioned: 'To many more with you.'
Tyson looked dashing in a black buttoned shirt with white T-Shirt inside it and wrapped his arm around Pia to pull her in close for the happy snap. The couple seemed happy at least for that time being.
Hotness overloaded in Bikini: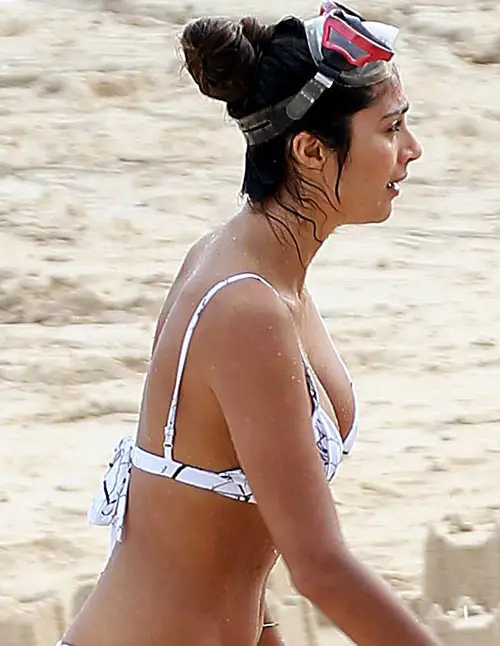 Caption: Pia Miller showed her incredible figure as she stepped out of the crystal clear waters after snorkeling during a recent Balinese holiday.
Source: dailymail.co.uk
The very next day of her holiday and birthday celebration campaign of her boyfriend Tyson Mullane, she's shown her incredible figure during her recent Balinese holiday.
The 32-year-old actress exhibited her ample cleavage in a white bikini after she emerged from the ocean after a deep sea diving with a pair of goggles perched on her forehead.
The Home And Away star showed off her sun-kissed skin after she emerged from snorkeling in white two pieces which highlighted a black marbled print by Australian swimwear designer Rachel Disalvo. 
Trouble in a Dating Life?
They recently went to holiday in tropical Bali where both couples made sure to blossom their romance on social media.
Caption: Pia Miller (L) and her boyfriend Tyson Mullane (R) sat at opposite ends of a beach bar in Bali, despite being on a romantic holiday together.
Source: dailymail.co.uk

But latest photos of Home And Away star Pia Miller and her boyfriend Tyson Mullane showed unexpected verge of their relationship as the couple appeared tense and distant.
The 32-year-old actress and her 28-year-old beau were caught relaxing at a beach bar, but in their ways, for the matter of fact the pair set up camp at opposite ends of the venue.
Romance in full flow!
There's no denying that they're one of the entertainment's most genetically-blessed couples.
Moreover, Pia Miller packed on the Public display of Attraction with Tyson Mullane, in a sweet Instagram snap on 11th May 2017.
The 33-year-old Miller embraced her filmmaker beau, Mullane who tenderly placed a kiss on her cheek. Pia captioned the image as 'Sweet home,' and shared with her 616,000 Instagram followers.
Embracing her muscular beau, Pia Miller, the Home, And Away star tilted her head towards the camera, showing off her striking facial features. Moreover, the socialite, Tyson Mullane embraced her filmmaker beau in the image as he tenderly placed a kiss on her cheek.