Trending
Becca Tobin is Now Officially Married To Her Longtime Boyfriend Zach Martin! Take A Sneak Peak At Their Wedding!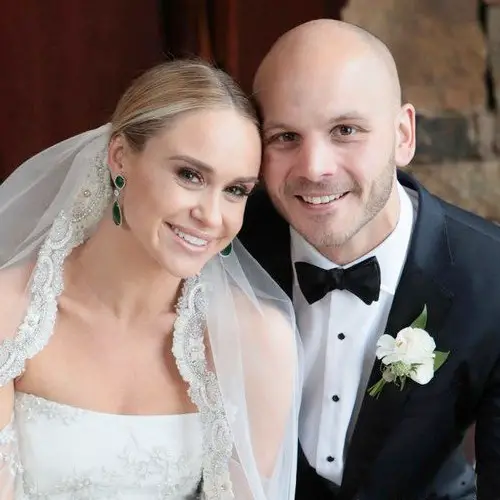 Becca Tobin winter wedding is the hit in this show as the actress has a wedding with her fiancé Zach Martin. Both excited and this wedding that is worth reading.
The two battles out the fight on how the wedding should or should not go and the only thing stopping the two is a photo together. The actress has complete know how on how it should go, both having an un-denying wonderful wedding and these are the scoops into their first moments as husband and wife.
The Winter Wedding:
The two has made it official, Becca Tobin, who played Kitty as a cheerleader in the show "Glee" tied the knot with her, now, new husband, Zach Martin on December 4th, 2016.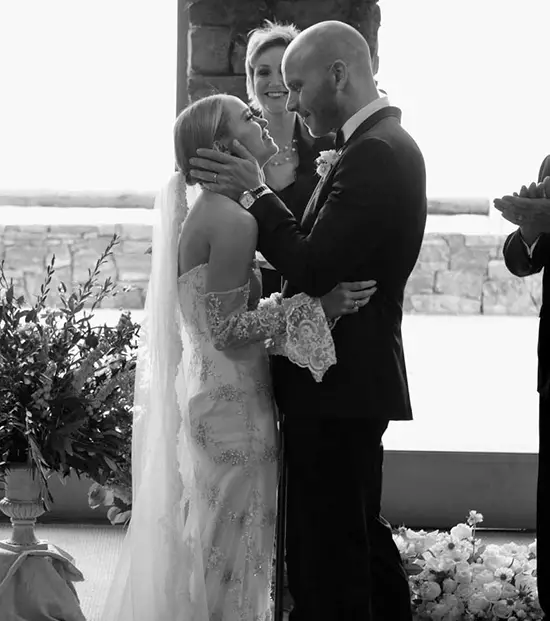 Caption: The newly wedded husband and wife, Becca Tobin (left) and Zach Martin (right)on December 4, 2016. 
Picture Credit: Brides.com
After Becca told the "I do" in front of all her loved ones, being finally and officially married heard first on Brides.Though Becca Tobin, and Zach Martin, both being a non-cliché kind of person and not believing first come first serve in love, she has her say in her given statement Becca gave to brides.com on December 4, 2016, where she said;
"Neither one of us wanted to do a 'first look,"
she further added;
"So the moment I came down the aisle and we saw each other for the first time was my favorite! It was so incredibly exciting and super romantic. We loved being able to stick with that tradition."
Another different wedding look would be the donut as a cake at their wedding instead of the large ceremonial tower whited coated cake.
"We are both obsessed with donuts, so we decided to do a donut tower instead of a traditional cake," the 30-year-old actress told Brides. "Big hit!"
Of course in the main event of the wedding is the bride's dress where she had worked together with the designer both of them handled it
"The dress was a dream come true," Tobin told BRIDES. "I worked with the designer and the owner of my favorite bridal boutique, Loho, to create it. I didn't want to take it off!" Totes understandable, right? We're legit obsessed with that dress!
Their wedding consists of hot Jacuzzi in the winter.
Lots of celebratory champagne.
They first got engaged on the 17th of May 2016.During a live radio show, while the show was running. Tobin does not like over the top franchised by the media proposals, therefore hers, as she presumes, is perfect.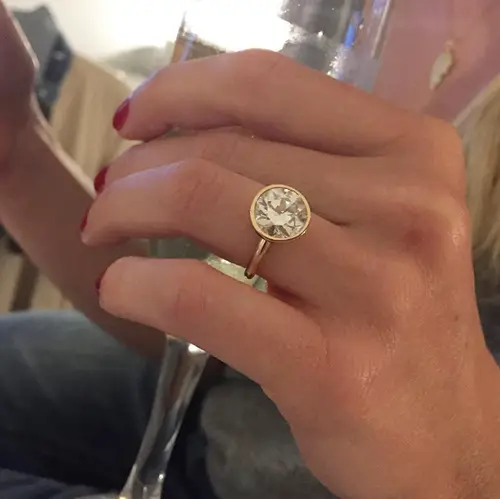 Caption: A circular shaped ring as seen as Becca flaunts it for the camera on 17th of May 2016
Picture Credit: j-14.com
Tobin explained her reaction to the proposal where she said;
"Every single person thought I was kidding, I thought he was kidding when he had the ring right in front of my face! I thought it was fake!"
Many of her fans congratulated her on their wedding through social media.
30-year-old Tobin. What makes the wedding more spectacular is the fact that the marriage also became a Glee reunion with Jane Lynch, Lea Michele, Kevin McHale, Jenna Ushkowitz, Meg Doyle, Michael Hitchcock, Matt Hodgson, and Dante Russo most of the main cast of Glee. Each invited and each had their congratulations on their Gleeful way.
The most of the main cast of Glee made it in the Becca Tobin's wedding.
Despite her last, would be, engagement with her former boyfriend Matt Bendik who died suddenly inside the Philadelphia hotel and he was just 35 preparing to purpose her two years ago in 2014. She has come a long way from the incident and may or may not have overcome the tragedy but now marrying her best friend would likely relinquish the thought.