Trending
Racing To Win! William Byron Wins NASCAR Xfinity Series; AGAIN
Racing To Win! William Byron Wins NASCAR Xfinity Series; AGAIN This is something that William Byron believes in as he has earned a second consecutive NASCAR Xfinity Series win at Daytona. Byron has won his second consecutive Xfinity Series race on Saturday where he led himself to a 1-2 finish at the Daytona International Speedway for JR Motorsports. Byron, who raced to his first career Xfinity victory this past weekend at Iowa did not have his team owners Dale Earnhardt Jr. and Rick Hendrick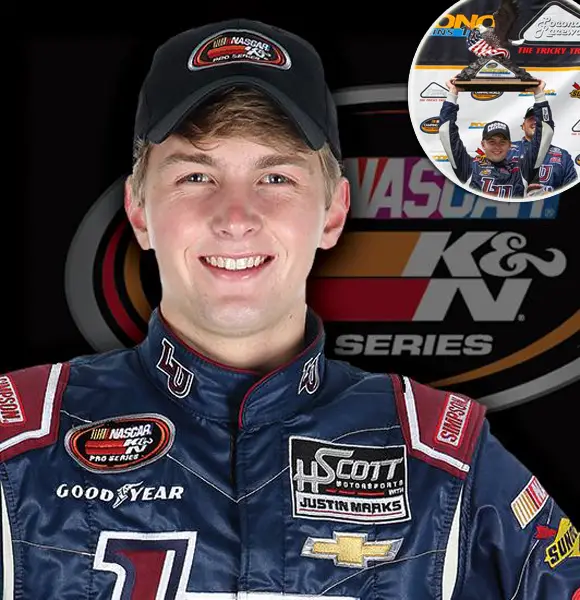 Racing like there is no tomorrow!
This is something that William Byron believes in as he has earned a second consecutive NASCAR Xfinity Series win at Daytona. 
Byron has won his second consecutive Xfinity Series race on Saturday where he led himself to a 1-2 finish at the Daytona International Speedway for JR Motorsports.
Byron, who raced to his first career Xfinity victory this past weekend at Iowa did not have his team owners Dale Earnhardt Jr. and Rick Hendrick at the track to see him win but this time was different, was he escaped some carnage and raced to glory in front of his team owners.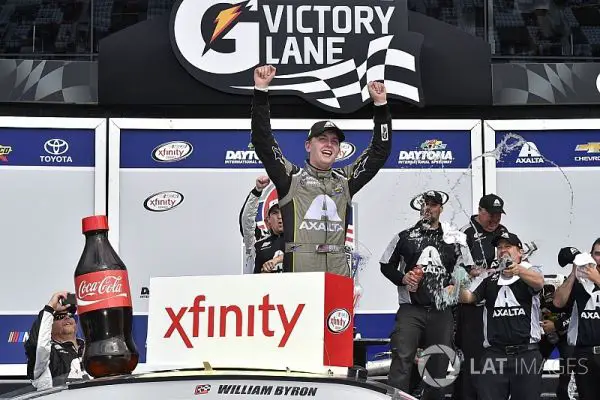 Caption: William Byron bags two consecutive NASCAR Xfinity Series wins.
Photo Credit: motorworld.com
Elliott Sadler ended the race having to satisfy with the second spot followed by Dakoda Armstrong and Jeb Burton.
Bryon's joy and delight were depicting from the words he shared after the glory was his. He said,
"Man it's awesome. These Daytona fans are really cool. I came here for a Daytona 500 when I was a kid ... this is so cool to win at Daytona. I can't even imagine it. These guys brought a great JRM car and hopefully Dale can get it done (tonight). This is is really cool for our team and just really proud of everybody,"
Moreover, he took over his official Twitter to share his regards to the people who supported him throughout the course of his journey.
Similarly, his race day tweet shows how game he was for the big moment.
So what does the two back to back wins mean for this 19-year-old racer who has been doing tremendously great with his career?
He is slowly heading up the ladder to enlist his name among the greats in the future. And looking at his track record and how he has been going with his business, he might as well reach his ultimate destination in life.

Caption: William Byron's 2017 Xfinity race results.
Photo Credit: espn.com
Born on November 29, 1997, in Charlotte, North Carolina, United States, William Byron is a 19-year-old American racer who drives the No. 9 Chevrolet Camaro for JR Motorsports.He bagged his first win at the 2016 Toyota Tundra 250 in Kansas and has never looked back ever since, as he has been adding to his silverwares. 
And now, he might have his sights set on something bigger in his professional career.
Stay with us for the emerging updates on William Byron!