News
Ready to get Married! Kirsten Dunst Flaunts her Engagement Ring from Soon-to-be Husband Jesse Plemons
Spider-man actress Kristen Dunst who is all set to tie a knot with her co-actor from Fargo Jesse Plemons shows off the sparkling diamond when photographers asked for the close-up of the ring at the Ralph & Russo Haute Couture Spring-Summer 2017 show during Paris Fashion Week on Monday.
Dunst whose appearance was fab in a knee-length lace white dress and pointy black heels smiled and happily flaunted oval-cut, white gold ring.
Caption: Kristen Dunst who is all set to get married to Jesse Plemons cheerfully showed her engagement ring at Couture Spring. (2017)
Photo Credit: usweekly.com
The two first showed signs of being engaged at the Palm Springs Film Festival on Jan. 2 when Dunst was snapped wearing the ring.
Caption: Kristen Dunst made her appearance at Palm Springs where she was spotted with engagement rock.
Video Credit: dailymail.co.uk
The 34-years old actress first met her soon-to-be husband during Season 2 of FX's 'Fargo.' The couple played married high school sweethearts in the series from where the on-screen chemistry turned out to be a real off-screen match up as well.
Caption: Dunst and Plemons had their first meet during the second season of 'Fargo.'
Video Credit: usweekly.com
In October 2015, 'Friday Nights Lights' alum shared what he felt working with Dunst. He said at the time,
"It was a gift. I loved Kirsten's work for a long time, and I was really excited once I'd met her, and she's a great person. We're both actors that just … have fun with the material."
Their relation spread like wildfire when  two were snapped in on May 29 in L.A.'s Studio City. Both of them never discussed the relationship in public.
This is the first marriage of the both. Talking about Dunst, she recently broke up with her longtime boyfriend Garrett Hedlund whom she met on 2011 during 'On the Road,' after four years of dating.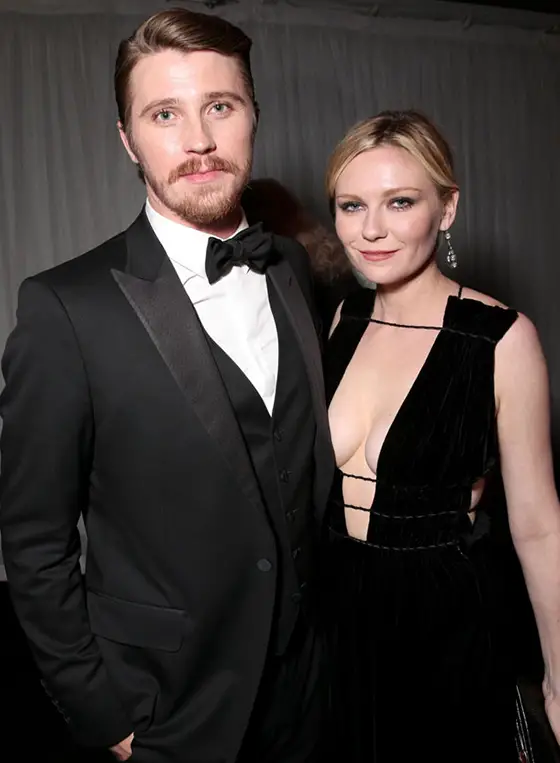 Caption: Dunst and Garrett posed together on Golden Globes 2016.
Photo Credit: dailymail.co.uk
While talking about her plans in May 2016, she mentioned,
"I am someone who wants to get married. If it happens in my mid-to-late 30s, it's going to be intimate. Courthouse, dinner party and DJ with friends and family. I'll treat it like it would be my 40th birthday."
And she has found the man of her life who is all set for marriage. For which we would like to congratulate Dunst and wish her the best.