Trending
Real Estate Agent Jim Bob Duggar's Family: Respects Wife As His Friend, But Has Children Issues?
It only seems right that the real estate agent Jim Bob and wife live a peaceful life with love and harmony because if they don't, they are going to have A LOT of problems and don't think that as an exaggerated comment; we literally mean it.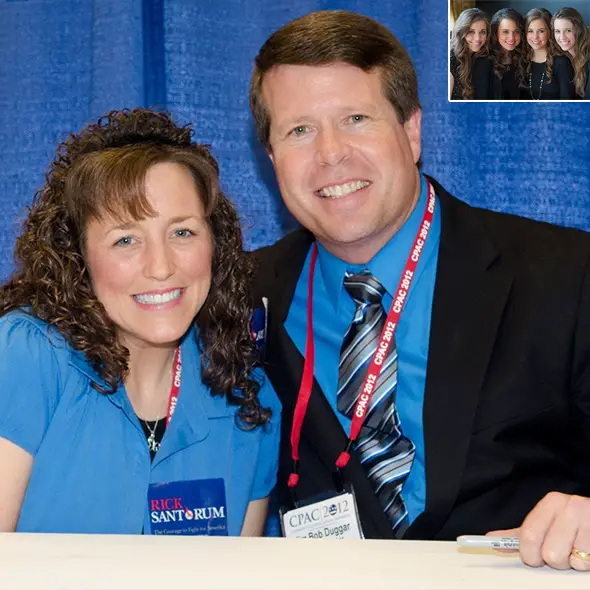 It only seems right that the real estate agent Jim Bob and wife live a peaceful life with love and harmony because if they don't, they are going to have A LOT of problems and don't think that as an exaggerated comment; we literally mean it.
There were some rumors between this couples who got married on July 21, 1984, were about to go through a divorce because of their son Josh. Not much was revealed but they were believed to be fighting and arguing more than ever.
However, it was true that there were complications but Jim and his wife coped with and recently they were seen together in a trip to a marriage retreat where they gave a speech on a happy and godly married life.
Jim also took a picture of him with his wife to Facebook with a caption that said Michelle was his best friend.
Caption: Jim Duggar and Michelle Duggar at the Fort rock marriage retreat in St. Paul, Arkansas in October 2016.
Jim Bob Dugger, 51, and wife Michelle Duggar, 50, are couples who are truly one of a kind. Why? Well, how many couple do you see these days with nineteen children? Not many right. Jim and Michelle have a total of nineteen children together and that is quite extraordinary; at least in this century. 
To everybody's surprise, the couples are positively looking forward to adopting another child and make their children squad a round figure number of twenty; excluding the husband and wife of course.
That right, the couples have decided to adopt an 8-years-old boy who is the son of Michelle's niece, Rachel Hutchins. As the 23 years old is a single mother, unemployed and homeless, she had been struggling to raise the child.
Jim and his wife both were granted temporary guardianship of the child since August and now are looking forward to making it a permanent guardianship as of November after the court's decision.
Maybe the couples though taking care of an extra child will not hamper them much. Now the question is, will the famous show '19 kids and counting' will be changed to '20 kids and that's it' or '20 kids and counting'. Either way, the name still is amusing. 
Nineteen Children of Jim and Michelle:
Now, let's talk about the whole Duggar dynasty. We know that nineteen is not a small number; at least not for a family. It sure is going to take a while talking about all their children but we are up for it and if we have guessed right, you are too. Let's start with the newest arrival to the oldest, shall we?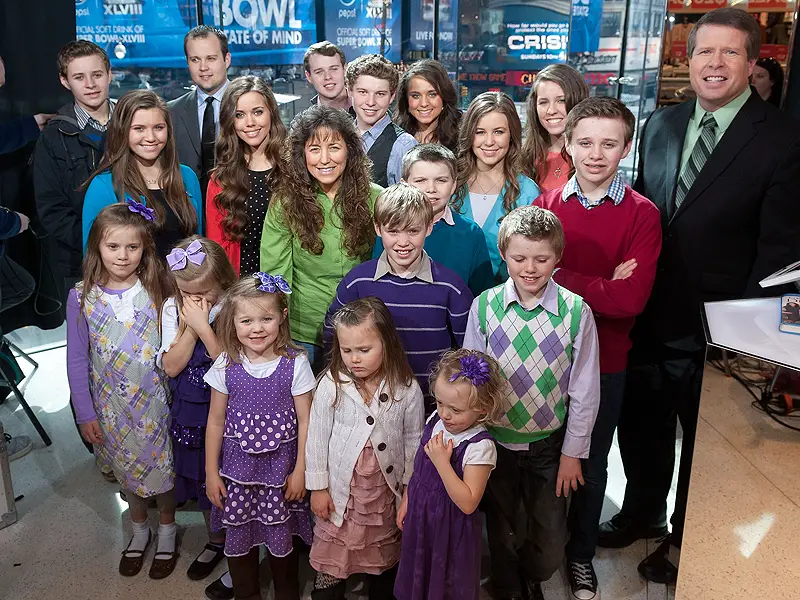 Caption: Jim Bob Duggar (corner right), Michelle Duggar (middle) with their 19 children.
Source: liverampup.com
1. The newest member of the Duggar family is Josie Brooklyn Duggar, age 6-7 years old was born in 2009. However, Josie was prematurely born and at just the 8th day, she suffered from a perforated bowel but made a steady recovery from it.
2. Jordyn Duggar was born in 2008 and currently ages 7-8 years old.
3. Jennifer Duggar was born on 2007 and currently ages between 8-9 years old. However, she can also be labeled as a master in prediction as she predicted the gender of her sister's unborn child and it turned out to be correct. Now, that's a talent at a young age.
4. Johannah Duggar was born on 2005 and ages between 10-11 years old. At an early age, she has had an experience in Horseback riding with her mother Michelle.
5. In 2004, Jackson Duggar found his way out of Michelle's womb and into this world and currently ages between 12 years old. Jackson is clearly an animal lover and is also fond of riding bicycles and playing 'King and Queen' with younger sister Johannah.
6. Justin Samuel was born on 2002 and currently ages between 13-14 years old. Justin shows some interest in household works as he was the youngest to help to do laundries and also cleans the playroom sometimes.
7. Another young one who likes to do some work around the house is James Duggar who being born 2001 currently ages 15-16 years old. He often likes to whip eggs for his siblings and is also quite good at it.
8. Now comes the handsome looking Jason at the age of 16 years old right now. In 2011, Jason gave his family one of the worst nightmares after he fell straight down 12ft in the orchestra pit while rehearsing. He was immediately taken to the hospital and was taken care of.
9. Jeremiah Duggar was born in 1998 but he was accompanied by his twin brother Jedidiah Duggar. 
10. As we already discussed, Jedidiah Duggar and Jeremiah Duggar are twins born in 1998 and currently ages 18 years old. Unlike his twin brother, he once got caught in a controversy when he posed in the family home with a shotgun in December of 2014.
11. Joy-Anna Duggar is a beauty who was introduced to the world in 1997. This beautiful girl right here ages about 19 years old. She is fairly interested in music and plays violin, piano, and mandolin too.
12. Josiah Duggar was born on in 1996 and currently ages 20 years old. He once dated Marjorie Jackson but ended the relationship in about 4 months.
13. Joseph Duggar was born on 1995 and currently ages 21 years old.
14. Jinger Duggar was born in 1993 and currently ages 22-23 years old. Jinger is the person having a candid personality on the show. She also was the maid of honor at her sister Jessa's wedding with Ben Seewald in November 2014.
15. Jessa Duggar was born on 1992 and currently ages 24 years old. She got married to Ben Seewald on November 2014, and gave birth to a baby son exactly after a year in November of 2015, and named that little guy Spurgeon Elliot Seewald.
16. Jill Duggar was born on 1991 and currently ages 25 years old. Jill married Derick Dillard on June 2014. The Duggars had a huge audience of 1000 peoples on the wedding of Jill and Derick. She gave birth to their son Israel David in 2015.
17. John Duggar was born in 1990 with his sister Jana Marie Duggar and currently ages 26 years old. John is a pilot license holder and sometimes flies the family plane.
18. Jana Duggar is as discussed a twin sister to John and is currently 26 years old. Jana and John are the oldest to live at the family home. She has also practiced in being a midwife and is unmarried.
19. Joshua James Duggar and his Scandal
At last, we have the most controversial child among all other 18 children. Joshua was born in 1998 and is currently 28 years old. He married Anna Keller in 2008 and has four children with her.
In 2006, a police report revealed that he molested five underage girls which include his two sisters Jill and Jessa when he was a teenager. Later, it was revealed that he signed up for Ashley Madison and was cheating his wife with extramarital affairs.
His parents also later spoke about his pornography addiction and admitted that he was the biggest hypocrite ever.
Check out the following link:
Caption: All about Joshua James's Scandal
Economic Support for Family:
So, there you go, a total list of Jim Bob Duggar and Michelle's nineteen children. Now, with that large family, Jim might need bundles of money to fulfill the needs of the whole family. Even with this large family, Jim and Michelle were always debt free.
Jim and his wife started working while they were still teenagers. They first started with selling used cars which Jim himself repaired. That later led to starting a towing business which they eventually ended up selling in profits. In 1994, they stepped in the real estate business and little did they know, the business flourished.
The couple also earned money through leasing lands. Later, the family started to earn $25,000-$40,000 from their show '19 kids and counting', which added to an extra income. With all the works and jobs they have done till now, the couple has successfully mustered a net worth of $3.5 million.