News
Revealing With Style! Adele Confirms She's Secretly Married to Simon Konecki in her Grammy Acceptance Speech
It looks like Simon Konecki's partner in crime, famous British singer Adele has spilled the beans regarding their marriage. While his beau Adele was giving an acceptance speech after winning the Grammy for Album of the year on Sunday, she kind of renamed their still 'partner' called relationship by addressing Simon as her 'husband.'
On February 12, Simon's partner Adele revealed that the couple is secretly married. When the 28 years old singer got the title for Album of the year for "25" at the 59th Annual Grammy Award, she did many things, and one of them was calling her partner Simon Konecki her husband. The couple did have wedding rumors back in December 2016, and with Adele's recent word, the rumors have been sealed and stamped as a fact.
Caption: Simon's beau Adele revealing about her secret marital relationship. 
"The Academy I love you, my manager, my husband, my son – you're the only reason I do it. Thank you so much to everybody."
The way Adele called Simon her husband without any hesitation apparently indicated that she thought it was time to break the ice and let the world know what she had in her bag to reveal. While Adele gave her speech of acceptance and said that she loved her husband and her son Angelo James Konecki(born on October 19, 2012), Simon seemed out of words and was overwhelming.
Simon, a charity entrepreneur, met Adele in 2011 when British singer Ed Sheeran introduced them to each other. Despite the fact that Adele was determined to stay single in 2011, at least that was what she told Vogue magazine that year; Simon and Adele kick-started their relationship, welcoming a baby son the following year.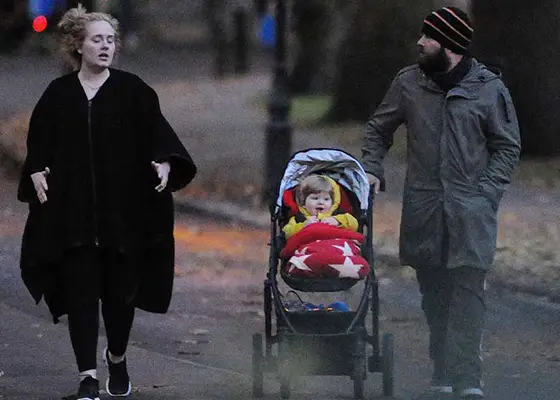 Caption: Simon Konecki with wife Adele and their son Angelo in 2013 in London.
Source: socialitelife.com
Apart from the revelation of her secret marriage, Simon's wife Adele gave an emotional speech, addressing Queen Beyoncé as her inspiration and even broke the award and claimed that she deserved the other half.
Caption: Adele's big night, The Grammy Awards 2016.