News
Baby Bliss! Robin Thicke Welcomes First Child with Girlfriend April Love Geary
American singer and songwriter Robin Thicke is a father of two children now! 
Robin and his model girlfriend, April Love Geary welcomed their first child together, Mia Love Thicke on 22 February 2018 at 13:33. The 40-year-old singer took the happy news to his Instagram on 24 February 2018; sharing a sweet video and thanking God, and his girlfriend, April Love in the caption.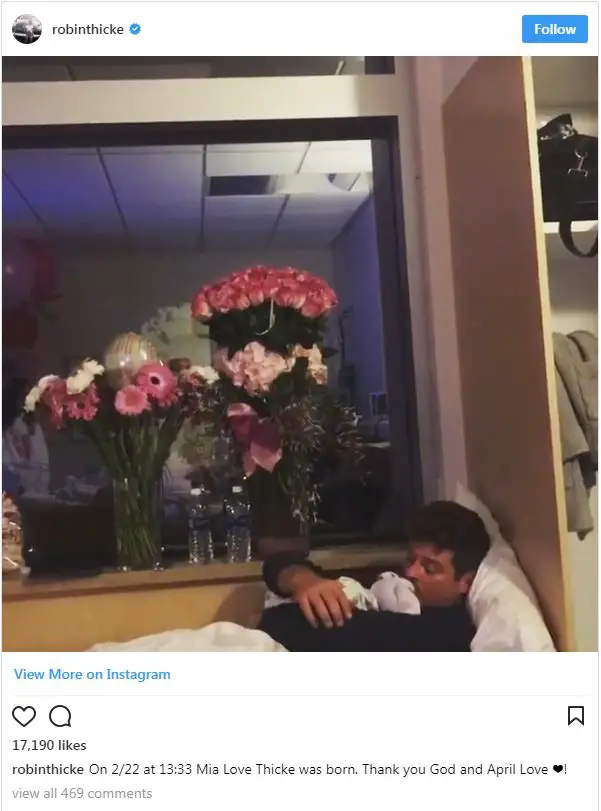 Photo: Robin Thicke's Instagram
In the video, he was cradling his crying baby girl Mia in the hospital. A few vases filled with flower had been lined up on the windowsill behind him, and the glass reflected a view of April's hospital bed. It also appeared that Mia was wearing a little purple cap.
Similarly, April also took the news by posting an Instagram story where she was lying on the hospital bed to the tune of 'The Four Tops' 1972 song 'Ain't No Woman Like The One I Got.' 
April also shared a photo of balloons, which included a pink heart-shaped reading 'Baby Girl' from inside the room.
The couple, Robin and April have been together for more than three years. They first proclaimed that they were expecting a baby back on 17 August 2017, and at that time, it was reported that she was pregnant with a girl.
Posting a picture of her ultrasound, April also revealed that her expected due date was 1st March 2018, which would be the 71st birthday of Robin's late father, Alan Thicke, who died in December 2016.
Baby girl Mia now joins the duo in the family along with Robin's seven-year-old son Julian Fuego, his only child with ex-wife, Paula Patton, who is an American actress. Robin got married to his ex-wife Paula in 2005 after being together in a relationship since the 1990s. However, Robin and Paula separated back in February 2014.
After they got separated, Robin conducted a public campaign to get Paula back including an album named 'Paula' with a lead single titled 'Get Her Back.' But all the effort went in vain. After eight months of separation, Paula filed for divorce in October 2014 which was ultimately finalized in March the following year.