Trending
Rugby Player Brogan Watt On Course to Get Married to his High School Sweetheart Emma Bone
What a story it has been for West Coast rugby player, Brogan Watt. It has been a mixed bag of the year for Watt and his family members. He was in Coma back in October of 2016, and now he has married his high school love.
It has been a fluctuating year for West Coast rugby player, Brogan Watt. As it has been a mixed bag of the year for Watt and his family members. He was in Coma back in October of 2016, and now he is set to get married to his high school love.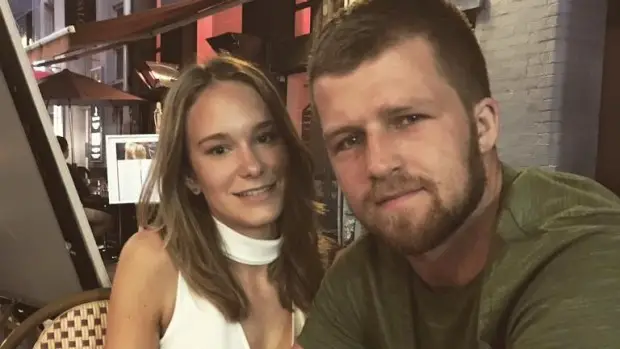 Caption: Brogan Watt and his longtime girlfriend Emma Bone are getting married on the West Coast in February.
Photo credit: stuff.co.nz
For the family of Brogan Watt, it was touch and go moment after Brogan's on-field brain injury in October of 2016 led to emergency surgery with only 20 percent survival rate.
However, only after four months, the 24-year-old player has returned to his work and is already set to marry his high school girlfriend Emma Bone, 23, at a ceremony at Lake Brunner, near Greymouth, on February 10, 2017.
It was Watt who popped up the question two and a half years ago on couple's holiday in Fiji, but previously the pair had no plans regarding the wedding, as stated by Watt to the Herald on 29th January 2017. Watt said:
"Then after the head knock I was in hospital and I had a fair bit of time on my hands and one day Emma came in and saw me like she did every day and I just said to her 'Why don't we get married soon?'"
The lovebirds started dating before eight years, and their wedding plans are "locked in and sorted, " but they are temporarily delaying their plans to buy a house as reported by NZME.
Tragedy hit Watt's family following a Heartland Championship match between Poverty Bay and West Coast on October 1, 2016. Back then Watt complained of feeling ill shortly after the game and was treated by St John paramedics at the field.
He was then taken to Grey Base Hospital and airlifted to Christchurch Hospital where he underwent emergency brain surgery the same night to remove a blood clot putting pressure on his brain.
Surgeons of Christchurch had to remove a piece of his skull to access the clot, and rugby player Watt remained in a coma for a week. Watt told NZME:
"The first memory I had was from the previous weekend,"
Moreover, he added:
"I couldn't really believe it when the doctor was telling me. Emma and my Dad were there and the doctor said 'You've been here for a week' and was explaining what happened. I just didn't believe I'd been asleep for a week."
Watt's fiancee Emma Bone shared with NZME:
"It kind of feels like it didn't really happen" and said it was tough to see her partner in hospital with a life-threatening injury.
Moreover, she added:
"I just knew that I had to be real positive and keep strong. I knew he was going to be all good."
The 23-year-old player made his West Coast rugby in 2015 and was one of the star players on the West Coast before the injury.