Trending
Santino Fontana Shared His Fairy Tale-Like Wedding Details After Getting Married To His Longtime Girlfriend
Hearing the fairy-tale story of Cinderella, Snow White, Ariel and Jasmine most of the girls spent their childhood dreaming of their prince charming.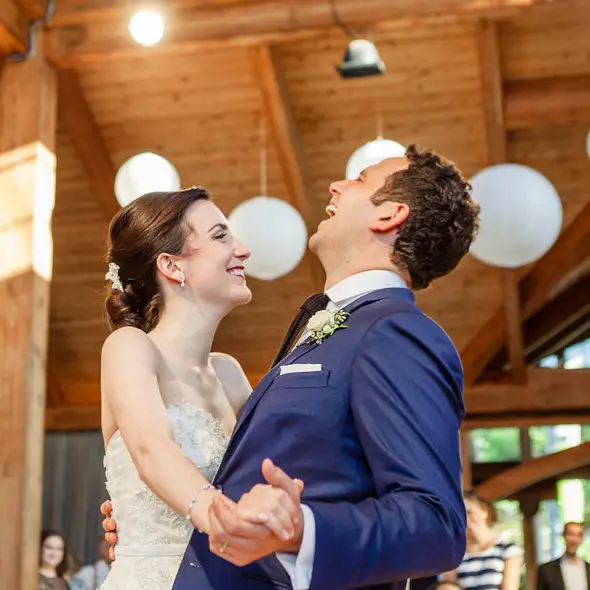 Hearing the fairy-tale story of Cinderella, Snow White, Ariel and Jasmine, most of the girls spend their childhood dreaming of their prince charming and grow up waiting for their knight's arrival. Similarly, some actresses, who have appeared in different fairy tale stories are still expecting their prince charming to enter their life.
Unlike them, Santino Fontana, the Prince Topher in Broadway's Cinderella let his girlfriend experience a real fairytale wedding, though she had walked down the aisle several times on screen.
A fairy-tale wedding: 
The "Crazy Ex-Girlfriend" star Santino Fontana and his long-term girlfriend Jessica Hershberg got married on Sept.5 2015 in Upstate New York. She was escorted by her parents Betsy and Theodore Hershberg with a flower-strewn path. Talking to New York Times, Hershberg's father expressed,
"Today, she's wearing the dress for real, with her real-life prince by her side."
The beautiful bride Jessica, who has been a bride many times on-screen, seemed gorgeous in her wedding dress. Her gown was train fashioned, hand-embroidered and sprinkled with petals designed by William Ivey Long. Jessica commented jokingly,
"They're totally pretty enough, but we're not having a Cinderella moment with the shoes."
To make it more unique, The Broadway couple Santino and Jessica wrote their own vows and exchanged them.
The couple first met each other at the Birdland jazz club's backstage in the year 2011 where they were both performing. Opening up to the New York Times, Santino revealed-
"I don't think I've ever had a friendship or relationship that's been so instantaneously easy, we always wanted to be together all the time."
They dated for 3 years and finally got engaged in 2014. Playbill exclusively revealed the news of their engagement. Moreover, they revealed that the Tony-nominated actor sent them an email where he stated-
"Yes, it's true, we are engaged. I don't have any other news to share as we're just getting started with the planning now. But I can say we're very, very happy, and our cherished family pet, Vito the robotic vacuum cleaner, is practically buzzing with excitement."
Furthermore, some time ago, the rumor of Santano being gay surfaced the news. But eventually, it turned out to be false as he is now happily married to Jessica, who happens to be a lady.