News
Sarah Harris Reveals She Wants To Be Pregnant And Have Another Baby With Husband Tom Ward!
She wants more!
Aussie journalist Sarah Harris, who has reached the age of 35, has opened up about her will to have more children with her husband, Tom Ward. While she has been enjoying her little family consisting her husband and her little son Paul, she has expressed her desire to have another child in her life. According to her, having two kids is simply better than only one.
Sarah and Tom got married in 2014 in somewhat awkward weather following the journalist's 5-year long relationship with her IT partner. The two tied the holy knot and shared vows in front of 160 guests including Sarah's colleagues Ita Buttrose, Joe Hildebrand and Jessica Rowe.
She said,
"I am so excited to celebrate my love for my best mate Tom. He is just such a beautiful beautiful soul and I am so lucky to have him."
The journalist then added that the weather did not bother her.
"The weather doesn't bother me. As long as you have your good friends, good food, good music, and booze, what could go wrong."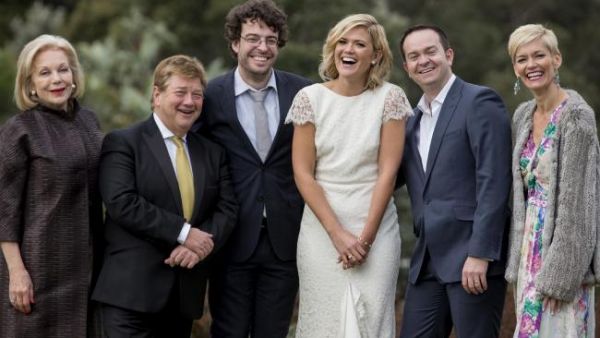 Caption: Sarah Harries married Tom Ward in 2014 in front of all her colleagues.
Photo Credit: dailytelegraph.com
Following their marriage, the two spent their honeymoon in the beautiful country Spain without publicizing much about this private occasion.
But one thing which they did not hide despite their will was the news of Sarah getting pregnant.
Sarah revealed her pregnancy via a statement which said,
"I'm 15 weeks,I've been trying to hide it very unsuccessfully because the audience keep picking up on it!"
Sarah also explained her desire for her baby to have the same type of hair as her beloved husband.
"I'm dying for it to be a ginger. I'd love a little ginger baby."
Later in 2015, she gave birth to her son and she said she is lucky to have him in her life.
"There are parents that simply can't be home to tuck the kids into bed or read to them of a night or help them with their homework because they have to work a double shift to put food on the table or pay the rent,I look at my little boy and just think he's very fortunate to be where he is."
However, her son did not enter the world without some scary moments and complications in Sarah's pregnancy which is why she says she nearly lost her son.
"The past nine months have been such an incredible and amazing ride for me, there have been heaps and heaps of highs but also a lot of lows and what many of you don't know is that early on I nearly lost my little man. I had some complications that made those first 14 weeks, really, really scary
The then nervous mother to be elaborated and thanked for the support of her near and dear ones for helping her make through the phase.
"But what helped me get through it was the enormous support and love that I received, not just from my wonderful, wonderful panel and my team around me but from the extended Studio 10 family. And to everyone who has sent me letters and cards and knitted cardigans and handmade blankets and booties, I just want to say 'thank you, you have made things so beautiful for me and I feel so really and truly blessed'."
In life, we do need the support of our close ones and thankfully, she found able support in her co-hosts and fans.
Hope she reveals the news of her second pregnancy soon!