Trending
Sean Hannity Concludes Russian Government not guilty As Source For WikiLeaks Following Assange To Hannity Interview
Sean Hannity confirms Julian Assange the founder of Wikileaks does not get their sources from the Russian Government or from any state party when Sean the fifty-five-year-old radio and television host landed an interview with the founder and aired yesterday.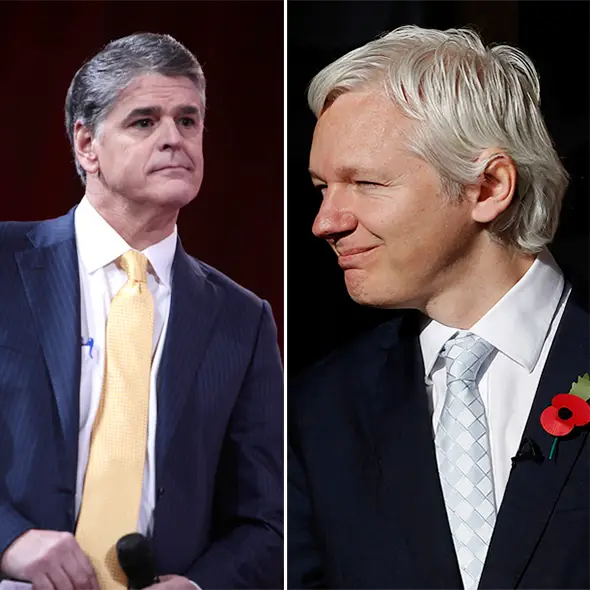 Quick Information
Wedding Date

January 9, 1993

Eye Color

Dark Brown

Hair Color

Black & White

Hair

Short

Feet (Shoe) Size

8.5 (US)

Weight

N/A

Height/ How Tall? 5' 11" (1.80 m)
College

New York University

High School

St. Pius X Preparatory Seminary

Career

1982-present

Awards

Marconi Award (2003)

Net Worth

$220 Million (Estimated)

Salary

$40 Million Per Year

Dating/Affair

No

Gay

No

Date of Birth Dec 30, 1961
Divorce/Split

Not Yet

Wife/Spouse

Jill Rhodes (M. 1993)

Relationship Status

Married

Daughter/s

Merri Kelly Hannity

Son/s

Sean Patrick Hannity

Mother

Lillian F. Hannity

Father

Hugh J. Hanity

Ethnicity/Race

Irish-American

Zodiac Sign

Capricorn

Birth Name

Sean Patrick Hannity

Profession

Journalist

Birth Place

New York City

Nationality

American
Assange and Hannity had a straight talk during an interview about the recent allegations with Russians hacking Wikileaks emails. Fox's News Sean Hannity had a one on one discussion in London's Ecuadorian embassy, confirming that the founder of Wikileaks did not get their sources from the Russian Government or any state party. The interview was aired on January 3rd at 10 pm.
Caption: Sean Hannity and Julian Assange's interview in 3rd January 2017.
During the presidential election, it was rumored that Wiki Leaks is getting their information from the Russian government to influence the voting system. But the founder clarified himself in the statement he released during the interview where he stated,
"Our publications had wide uptake by the American people, they're all true. But that's not the allegation that's being presented by the Obama White House. So, why such a dramatic response? Well, the reason is obvious. They're trying to delegitimize the Trump administration as it goes into the White House. They are trying to say that President-elect Trump is not a legitimate president."
In Obama's recent expedition of 35 Russian spies and his administration's accusation claiming the Russia's involvement to interfere with the elections with corruptions. To that, he assured,
"We can say, we have said, repeatedly that over the last two months that our source is not the Russian government and it is not a state party"
Wiki Leaks played a crucial role day before the Election Day while Wiki Leaks published Hillary Clinton campaign chairman, John Podesta. With over fifty thousand emails released, exposing and damaging Hilary's candidacy releasing significant emails that destroyed her run for president,
But during the interview, when he was asked if the emails made any changes or could have been different for the outcome of the elections, Assange replied,
"Who knows, it's impossible to tell. But if it did, the accusation is that the true statements of Hillary Clinton and her campaign manager, John Podesta, and the DNC head Debbie Wasserman Schultz, their true statements is what changed the election."
Wiki leaks is a nonprofit international organization that publishes government secrets, news leaks and a lot of classified information that isn't available to the public, and its founder gave a statement that Russia's government didn't play a role nor is it, in any way, sourcing Wikileaks.
This is Julian's first face-to-face appearance on cable news since December during his talk with Sean Hannity on his radio show. Julian Assange, an Australian forty-five-year-old writer, publicist, and a computer programmer is living under political asylum in the Ecuadorian embassy in London because of rape allegations since 2010.