News
Showers of Congratulations for Donald Trump! Russian President Putin Congratulates Donald Trump for his Outstanding Victory
As Donald J. Trump stands proudly as Mr. President of the Untied Stated of America congratulation are as expected on the way in bulks. From common citizens to the top personalities of the world, all are congratulating Donald Trump on his victory. However, Donald Trump immediately received congratulation from the Russian President Vladimir Putin, his good foreign friend.
Shortly after Donald Trump won the election and became the 45th President of the United States, Vladimir Putin was the first of all the foreign country leaders to congratulate him and he did it through a telegram and expressed his hopes on working together to improve the US-Russia relation.
As it happens, the newly elected president Donald Trump and the Russian president Vladimir Putin share a very friendly relationship from a long-time. However, it is only with Donald Trump that he shares this relationship because Putin does not have much of a friendly term with former president Obama along with the election nominee Hillary Clinton; the whole democrat party to sum it up.
In an interview with Michael Savage on his radio show in October, Donald said while he was running for the presidency,
"I think I could see myself meeting with Putin and meeting with Russia prior to the start of the administration. I think it would be wonderful."
He also explained how Obama and Hillary do not like him,
"They say, 'Oh well Russia loves Donald Trump and Putin loves Donald Trump'. They insult him constantly, no wonder he can't stand Obama and Hillary Clinton."
The insult that Donald was talking about was when Clinton said the Russian president was 'thin-skinned and autocratic.' During the Wiki Leaks controversy US spies suspected that it could the work of hackers associated with the Kremlin, in return of the insult Clinton caused to Putin.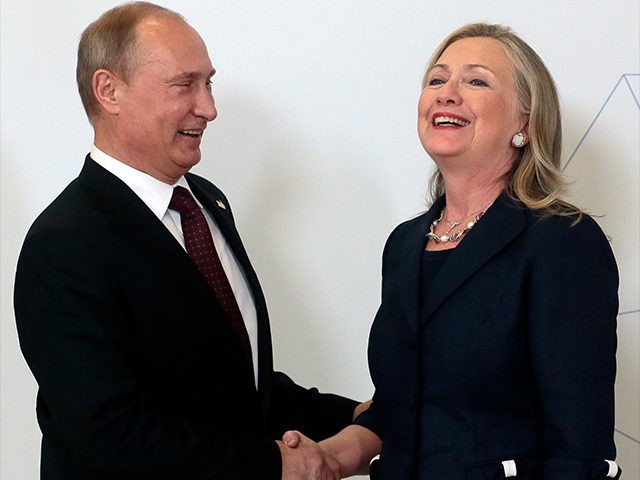 Caption: Vladimir Putin shaking hands with Hillary Clinton.
Source: breitbart.com
On the other hand president Trump sees Putin as a strong leader and has praised him often and it seems that the personal friendship will help in both the county's growth.