News
Sofia Richie, 19, Dating Scott Disick; Father Calls It 'Just a Phase'!
Sofia Richie's father Lionel Richie does not seem optimistic regarding the relationship of Sofia with her boyfriend Scott Disick; he called it "Just a Phase" in an interview with The Daily Telegraph that surfaced the media on 17 February 2018.
Sofia, the daughter of a legendary singer Lionel Richie, is just 19 and dating Scott Disick, who is 34 years old and a father of three. Lionel seems to believe that his daughter's current relationship will not see the wedding and his daughter will not walk down the aisle in the summer wedding, at least not with her current boyfriend, Scott.
Lionel expressed his thoughts in the interview where he stated,
"She's 19. When you're 19 you know everything. Is it going to be for life? I don't know. But for right now it's just a phase and I'm going to stand real still in the corner, get me a good drink and not make too much noise."
He even shared about his teenage days when he would show up with a girl in front his dad saying he was in love. Lionel's dad would keep calm, ignore it and give him the time to figure things out. Expressing the same, he said,
"Now I know what my parents meant when I came through the door with my Afro and my girlfriend and said 'Dad, I'm in love' and [he] looked at me and said 'Okay, we're going to leave you alone for a minute and you'll figure it out."
He joked, adding:
"My daughter is getting me back for my Afro days!"
However, Lionel showed his support for his daughter Sofia's beau as he said:
"From what I met of him he's a very nice guy. When you hang around the reality world, who knows what you are really doing? This is a well-oiled machine, the Kardashian machine. I don't really know what to think. I told Sofia I will have no opinion. I'll continue to be my cheerful self and move on."
However, a source on E! News told the media:
"Sofia gets whatever she wants and is a Daddy's girl, so even though her father doesn't really approve of Scott, he's going with the flow to make her happy."
The couple has been going out for nine months now. They went public with their relationship and made it official through Instagram back on 23 September of 2017. Scott was the one to make it official; he shared an intimate photo of himself nuzzling into Richie's neck and snuggling together in Miami.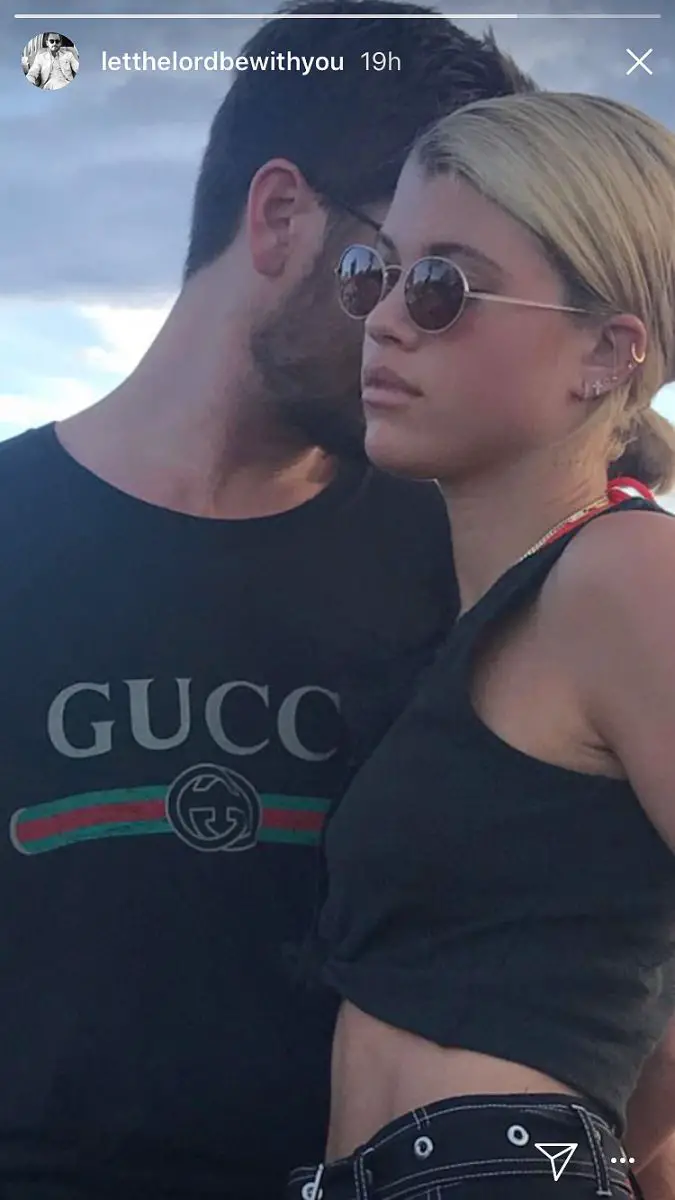 Sofia Richie and boyfriend Scott Disick reveal relationship through Instagram story (UsMagazine)
After the revelation, the duo has been going on dinner dates and sharing photographs of their romantic dates. 
Moreover, Sofia, who enjoys a net worth of $3 million, wished her beau 'Happy Valentine's Day' through her Instagram by sharing a black and white picture of them cuddling, where Scott can be spotted wrapping his arms around her.
Furthermore, back in November, a source told PEOPLE:
"She's been great for him. She's made a big impact on his life and hasn't partied at all since they met."
The source added, 
"His friends adore her and nobody notices the age difference. She is very mature, she grew up in Hollywood and has always been in older situations. They seem really happy."
Regardless of their 15 years of age-gap, the duo has been going strong with their relationship. 
Before Scott, Sofia briefly dated Justin Beiber back in August. As for Scott, he was previously involved with his ex Kourtney Kardashian and shares three children with her; two sons, Reign Aston, who is 3, and Mason Dash, who is 8, along with a daughter Penelope Scotland, who is 5½.