News
Steve Burns Dead Or Alive? Disappeared From The Show After Being Arrested?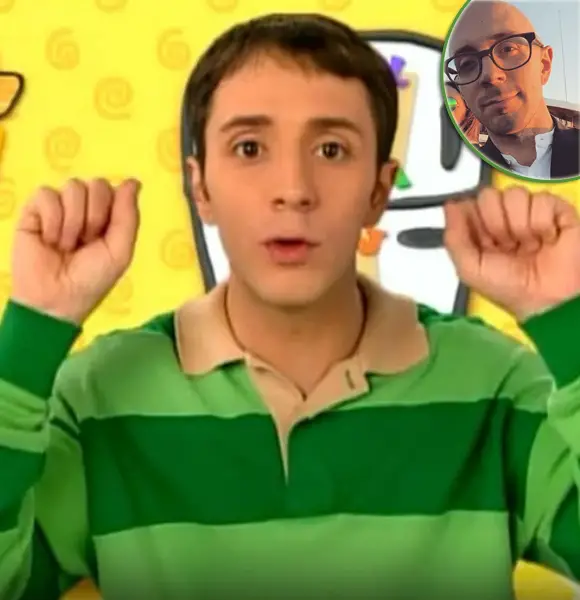 The showman, Steve Burns had all things falling for him before he got obsessed with an idea, precisely the thought of quitting Blue's Clues in 2002. Steve made a swift action of leaving the show and started an isolated life as he cut off all his connections 15 years ago. Even Blue went clueless like other people, and several rumors regarding his death followed the incident.
Is Steve Dead Or Alive?
The sudden disappearance of Steve followed by his death rumors certainly made each of us believe that he wasn't living. But we do have a pleasant feeling informing you that those all were false rumors as the actor is still alive and proving his presence through many ways.
The rumors killed Steve number of times, and by multiple styles but to everyone's surprise, he's still breathing and has a sound health condition. Neither a car ran over Steve, nor he had a drug overdose and got arrested for its possession. Furthermore, the rumor about him of being a adult star or a gay also doesn't have a solid ground.
Contrary, Steve was always there to make others believe that he wasn't dead and thus, flashed tweets, one or more in a year, to prove his liveliness using @SteveBurnAlive as Twitter handle.
Still mostly alive. — Steve Burns (@SteveBurnsAlive) March 5, 2012
The similar tweet and the same month, same year.
I am alive again today. — Steve Burns (@SteveBurnsAlive) March 22, 2012
 After two years, he again had to confirm the same.
I remain not dead from anything. — Steve Burns (@SteveBurnsAlive) June 5, 2014
 A couple of tweets came after a year with the same purpose.
Technically still alive. — Steve Burns (@SteveBurnsAlive) March 22, 2015
He was also on Instagram doing the same with his unique Instagram account, steveburnsalive.
Steve, still alive, got changed completely as he gained some weight while he completely lost his hair.
Well, to shut all the rumors completely, he made his appearance in an interview with Huffington Post at the end of the last year and revealed the actual reason behind his decision. The actor with a bald head said:
'I left the show because it was just simply time to go. I was pretty much playing a boyish, older-brotherish kind of character on the show. I was getting older; I was losing my hair.'
He also added:
'A lot of the original gangsters on the show, like the people who created it, were all moving on to other careers. It just felt like time. I just had a gut feeling like it was time to go.'
Despite, he was laughing for all those ridiculous rumors which made him dead one or the other ways and also shut another news of leaving the show to seek a music career.
What's Happening Now In Steve's Life?
Steve now lives a single life in Brooklyn as he isn't married. He is in his way to make a music career and has released three music albums yet. He also works as a voice-over artist as he has gained enough experience in this field from Blue's Clues. The show was then handed over to Steve's brother, Joe, portrayed by Donovan Patton.
Steve released his first album 'Songs for Dustmites' in 2002, soon after he left Blue's Clues. He also collaborated with several artists from The Flaming Lips and later started a band named Steve Burns and the Struggle. He released his second album 'Deep Sea Recovery Efforts' in 2009 and later in 2016; he released his third album and first children's album 'Foreverywhere' with Drozd. They've even released a video for the song entitled "The Unicorn And Princess Rainbow.
Caption: Steve and Drozd in the video of the first song from the album, For everywhere (Published on Dec 16, 2016).
A Short Wiki-Like Bio Of Steve Burns:
Steve has also acted in indie films and smaller projects which together conclude to a net worth of $22 million for him.
A Short Wiki-Like Bio Of Steve BurnSteve Burns was born on 9 October 1973 in Boyertown, Pennsylvania, USA as Steve Michael Burns. He stands 5 feet and 7 inches tall from the ground and loves to play guitar in his free time. He has two sisters named Karen and Jennifer while he hasn't revealed much about his parents. The actor, producer as well as a musician is famous mostly among kids.