News
Teenage Swimmer Lilly King Won Gold Medal in 100 Meter Breaststroke: Victory of Clean Athletes Over Dopers
Lilly King of the United States clinched the Olympic gold medal in Rio de Janeiro in the Women's 100 meters breaststroke this Monday.
She cashed in one of the most important nights of her career and bagged gold in Rio Olympics. She outgunned Russia's Yulia Efimova, who was jeered with resounding boos from the Rio de Janeiro crowd. The reason was simple: Yulia's alleged doping scandal.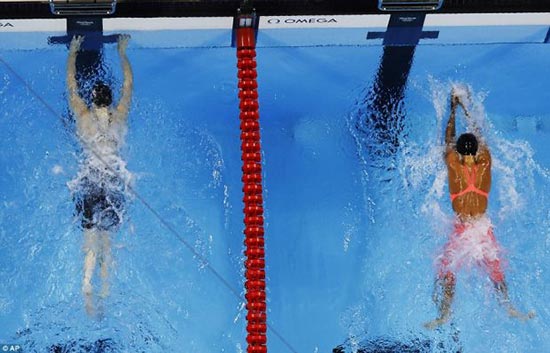 Caption: King( Left) wins the gold medal ahead of Russia's silver medalist Efimova(Right) in the 100m breaststroke finals in Rio Olympics. King had made her Olympics journey by breaking the American Records in the 100 and 200-yard breaststroke events,
Source: dailymail.co.uk
King has taken the win as a proof of the inevitable victory for clean athletes over the dopers. The Spunky and energetic American beat Russia's Yulia Efimova fair and square at the pool on Monday. King captured gold in the 100m breaststroke and dug towards her opponent.
After winning gold, King said:
"It just proves you can compete clean and still come out on top with all the hard work you put in. There is a way to become the best and do it the right way."
King made a strong start in first 50 meters, while Efimova was well back in fourth place. The Russian then sulked forward in the second half of the race and looked to be catching her arch rival, but King finished powerfully in an Olympic record time of one minute 4.93 seconds, while Efimova was just 0.57 seconds behind.
Efimova faced loud boos before the race even started, as she had twice been suspended for doping offenses previously.
The 24-year-old 2012 London Olympics Bronze medalist and 2015 FINA World Championship Winner, Yulia Efimova, overcame a legal challenge last week to get herself back to the Olympics at the eleventh minute. She was previously banned for 18 months in 2013 for testing positive during a thorough check. Then, traces of an anabolic acid were detected in her system. And in 2014, she accepted a provisional ban from the International Swimming Federation after testing positive for meldonium.
However, ISF waivered her ban after taking the advice of the World Anti-Doping Agency, soon after the Court of Arbitration for Sports made it clear that ISF cannot ban the athletes from the Olympics by previous detections.
Efimova couldn't hide her tears after the event was over. She said:
"I really don't know how I even reached the final. It would have really been the end of a fairytale, a horrible dream, if I'd won gold. But that was all I could do right now."
Sets her sight on world record!
Caption: Lilly King sets high goals for herself!
Lilly King has spoken after she won the women's 100 breasts at the Arena Pro Swim Series meet in Atlanta,2017.
Lilly King revealed after the race her big goals for the coming summer, and that is to break world records and to improve her 200 breasts. Lilly discussed how she's finding motivation to do so and what her plan are for the next seven weeks leading into U.S. Nationals.
Lilly's Short Bio:
Caption: Women's 100m Breaststroke - Rio 2016 Olympics - (Winner) Lilly King
Lilly King (born February 10, 1997) is a U.S. swimmer who specializes in the breaststroke. She recently won a gold medal in Rio Olympics.
Coming from a sporting family, Lilly started swimming at the early age of seven. Her father Mark used to be a track and cross country runner for Indiana State back in his days, and her mother Ginny Swam was also a cross country runner for Eastern Kentucky University and Illinois State University.
Lilly King is still a college student and attends Indiana University.
Caption: The Road to Rio: Lilly King - U.S.A.
Source: HooiserSportsReports