News
Terry Farrell Is Engaged! A Step Closer Towards Getting Married To Partner Adam Nimoy
One more giant leap towards getting married and calling her love partner her husband!
"Star Trek's Terry Farrell is now engaged to her partner, Adam Nimoy, the son of Leonard Nimoy.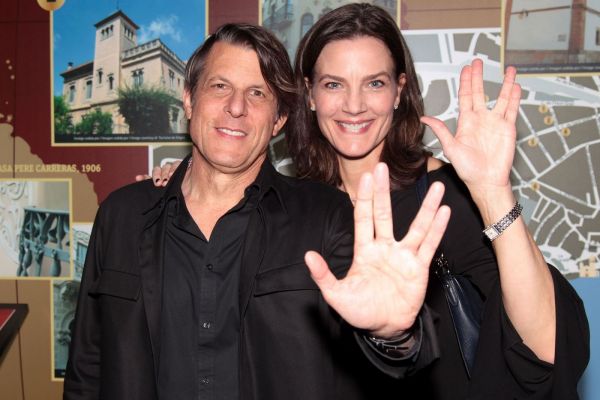 Caption: Terry Farrell is engaged to Adam Nimoy.
Photo Credit: people.com
The new dimension of their relationship was updated on social medias by famous film critic, Scott Mantz.
But still, the news of them getting engaged was something the fans were not ready to believe.
Then again, Terry affirmed the news to her fans and the public in general.
The actual truth is that they are now engaged to get married!
So now that everything is cleared up, we would like to be in line to congratulate the couple on this happy occasion and wish to know about the plans of them tying the knot.
Speaking of tying the knot, did you know that Terry was previously married to her former husband, Brian Baker before the relationship ended in a divorce in 2014?
The actress has also been open about her fallen marriage on social media sites.
Brain and Terry share a son Max Baker, who was born in 2003.
Moreover, Adam Nimoy has a daughter and son named Madeleine Nimoy and Jonah Nimoy, who he had with his ex-wife, Nancy.
Hence this will mark the second marriage to both, and we do hope that this upcoming marriage will prosper even more with time!
Born on 19th November 1963, Terry Farrell began her career as an Elite Fashion Model and was also featured on the covers of reputed magazines like Elle, Vogue, Mademoiselle, and Self.
Farrell co-starred with Rodney Dangerfield in "Back to School," and she was also seen portraying the role of Lt. Commander Jadzia Dax on the iconic "Star Trek: Deep Space Nine" and of Reggie Costas on "Becker" alongside Ted Danson.
Keep up with us for further updates on the marriage of Terry Farrell and Adam Nimoy!