News
Texas' Middle-School Teacher Alexandria Vera Jailed after being Impregnated by her 13-year-old Student Boyfriend
A case unlike most, Alexandria Vera, a twenty-four-year-old Huston teacher is charged with sexual abuse of a thirteen-year-old boy, an eighth grader at her school on January 13, 2017, and has been prosecuted and sentenced to jail for ten years.
On November 2016, she pleaded guilty to aggravated sexual assault of a minor, minimalizing her sentence and as of Friday is convicted to 10 years in prison according to a confirmation from People, Vera was originally sentenced to 30 years before her plea.The former teacher of Aldine Independent School District was arrested in May of 2016 and will only be eligible for parole after five years.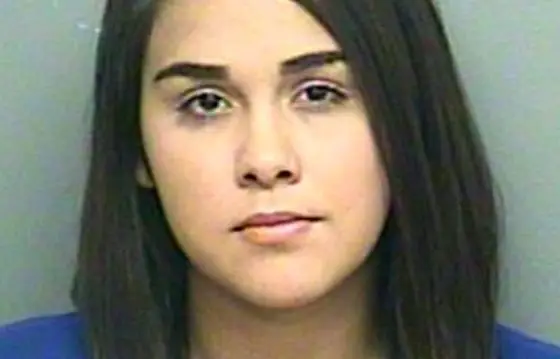 Caption: A mug shot of Alexandria Vera in 2016. 
Picture Credit: elitedaiy.com
Reported by one of the students; suspicions arose between the "cool teacher," as her students call her, and the thirteen-year-old boy. Vera soon confessed that she had sex with him almost daily for months who was 13 at the time between September 30, 2015, and January 30, 2016.
While Vera worked for Aldine Independent School District, she had admitted that she was pregnant and had an abortion that led the Child Protective Services to raise some questions. As to the odd couple, they have claimed their relationship was accepted by the boy's family, whom she met in October 2015 and introduced each other as girlfriend and boyfriend. His parents were approving saying they were,
 "very supportive and excited"
Vera also commented on their relationship stating they,
   "love each other."
Their relationship started with an Instagram message, between teacher and student which soon became a romance in a felony during the fall of 2015. An investigation by CPS on June 1, 2016, was conducted and it was said by one of Vera's neighbors that,         
"That kid was always over (Vera's house in Spring), and she always told it was her brother,"
Social media had much to cover on this day and had a say in the matter especially the school district officials saying,
Aldine ISD has been made aware that charges have been filed against a former Stovall Middle School teacher involved in inappropriate behavior with a male student. When the allegation was made in April, the teacher was immediately removed from the school and placed on administrative leave. Aldine ISD Police investigated the incident and turned their findings over to the Harris County District Attorney's Office. The safety and security of Aldine ISD's students and staff remains a priority of the school district."