News
Tiffany Stewart's Husband, Mark Cuban bashing Donald Trump! View Full Report!
We all are familiar with the anti-Trump campaign run by Mark Cuban against Donald Trump. 
Following the campaign, Cuban has banned two of the ESPN credentials from covering his home games. Yes, you heard it. He has revoked Tim McMahon and Mars Stein from canopying all the home games of Mavericks.
Banning the reporters, is he mimicking Trump?
We are very well-known about the banning of several media outlets by Trump during Rallies and press conferences. Media outlets such as The Washington post, Buzzfeed, Politico, The Huffington post and Daily Beast have not been able to cover the news about the Trump's campaign one time or another. Likewise, Cuban is following his pathway banning a couple of credentials of ESPN.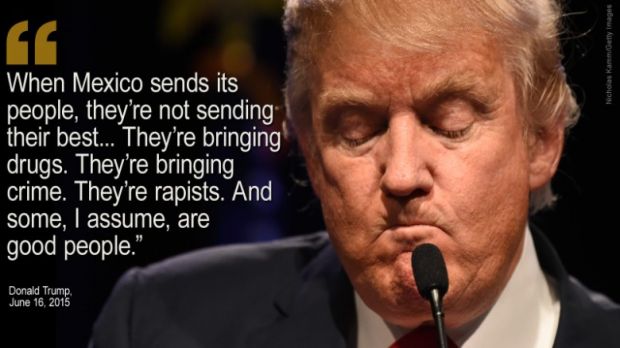 Caption: Quote of  Trump, a very outspoken person.
And so is Cuban. A vociferous critic of Donald Trump, Mark Cuban has repeatedly roasted Trump. He has used Twitter as an unyielding medium for his anti-Trump campaign. Cuban has Twitted time and again. His first tweet was on 30 September 2016 where he mentioned about Trump's business.
Before Election: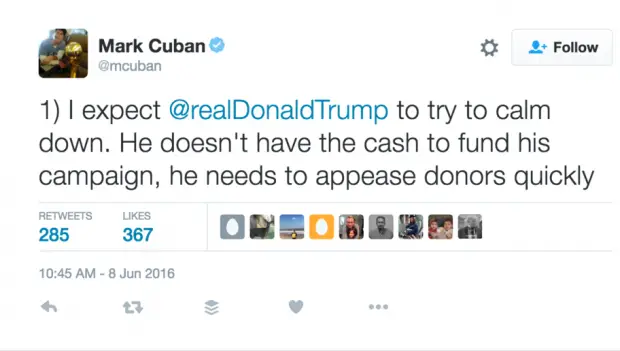 After Election:
We all need to give President-Elect Trump a chance. Support the good. Lobby against what we disagree on. No one is bigger than us all

— Mark Cuban (@mcuban) November 9, 2016
That was not it, earlier  on September 16, 2016, according to news posted on Cincinnati.com, After his endorsement of Clinton he questioned," 
"Is there any bigger jagoff in the world than Donald Trump?"
After all Cuban's tweets, Donald reacted.
If dopey Mark Cuban of failed Benefactor fame wants to sit in the front row, perhaps I will put Gennifer Flowers right alongside of him!

— Donald J. Trump (@realDonaldTrump) September 24, 2016
In this way, Cuban has been banishing Trump following all sorts of way to make his anti-Trump campaign successful but couldn't succeed.
Know more about Cuban's Life, Wife, and Children:
Mark and Tiffany first meet in a gym in 1997 and fell in love with each other. Tiffany belonged to a middle-class family. They got married on 2002 after five years of relation. They had their wedding ceremony in Barbados. Being a billionaire his wedding was a small affair, witnessed by 20 people which included their close friends and family.
Mark gave a statement to espncdn.com where he said;
"It was a very traditional, very elegant, beautiful wedding and reception," their event planner said at the time."
Previously,Tiffany had problems with her husband's big house but later on she managed to get into the billionaire's lifestyle. Personally she thinks Cuban's texas mansion was impractical.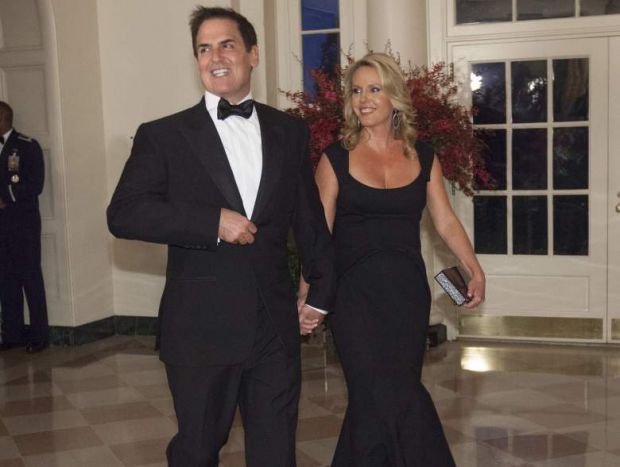 Caption: Mark Cuban with his wife, Tiffany Stewart posted on October 19, 2016.
Source: heavy.com
They have three kids: Alexis, Alyssa, and Jake. Alexis is the elder one who is 11 years old. Alyssa is 9, and Jake is 6.
Mark Cuban told Entrepreneur on September 27, 2015, where he said;
"After their health failing, my greatest fear in life — and I've said this to my 11-year-old daughter and have obviously talked about it with my wife, Tiffany — is that I don't want them to be entitled jerks," 
The couple didn't want their children to feel entitled or spoiled so, According to Business Insider, the couple themselves got involved in parenting.
Mark Cuban with his wife and kids is now staying in the mansion in Dallas, Texas.Cuban mentioned he was not used to going in the second floor till the time they had kids. Also, he said,
"The biggest change in my life since I moved in here 14 years ago is, of course, the kids,"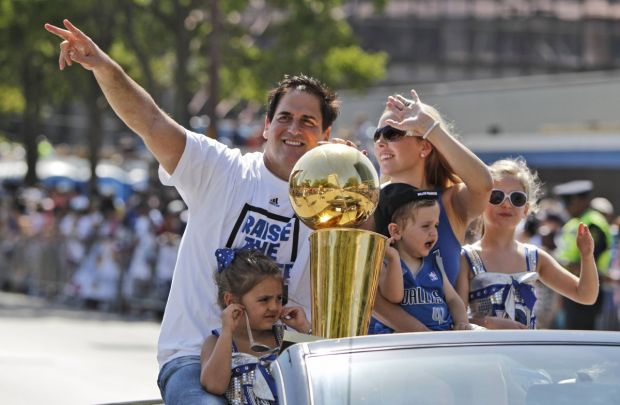 Caption: Mark Cuban with his wife Tiffany Stewart and his kids posted on July 21, 2015.
Source: businessinsider.com
Mark Cuban's Short Bio:
Mark Cuban was born in Pittsburgh, Pennsylvania on July 31, 1958. He completed his education from Indiana University, University of Pittsburgh. He is very much popular as a business leader, entrepreneur, and Philanthropist.
Mark has got his hands into different sectors of entertainment. He owns an NBA's Dallas Mavericks.He has also invested in film production and has appeared in a "Dancing With The Stars" and "Shark Tank." These all lead his net worth which tends to $2.7 billion.