News
Tisha Campbell-Martin Painfully Announces Divorce From Husband Of 27 Years!
Tisha Campbell-Martin, an actress who rose to fame from '90's sitcom, Martin, announced the divorce filing, from her husband of 27 years, Duane Martin, via a representative on Thursday, 22 February.
The statement from the actress read,
"After 27 years of being together and two amazing children, it pains me to announce that I've filed for divorce." 
Tisha even asked for privacy for herself as well as the rest of the family in the time of pain, saying,
"It's an emotional time and I graciously ask for privacy for me, our children and the rest of our family,"
Although the pair is heading towards divorce, Tisha shared, Duane has said that they are a family forever.
Tisha and Duane, who is known for his performances in Deliver Us From Eva and Real Husbands of Hollywood, got married back in the year 1996. Moreover, they exchanged wedding vows after dating for six years.
Tisha, who filed the divorce papers in LA, shares two kids with Duane, two sons namely Xen (16) and Ezekiel (8)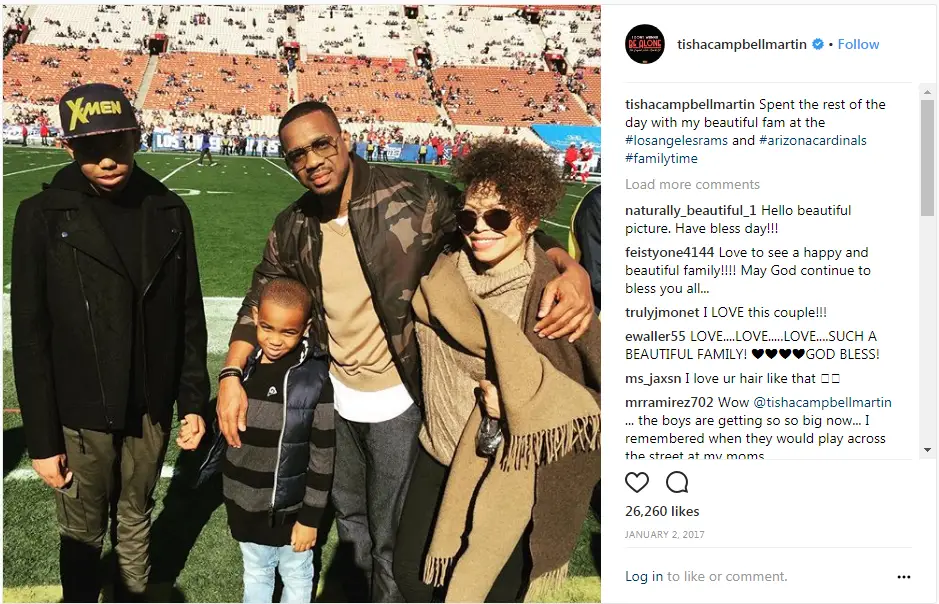 Tisha Campbell-Martin with husband Duane Martin, kids  (Tisha Campbell-Martin's Instagram)
While a relationship is on the verge of ending for Tisha, another relationship with her previous actor seems to revive. Tisha was spotted with her 'Martin' co-stars, Tichina Arnold and Martin Lawrence at a restaurant named, Burbank Morton's Steakhouse in January.
The reunion of the stars hinted towards the possibility of revival of American sitcom show, Martin and when asked about the resurrection of the sitcom comedy show, the trio neither denied nor confirmed the stories.
When inquired further, Tisha vaguely said,
'Well, within life, there's always new beginnings, and there's always change, and there's always new plateaus where we have to reach, so we'll see what's happening.
She then added,
'See, I was gonna put it a little more eloquently.'
The reunion of Tisha and Martin Lawrence was observed keenly, as in the past, Tisha had accused Martin of sexual harassment and abuse, further, she even sued him. However, Martin denied the allegations made on him at that time.
Tisha left the show and returned only on the provision that; she wouldn't have any scenes together. But as of now, the estranged pair, Tisha, and Martin seem to have buried their hatchet, as they appeared in friendly terms.
Apart from the show, she confirmed her appearance in American musical drama television series, Empire; and also, her new music is on the way.