Trending
Travel Guide Writer Rick Steves Ended The Relationship With His Wife, Anne Steves in 2010. The Reason Behind the Divorce?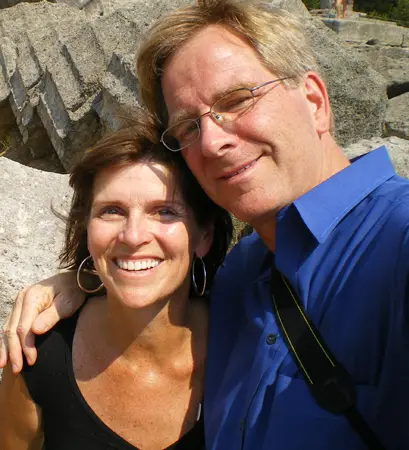 Quick Information
Daughter/s

Jackie Steves

Official Site

https://www.ricksteves.com/

Instagram

https://www.instagram.com/ricksteveseurope/

Twitter

https://twitter.com/ricksteves

Facebook

https://www.facebook.com/ricksteves/

Hair

Short

Height/ How Tall? 6' (1.83 m)
Career

1969-present

Net Worth

$10 Million

Gay

No

Ex-Wife

Anne Steves

Divorce/Split

2010

Relationship Status

Single

Date of Birth May 10, 1995
Son/s

Andy Steves

Sister/s

Jan Steves

Mother

June Erna Steves

Father

Dick Steves

Ethnicity/Race

White

Religion

Christianity

Zodiac Sign

Taurus

Birth Name

Richard Steves

Profession

American travel writer

Home Address

Edmonds, Washington, U.S.

Birth Place

Barstow, California, United States

Nationality

American
Have you ever been to Europe? If you have then, you are more likely to have bought a guidebook and more liable to select the most relatable book of all and who else could you find more interesting than the American author who writes the book as an amateur traveler. So, you end up choosing the book, 'Europe through the Back Door' written by Rick Steves.
Those who haven't had the chance to know him as a travel guide writer may also have seen him on television through his series, 'Rick Steve's Europe' or heard him in a radio travel show called 'Travel with Rick Steves.' Rick Steves is also a vocal proponent of the legal use of marijuana and a social worker for the homeless and arts.
A man with the net worth of 10 million dollars and that should be able to explain a lot of his successful professional life, but he too has faced many difficulties in his life. The biggest one was his divorce with his long-term wife, Anne Steves in 2010. She had been his girlfriend for a long time before they married.The couple already has two adult children, Andie Steves, and Jackie Steves. It is easy to guess that the decision of divorce between them was a big bump on the road.
Caption: Rick Steves along with his family on a vacation.
Source: ellingtoncms.com
They have not disclosed the reason behind their divorce and have stated it as just "Personal Issues." Their son, Andy Steves seems to be following in the footsteps of his father requesting people to ask their queries about
travel to him
.
Also, this may be an indication that the children do not hold a grudge with their parents towards the divorce. 
However, the first marriage may have taken a deeper toll on the writer. The man though in his 60 is in the perfect physical condition has not been pursuing a new life partner.
No updates regarding the new affairs and relationships have been there from the side of the Ex-wife as well. It seems that the American writer likes to keep a low profile as there are not much news about his relationship, dating life and affair line. 
He has not been spotted in a relationship yet, but he has not given any guaranteed confirmations himself as well. There is no news of what the ex-wife is up to these days as well.
Rick Steves donates Housing complex to the Homeless:
In recent news, Rick Steves has donated a 24 Unit apartment complex worth $ 4 Million to Homeless women and their families. Steves announced the donation of the said housing complex named Trinity Place on his blog.
In his blog, Rick talks about the need for a warm home for every person and how he discovered this need when he was a Young camper roaming around Europe with no roof on top of his head, sleeping in Churches, trains and friends' hotel rooms. He also confessed that in his earlier days as a guide, he'd put his people in cheap terrible rooms so they'd appreciate having a nice warm home and even did reservations late so the people knew about the worry of whether they'd have a roof on top of their head or not.
Eventually, he formed a sense of Philanthropy and instead of getting into the business of Real Estate, he devised a plan to put all his retirement money into cheap apartments instead of bank accounts so he could house struggling populations. His words were along the lines of,
One of my pet social causes has long been affordable housing. Twenty years ago, I devised a scheme where I could put my retirement savings not into a bank to get interest, but into cheap apartments to house struggling neighbors. I would retain my capital, my equity would grow as the apartment complex appreciated, and I would suffer none of the headaches that I would have if I had rented out the units as a landlord. Rather than collecting rent, my "income" would be the joy of housing otherwise desperate people.  I found this a creative, compassionate and more enlightened way to "invest" while retaining my long-term security.
With the help of YMCA and the Rotary Club who manage the 24 Unit apartment complex, Rick provided the complex to needy single mothers at virtually free of cost.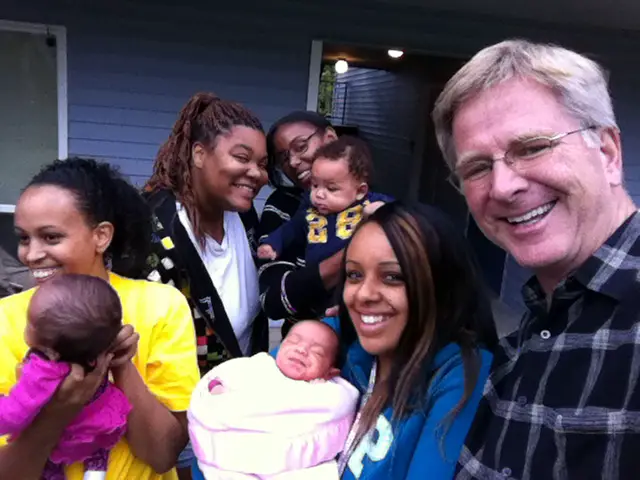 Caption: Rick Steves with the new residents of Trinity Place Complex.
Photo-Credit: Rick Steves current blog http://blog.ricksteves.com
Rick also admitted that he was inspired by Donald Trump and his administration and wrote on his blog about the need for change in modern social ethics:
With the election of our president and the rise of a new, greed-is-good ethic in our government, I want to be more constructive than just complaining about how our society is once again embracing "trickle-down" ethics, and our remarkable ability to ignore the need in our communities even as so much wealth is accumulated within the top one percent of our populace. I'm heartbroken at how good people, dedicating their lives to helping others (through social organizations and non-profits across our society), are bracing for a new forced austerity under our government of billionaires.
It seems that Tour Guide and Philanthropist Rick Steves truly believes in the vision of Donald Trump and his government as well as supports their economic decisions.