News
Tricia Davis, 34, & Husband Macklemore Secretly Welcomes 'Another Baby Girl'
The American music video producer Tricia Davis gave birth to her second baby shortly before St. Patrick's Day in mid-March. Her husband, Macklemore the rapper, announced the news on 4 April through a radio station.
The rapper revealed that they welcomed a baby girl into their family of three making it a family of four.
Tricia's husband Macklemore opened up about the happy news during an interview with the Irish Radio Station Spin 1038. Macklemore, when asked by the hosts Nathan O'Reilly and Nick Karkazis how he celebrated St. Patrick's Day, revealed that he spent it in a hospital. 
Macklemore stated,
"I spent it in the hospital. With my brand new daughter who was born right before St. Patrick's Day."
Tricia, who is at the age of 34, first announced that she was expecting second child with her husband via her husband's Instagram account back in September.
In the Instagram video, Macklemore can be spotted with Tricia and their 2-year-old first-born next to a cake with blue and pink icing along with blue and pink balloons.
In the clip, Macklemore, whose real name is Ben Haggerty, said,
"Tricia is pregnant, and today we are going to find out the gender of our child,"
Although he did not reveal the sex of the baby at the time, he captioned the post:
"Seattle… Second time's the charm. ? (and yes, both announcements are true)," 
Adding to it, about five months later, Tricia posted a picture showing off her growing baby bump. In the caption, she expressed how she is less worried and more confident while she reached the final weeks of her pregnancy.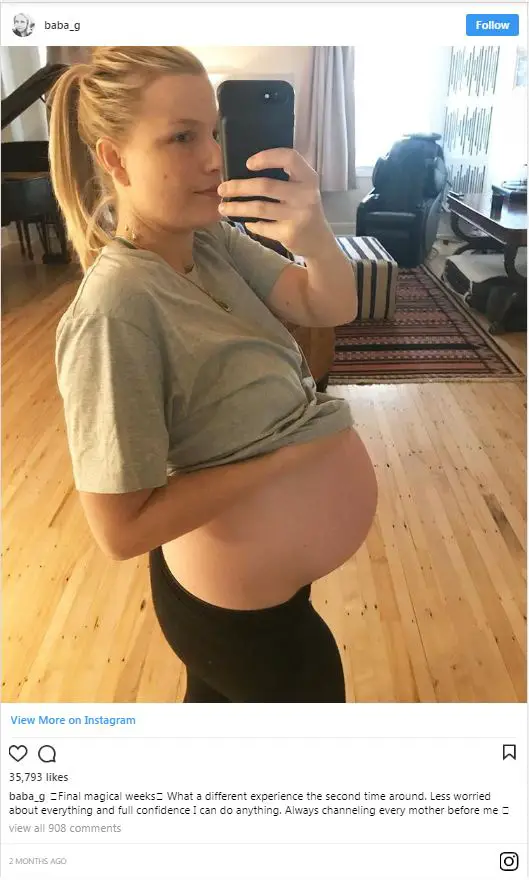 (Photo: Tricia Davis's Instagram)
Moreover, the couple, who have already been blessed with a baby girl  Sloane Ava Simone, disclosed that their first-born was hoping for a little sister. Macklemore opened up regarding the feelings of his baby girl in an interview with ET in October, stating:
"She wants a sister. If we have a girl, I think she's going to be pumped. If we have a boy, we'll see,"
Well, her wish did come true!
However, the couple has not disclosed the name of their second child yet, and as of now, their social media are notoriously silent about their new-born baby.
Tricia tied the wedding knot with Macklemore in Summer of 2015 two months after welcoming their firstborn daughter. Tricia gave birth to Sloane on 29 May and took the wedding vows on 27 June the same year.