News
Wedding of the Century! Antonella Roccuzzo and Lionel Messi Are Now Married, Pierced Matching Tattoos As a Symbol of Love
A wedding of the century; as people like it to be called!
One of the world's greatest footballer, Lionel Messi walked down the aisle in fashion with his childhood love, Antonella Roccuzzo on 30th July. As one of the most awaited weddings, the football fans craved to witness, the Argentinian wedding ceremony was as lavish as one could imagine being.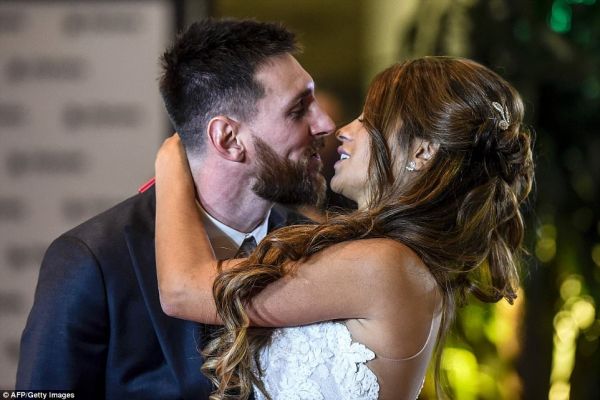 Caption: The Groom Kissing the Bride.
Picture Credit: Dailymail
In the presence of more than 250 friends and family, accompanied by some football's famous faces, who jetted to the 'Plush hotel complex, made the wedding more vibrant and inundating.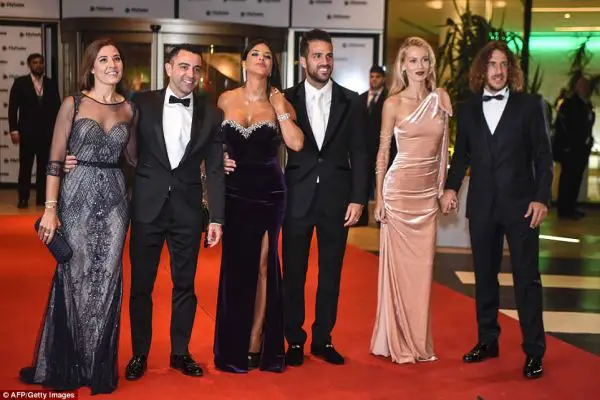 Caption: Renowned faces of football, Xavi Alonso, Cesc Fabregas, Carles Puyol with their better halves at the wedding on 30th June.
Picture Credit: Dailymail
For the marriage of the couple celebrating the silver jubilee of togetherness, they restricted the cell phones, and the security was top notch having, 450 officers deployed to the venue.
The entrance of the hotel in Rosario was lined by a red carpet. Guest who arrived for the event, some chose walking along the carpet being photographed and interviewed while the others made a subtle entry through a discreet side entrance.
Messi and Antonella exchanged their wedding vows in the presence of their eldest son Thiago. 
After being pronounced man and wife, Messi kissed his bride and later caressed Thiago's hair. 
And to surprise Antonella, Messi arranged Argentinian singer Abel Pintos, without her knowledge, to end the ceremony singing her favorite song, Sin Principio Ni Final (Without Beginning or End).
Though the fans weren't invited inside the venue, they appeared outside the hotel Rosario just to witness it from a distance.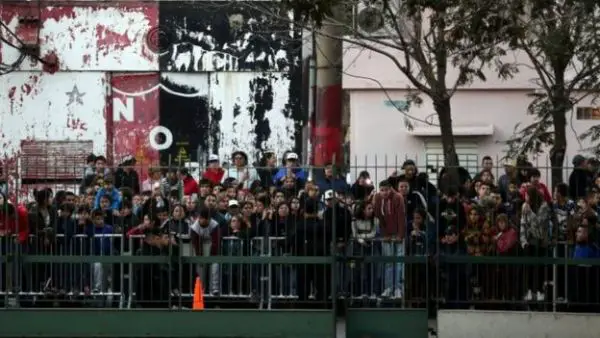 Caption: Fans gathered outside Hotel Rosario.
Picture Credit: BBC.com
Their wedding isn't quoted' The wedding of the century' for no reason. Leo, along with all his fans waited for this big day, here's a Facebook post made by Leo,
Wiki-like Bio of Antonella Roccuzzo.
Antonella, who now is officially the wife of the world's iconic footballer, Lionel Messi, is an Argentinian model by profession. She is 29 years of age, as she was born on 26th February 1988 to a businessman father, Jose Roccuzzo, and a mother, Patricia Blanko. Her biggest claim to fame came as she was introduced to the world as Lionel's partner.
She shares two children, Thiago Messi and Mateo Messi with her husband. Not only they share children together; now they share matching tattoos as well, that reads XXX-VI-XVII, which is Roman for – 30-6-2017, the date of their wedding. Here's the image,
Antonella has become a social media sensation with her modeling attributes accompanied by her gorgeous looks. As of now, she is continuing her education as a Dietician and also travels with her better half supporting his team in their games.
Congratulations to the Couple on finally tying knots, after going through a long journey together!