News
What does US Presidential Election Polls say about Trump and Hilary Clinton? Explore the Different Polls Held in Different States!
The race has begun! The roadway for Whitehouse is all set and ready to go. The biggest question in everyone's mind today is: Donald Trump or Hillary Clinton? Reach to the top of the mountain is not going to be an easy job. Proof? The poll shows so!
What does poll suggest: Clinton or Trump?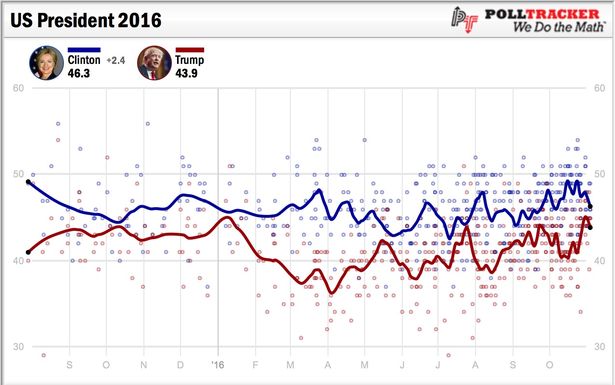 Caption: US election polls November 7, 2016.
Source: mirror.co.uk
There are only a few hours to go as one of the most powerful nations of the world; America goes to vote as it prepares to elect its 45th President. The early voting shows that this time people have voted more than ever, and the results in states indeed prove so. 
In Span of a year, real estate veteran Donald Trump rose drastically and closed the gap on Hillary as the Republican nominee Trump brought election neck to neck as the countdown began.
Yes, it is pretty sure that Trump chances seemed to be thin after his bunch of controversial comments regarding matters of a nation concern and allegations of sexual delinquency and this led to Hillary opening a nine-point lead in mid-October.
Things were not good for Hillary either as her ambitions to climb to the top got a major setback as FBI announced that investigations were reopened for Democrat's email use.
The consequences to those allegations were enormous. Trump was only 12 points behind at that time, a week before. Donald Trump was already a point ahead after those scandals.
Then again, Hillary was three point ahead after FBI cleared her of those allegations and had a clean sheet.
Currently, poll tracker shows there is not much difference between these two rivals as Hillary is at 46.2 percent overall and on the other hand, Trump is slightly behind on 44.8 per cent.
Why is this election so close?
The reason behind it is simple. Both are not popular candidates, and reports suggest this might be the worst candidates the US has seen in years.
Donald John Trump, a multi-billionaire American businessman, is the nominee for Republican Party in this election and has already been a subject of controversies. Trump's attacking style of debate and foreign policies has caught world's attention and rightly so.
Hillary is no better either and reports suggests so. Clinton has also considered untrustworthy as her email scandals rocked the nation as well as her presidential campaigns so much so that even current President Obama's support wasn't enough for the former First Lady. Many people believe Clinton failed as a senator of the state as well as Secretary of State.
May America's best candidate win the race! With only a few hours to go, one of the most unpredictable and controversial election race will pretty sure go down the wire.