News
Wisconsin Sheriff David Clarke Predicted Baton Rouge Shootings?: Blamed 'Black Lives Matter movement'
In a vehement interview with CNN on July 18, David Clarke has opened up about how he predicted recent police shootouts in Baton Rouge, Louisiana, which unfortunately failed to avert the death of three law enforcement officers and injuries to three other.
The Milwaukee county Sheriff has been exposing Black Lives Matter movement, an activist movement in African-American ethnicity that raises voice against violence on black people.
Caption: Sherrif Clarke in a heated interview with Don Lemon.
The interview between 64th Sheriff of Milwaukee country and CNN's Don Lemon got a jagged start. The interview began with talks about Baton Rouge police killings.
"I've been watching this for two years. I've predicted this," Clarke said. "This anti-police rhetoric sweeping the country has turned out some hateful things inside of people that are now playing themselves out on the American police officer."

"Their message is peace and coming together in the country. What's your message?" Lemon asked.

"You don't believe that for one minute, do you?" Clarke replied.

"That's what they said to me," Lemon said. "Yeah, I believe them."

"Are there protests over the deaths of the cops in Baton Rouge?" Clarke said.

"I don't know that," Lemon said.

"Any riots or protests over the police officers in Dallas, Texas?" Clarke said.

"What are you asking?" Lemon said.
Clarke addressed Black Lives Matter movement as "Purveyors of hate" and hold them accountable for stimulating violent crimes against police officers.
When Lemon pressed Clarke for a response to the killings, the sheriff said, "My message has been clear from day one two years ago. This anti-cop sentiment from this hateful ideology called Black Lives Matter has fueled this rage against the American police officer. I predicted this two years ago."
Clarke's Support to Trump !
Clarke, who was the speaker at the Republican National Convention on 18th of July, 2016, didn't hesitate to call President Barack Obama a liar during CNN interview.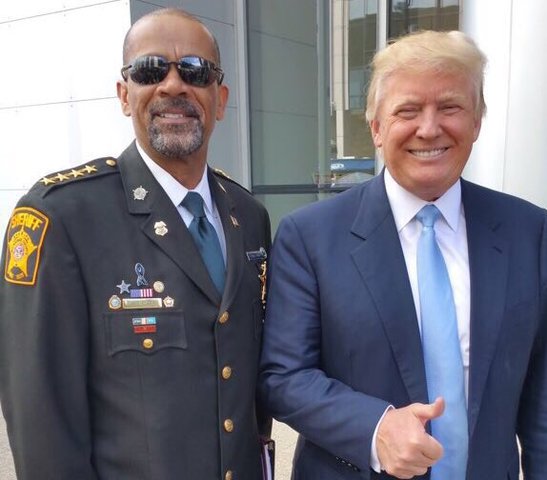 Caption: Sheriff David Clarke Goes Full Trumpkin
Source: rightwisconsin.com
David Clarke conveyed a strong message and took it to next level supporting Donald Trump's campaign.
"Ladies and Gentlemen, I would like to make something very clear: Blue Lives Matter in America!" Clarke said. "I want to talk with you about something important, indeed, a concept that five law enforcement officers were murdered and nine more were wounded for earlier this month in Dallas, and for which three more were murdered yesterday in Baton Rouge:  that is the importance of Making America Safe Again."
"What we witnessed in Ferguson, in Baltimore, and in Baton Rouge was a collapse of social order. So many of the actions of the Occupy movement and Black Lives Matter transcend peaceful protest and violates the code of conduct we rely on. American law enforcement officers understand that race is and has been a heated issue in our country. Most appreciate the vital need for thoroughness and transparency in pursuit of the greater good in their actions, and in their investigations," he continued. "These are truths that are self-evident to me, and which I practice, and they are the truths that Donald Trump understands and supports."