News
Yanet Garcia & Gamer Boyfriend Break Up! Split Reason - 2018's Weirdest
2018's weirdest Breakup is on the horizon!
World Sexiest Weather Girl Yanet Garci and her video-game player boyfriend Faze Censor called off their relationship after Faze decided to chose his video game, Call of Duty over his girlfriend. 
Youtube Star Doug Martin a.k.a. FaZe revealed about the split with the model saying: "I don't have a girlfriend" in a new video which also cited the reason to dump Yanet Garcia.
Following Martin's revelation, Garcia made the news more worthful after she confirmed the break up on 20 July 2018 tweeting she was "Heartbroken." Since her breakup disclosure, her followers and well-wishers came forth, and she thanked her supporter.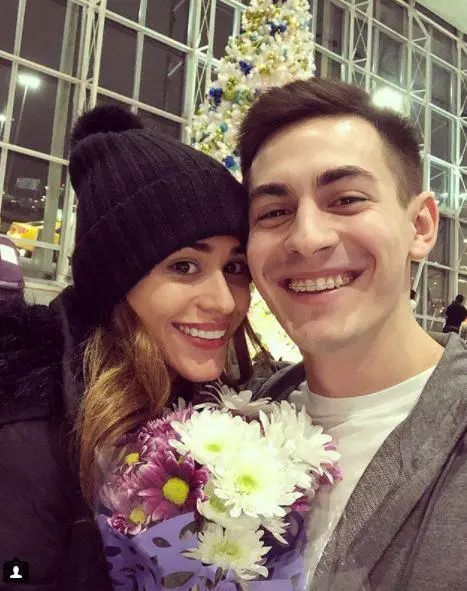 Yanet Garcia with her ex-boyfriend Faze Martin (Photo: thesun.co.uk)
The 23-year-old Martin shared a 10-minute video on 21 July 2018 to explain the reason behind ending the three-years of relationship with the model. He began with the worst sentence which their fans might not want to hear ever:
"Yanet and I are no longer in a relationship with each other anymore."
 He continued:
"Yanet is an awesome girl, she deserves the best. She's beautiful, she's smart, she was an awesome girlfriend. I know it sounds weird I'm saying all this…it's just, I gotta do what feels right for me.'
The gamer also revealed that he had flown all the way to Mexico from New York City three years ago to meet Yanet. And soon after meeting, they started dating and eventually moved in together for a year in New York's apartment.
But, everything changed since Yanet decided to return to Mexico City to pursue her acting and modeling career and get back to her weather-casting job. And he seemed to be supportive as he respected her decision.
And here, he is playing full-time 'Call of Duty,' and he found it harder to sustain the long-distance relationship as he was spending so much time playing the video game. He said
"Back then it was a lot easier for me to go out and see her. But now I have obligations. I'm on a contract. It's not like I don't want to do this, this is the career that I want."
As of now, he is geared to win a ring and be the world championship in the game, Call of Duty after he dumped his girlfriend. 
More About Yanet and FaZe's Dating Life:- FaZe Censor And His Weather Anchor Girlfriend; Proudly Shared Dating Moments With Fans
He further disclosed that he did not have much time to do as there are just 24 hours in a day. Martin said he didn't have time to fly out to see her because he was dedicated to playing 'Call of Duty' professionally.
Well, Faze let the beautiful woman slipped from his hand, and the followers feel insecure as Mexico's hottest weather anchor being dumped over a video game. 
Garcia, who has 6.5 million Instagram followers, thanked her fans for their support during the worst time on 22 July 2018. Also on the same day 22 July 2018, she retweeted a tweet that read: "Respect yourself enough to say, "I deserve better."'  
Following her tweet, she also explained not to take the advice of a person who has not done anything good with his life. It seems she strongly dedicated this tweet to her ex-boyfriend who preferred his game more than a partner.