News
Zoe Saldana Affirms Britney Spears Disclosed About Her Being Pregnant With Twins!
Zoe Saldana has affirmed that it was Britney Spears who revealed the pregnancy of Zoe back in 2014 when she was trying to keep it as a secret.
Zoe gave birth to her twin sons Bowie Ezio Perego-Saldana and Cy Aridio Perego-Saldana in 2014, but she was always willing to keep this thing a secret. But thanks to Brtiney Spears, her plans did not lead to fruition.
During an interview in September 2014, Spears revealed the news of her "CrossRoads" best friend's pregnancy. When she was asked if she would do another movie with her Zoe, she replied,
"Who knows? That's a very good idea. But she's pregnant with twins right now. So I'm sure she's got a huge future ahead of her."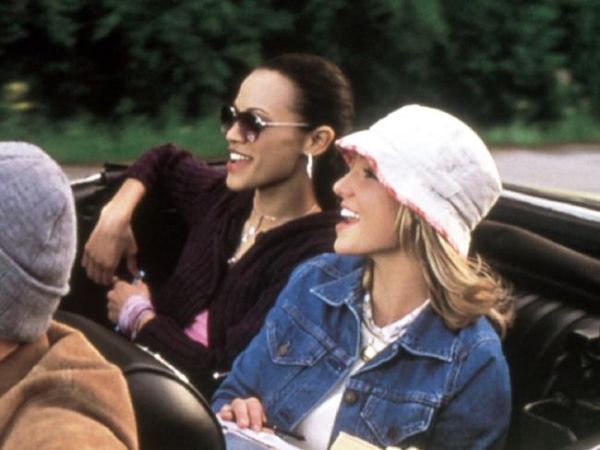 Caption: Zoe Saldana and Britney Spears played best friends in Crossroads. (2002)
Photo Credit: news.com.au
When Zoe was headed to "Watch What Happens Live," a viewer asked her about this incident and the outing of the news.
"Zoe, I read that Britney Spears was the one who accidentally told the press that you were having twins, before you even announced it. Is that true and did she even apologise?"
To this query, Zoe answered,
"it's so true, it's really true"
Defending Spears, she further added,
"Literally in the way that it happened was so innocent that I never even thought of holding her accountable to anything,"
She then continued,
"We were on the same flight from LA to New York and we just talked for the duration of the flight and then she has two boys, I was having twins, we were having a beautiful talk and I forgot,"

"It never even occurred to me to tell her not to say anything because you just don't. We weren't trying to hide it, we were just trying to be discreet and then when she disclosed it, she was just being Britney."
Caption: Zoe on Britney's famous outing of her pregnancy. (Published on May 5, 2017)
Good to know that the two have no hard feelings between them and are happy with where they are in their respective lives as of now.
Here is a post from Zoe where she is enjoying with her twin sons.
A Brief Look Into Zoe Saldana's Personal Life:
Born on June 19, 1978, in Passaic, NJ, USA, Zoe Yadira Saldaña Nazario better known as Zoe Saldana. Zoe is married to her husband and Italian artist Marco Perego. Zoe and Marco began dating in March 2013 and tied the knot secretly in London on June the same year. In February 2017, they proclaimed the birth of their third son Zen Perego-Saldana.
Caption: Zoe Saldana and her husband Marco Perego looking dashing together. (2015)
Photo Credit: The People's Magazine
Many people also wonder what ethnicity Zoe belongs to. Zoe's father, Aridio Saldaña was Dominican, while Asalia Nazario, her mother, is Puerto Rican. Saldana also has Lebanese and Haitian roots which show that she is mixed regarding ethnicity.
Stay with us for more news on Zoe Saldana!