Entertainment
All You Need To Know About Adam Johnson & His Wife Doctor Suzanne Johnson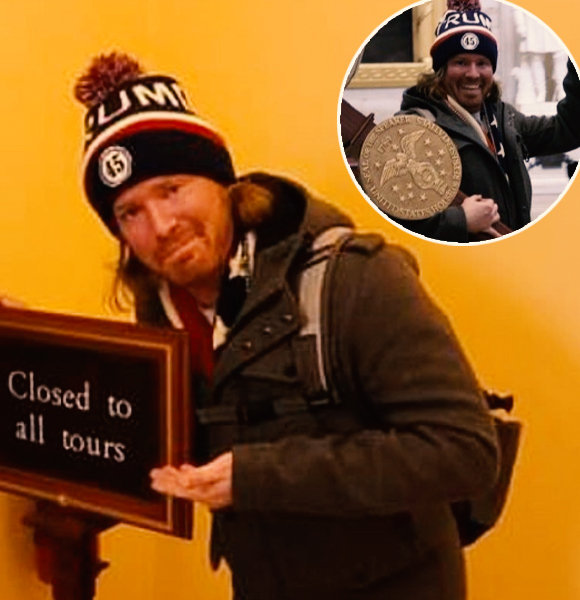 If you are well aware of the riot held in the US Capitol in 2021 during the end of the Trump administration, then the name Adam Johnson might ring a bell. 
He is one of the infamous personalities from the riot incident who came to the limelight after being spotted amongst the group involved. Not to mention, people are also intrigued to learn more about his wife, doctor Suzanne Johnson. 
Who Is Adam Johnson's Wife Suzanne Johnson?
Adam's wife doctor, Suzzane Johnson, also known as Beatty, is currently working at Palmetto, Florida. 
She is a Nova Southeastern University College of Osteopathic Medicine graduate who completed her education in 2008. 
After her education, she received her Florida State License as a medical practitioner. At the same time, she is also certified by the AOA Board of Family Physicians under Family Practice and Osteopathic Manipulative Medicine.  
With her expertise in Family Medicine, she has been working as a member of the American Osteopathic Association. Besides, Adam's wife is affiliated with Largo Medical Center Indian Rocks, situated in Largo, Florida. 
Suzanne and Adam are known to be parents to their five kids, according to her Facebook page, which is currently unavailable.  
While Adam's wife was living a normal day-to-day life, Adam's appearance in the US capitol riot brought the pair to public attention overnight. 
Why Did Adam Johnson Grab Public Attention?
While protesters breached the US Capitol building in 2021 in support of Donald Trump, the incident was captured on cameras. 
Among the captured shots was Adam Johnson, seen carrying away the lectern of the house speaker Nancy Pelosi. In the picture that went viral overnight, Adam smiled and waved as he took away the lectern.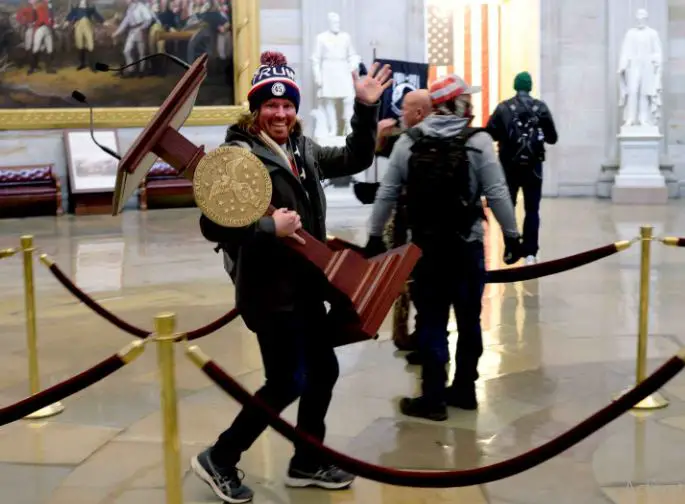 Adam spotted in the US capitol riot, carrying away Nancy Pelosi's lectern (Source: NBC News)
In another one of the pictures from the incident, he posed with a smile, pointing at a sign that wrote 'closed to all tours' 
As his pictures spread all over the internet, many people who recognized him came forth, revealing his identity. 
The police immediately proceeded with Adam's arrest after his identification. He was charged for entering the restricted areas in the capitol building without authority and stealing the government property. 
After being arrested for two counts on January 8, 2021, Adam walked out of jail in a few days on a surety bond of 25 thousand dollars and remained under surveillance wearing a GPS tracker on his ankle. 
Moreover, before the US capitol incident, Adam Johnson, age 36, was busted for marijuana possession and probation charges violation. 
Currently, Adam resides in his four thousand square foot Florida home with his wife and kids.