Entertainment
Anders Lee & His Wife's Fairytale Or Furry-Tale Wedding?
Anders Lee and his wife were accompanied by their furry friends on their wedding and to say the least, they stole the show.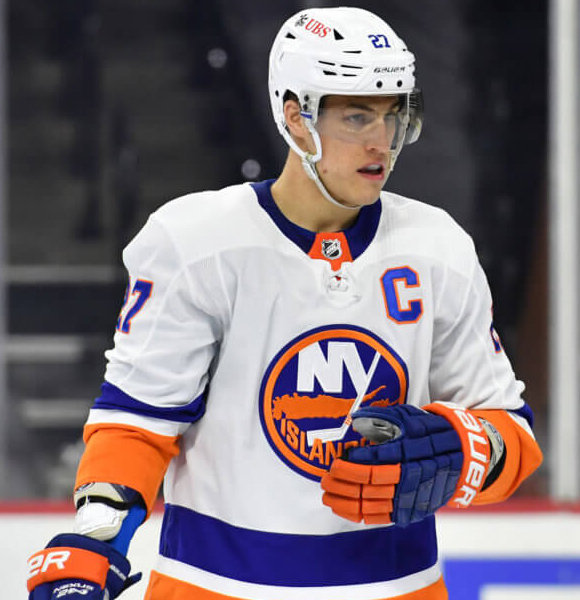 Anders Mark Lee, the captain of New York Islanders of NHL, experienced a fairy tale wedding alongside his long-time beau, where the show steeler were their four-legged fur friends. 
A Furry-Tale Wedding 
The couple posed with their two dogs on their very special day.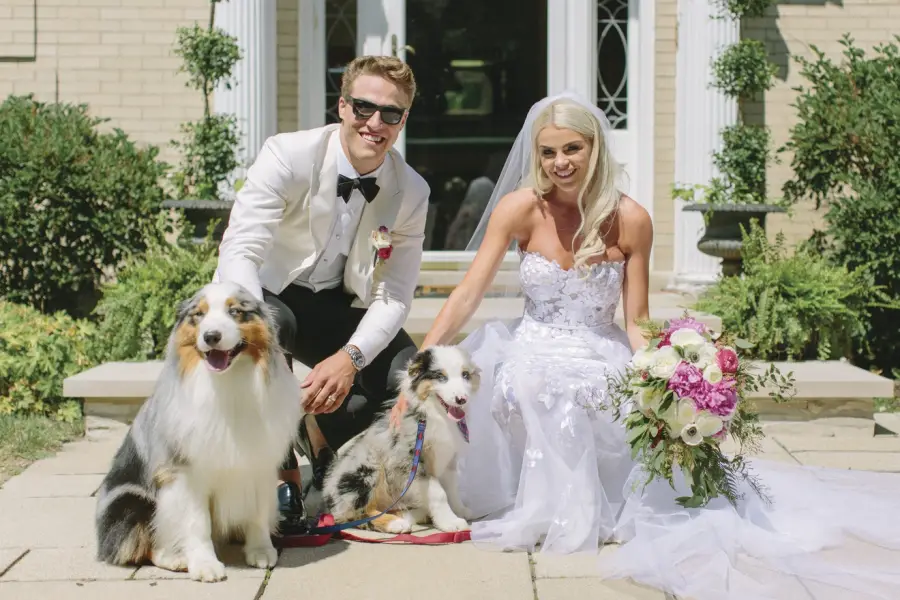 Anders Lee, His Wife And Their Dogs On Their Wedding (Source Ann Marie Scheidler)
Although the bride and groom were the most important people of the celebration, their dogs were equally important on the occasion. 
And they made it clear when their two dogs were invited to their wedding. The two indeed were the main attention of the event because who doesn't like being around dogs? Right?
But moving on to the bride and groom of the wedding, they looked absolutely stunning. 
Lee donned a clean white suit with fitted black pants and a white shirt. The look was complete with a black blow tie and their engagement ring, of course. 
The bride of the event, Grace Dooley, wore a standard white sleeveless gown with beautiful floral lacing and a netted veil. 
Their wedding reception took place where Dooley had beautiful childhood memories in the Lincoln Park Zoo.
Since her childhood, Grace knew that it would be the place of her wedding reception. 
"Being in the Lincoln Park Zoo that I visited as a child, located on the water in one of my favorite areas- I always knew this was where I would have my wedding reception"
Said the bride while talking about her venue. 
Well, guess Grace fulfilled two of her dreams that day. She got married to her beau on July 7, 2018.
The couple met during their freshman year at Notre Dame, fell in love with each other, and the rest is history.
Who Is Lee's Wife Grace Dooley? 
Grace Dooley Lee currently works as a Co Editor-In-chief for fitcityblone. 
She graduated from the University of Notre Dame Mendoza College of Business, accomplishing a double major in Marketing and Peace Studies. 
Like her husband, she is also into sports. Grace played midfield for her University's women's lacrosse team from 2010 to 2014. 
Dooley also worked for magazines life Cosmopolitan Magazine as an advertising sales assistant for about a year and then worked as a health coach for almost five years before taking the job of Co-Editor-In-Chief. 
Lee and his wife are now married for three years, and personal life seems to be going amazing for the hockey winger. 
His perfect married life is accompanied by his successful and fulfilling career. 
Career Of The Player 
Lee was selected in the sixth round of the 2009 NHL Entry Draft by the New York Islanders. But he only played for the team professionally during the 2012-13 season. 
He scored his first NHL goal on April 2, 2013, on the day of his debut. This led people to notice the player, and soon enough, he was awarded the Bob Nystrom Award for being an example of leadership, hustle, and dedication. 
After the departure of John Travers from the team, Lee got the title of captain. He was named the 15th captain of the New York Islanders.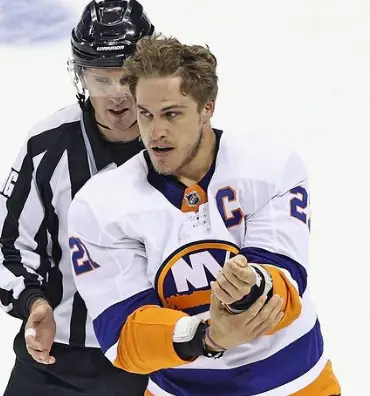 Anders Lee From New York Islanders On His Match Day (Source Instagram)
On July 1, 2019, the professional player sealed a whopping $49 million contract for seven years. He will be amassing an annual salary of almost $7 million from the contract. 
 "My wife and I, we couldn't be happier. This is the place we always wanted to be and always saw ourselves. We couldn't be more thrilled than we are right now."
Said the 31-year-old upon signing the contract. 
Lee recently had to undergo surgery for a torn ACL after the match with the New Jersey Devils, which unfortunately made him miss the rest of his season. 
As much of a wonderful player Lee is, he is more times an amazing human being. Lee hosts many charitable events and partners with different organizations to help people. 
Heart Of Gold
Born on July 3, 1990, Lee attended the same university as his wife, the University of Notre Dame. Lee partnered with Jam Kancer in the Kan after seeing a video of a cancer patient at the Kan event. 
He became the voice of the organization and helped the organization host several charitable events. He helped the organization raise over $300,000 for childhood cancer. 
The 31-year-old also established a Scholarship program named the Fenov Pierre-Louis after Pierre-Louis passing in 2018. 
Anders still actively works for the welfare of cancer patients.