Entertainment
Andrew Fillipponi's Wife Looks Back At The Heart Wrenching Tragedy That They Endured
Andrew Fillipponi's wife reveals all the happy and harsh moments that the pair endured together on the occasion of their wedding anniversary.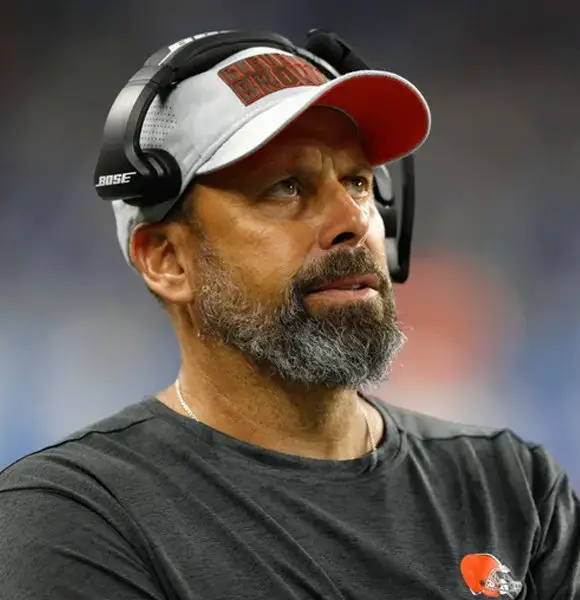 Famous Sportscaster Andrew Fillipponi's partner had the most beautiful words for the love of her life on the occasion of their anniversary.
Mrs. Filliponi made a post on September 16, 2021, on Instagram where she revealed all about the highs and lows he endured alongside her.
This man has stood by my side, like he said he would on this very day, four years ago. I've lost friends and family who I thought were lifelong and he's picked me up.
Wrote Andrew's wife while wishing her husband of four years a happy wedding anniversary. In the post, she revealed her journey of having a child and how challenging it was for the pair.
Overcoming Hurdles Alongside Wife
Andrew Fillipponi and Amanda Fillipponi got married back in September 2017. Amanda shared the struggles the husband and wife faced during the process of pregnancy.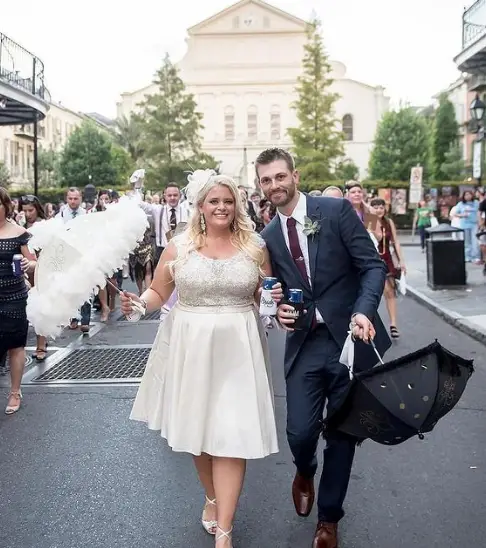 Andrew Fillipponi And His Wife On Their Wedding (Source Instagram)
She shared that 2020 was by far the hardest year for the couple, and it was a year that could have wrenched their relationship.
Talking about how she has been "an angry, basket-case," she said,
The rollercoaster of finally getting pregnant and having a stillborn can really mess with a marriage. Follow that up with being told IVF is less then 10% chance of being successful. I have been an angry, basket-case at home.
Despite all the troubles, Andre's wife shared her gratefulness towards him as he was the one that stood by her side every day. 
She further added how he consoled her at night and listened every time whenever she wanted to yell out of frustration.
Andrew and Amanda have been married for four years now and going by Amanda's Instagram account, the pair have known each other way before that.
Amanda's post with Andrew dates back to 2014, so going by the timeline, they have known each other for quite a while now.
No wonder the two have been each other's strength through thick and thin.
Amanda posted a beautiful picture alongside her husband on January 1, 2020, in which she wrote a hopeful caption of wanting to see what 2020 would bring to the pair. She wrote,
I can't wait to see what 2020 brings us. I wish the best to all my friends and family. Fingers crossed it's a good year.
But this was the year when the pair suffered a loss that no parents would want to endure.
Tragedy Surrounding Their Son 
On September 2, 2020, Filipponi took to his Twitter account to share his excitement of his wife being pregnant after a struggle of 3 years. He wrote,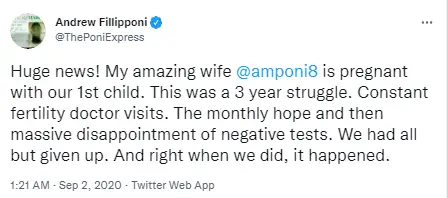 Andrew Fillipponi's Post of His Wife Being Pregnant (Source Twitter)
Shortly after, the post congratulation started pouring for the to-be parents a tweet that followed after three months of the announcement broke people's hearts, and soon enough, the congratulations turned into condolences.
Unfortunately, the pair lost their son, Geno, during the time of childbirth. On December 20, 2020, Andrew made a heart-wrenching post about losing his son.
Rest In Peace Geno. Love you Buddy.
Wrote the sportscaster while bidding his newborn a heartbreaking farewell.
The strong mother of the miracle baby also took to her Instagram to let people know of her loss. She shared that their baby was diagnosed with Hypoplastic Left Heart Syndrome, meaning that Geno's left heart was extremely tiny.
Sadly, Geno couldn't make it, but Amanda, being the strongest mother and a woman, shared how what would have been the worst day of their lives was actually the best day of their lives.
She wrote,
We thought it was going to be the worst day of our lives but it was one of the best days because we got to hold our son.
Geno William, a miracle baby and an angel, will forever live in the hearts of the parents and William family's closest members.
We at LiveRamp Up forward our purest blessings to the family and a big hug to Amanda and Andrew. 
More On Andrew Fillippioni
Born on January 2, Andrew is one charming man who was born in the '90s. Andrew does not look a day over 25 years of age. However, he has successfully kept his age concealed from the media.
Growing up in upstate New York, he graduated from Syracuse University, where he worked as a talk show director at a radio station named WAER.
Andrew then progressed his career to hosting for WGR 550 in Buffalo from 2008-09, finally moving to Pittsburgh for hosting at 93.7 for The Fan.
Then in 2014, he started hosting the "Cook and Poni Show". Apart from radio gigs, he works on KDKA-TV's "Sports Showdown" and KDKA-AM.
As of now, Andrew works as a host for CBS Sports Radio.