Celebs
An Insight into Arthur Blank's Life. Who Is His Wife?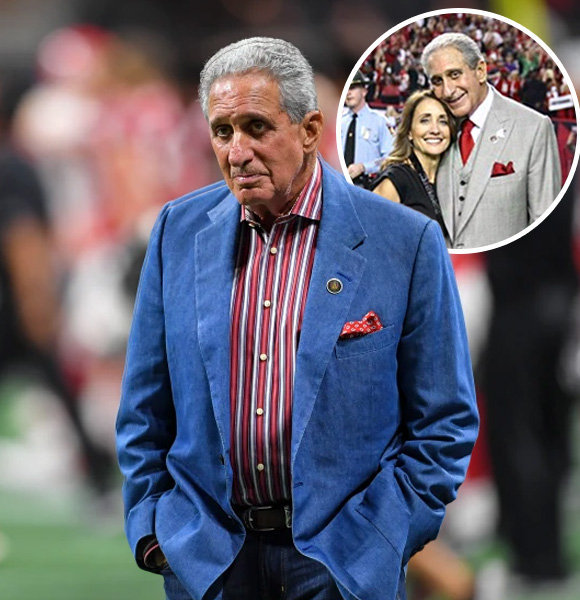 An entrepreneurial sensation, sports magnate, and Atlanta philanthropist, Arthur Blank, is one of those individuals who has been an inspiration to millions with his excellence in the business sector.
Apart from his colossal career embellished with success and flourishment, people have also shown interest in his personal life regarding his children, wife, and many more. 
Who is Arthur Blank's Wife?
Arthur Blank was initially married to his first wife, Diana Latow, with whom he shares three children, a daughter named Dena Blank Kimball and two sons, Kenny Blank and Danielle Blank Thomsen.
In an interview, when he was asked about his experience of diving into fatherhood for the first time, he answered,
I was 22 years old. That goes back a lot of years. As I remember I was just so excited that my wife and I were bringing a child into the world. We have always been committed to family. That has always been an important value set to me.
Unfortunately, the beautiful couple parted ways a little too soon, as they divorced for some unrevealed reasons. 
However, another spark of joy ignited in 1995, as he gave his heart to his second wife, Stephanie Wray.
A few years after the wedding, he built a lovely family alongside her with three children named Joshua Blank, Max Blank, and Kylie Blank. 
The couple was paving the paths of love and flourishment together. Blank was also a generous U.S. philanthropist known for giving away fifty percent of his wealth, around $250 million, to charity.
With the influence of his second wife, his foundation, The Arthur M.Blank Family Foundation, had also focused on aiding young people across Georgia.
But, after sixteen years of togetherness, they bid adieu to their bond and filed for divorce. 
In 2011, the couple decided to end their journey, but the former husband and wife ensured to prepare a comprehensive draft plan, which meant that they both had to show equal involvement in the upbringing of their children.
Also, they legally implemented their decision and got divorced in 2013. Regarding the partition, Blank's foundation came up with a statement where they said,
Arthur and Stephanie have decided to separate from their 16-year marriage. They remain great friends and are committed to working together to parent their three wonderful children.
It added,
They are also both as committed as ever to their philanthropic work and business enterprises in the community. This is a sad and difficult time for Arthur, Stephanie, and their family.
In addition, Arthur Blank also had to pursue her with his $1.3 billion fortune. However, the statement also stated how their partition caused no effect to Blank's business enterprises.
But, Arthur's former wife, a trustee of the enterprises, stepped down a year after their divorce. However, her Linkedin profile back in 2013 showed how she hadn't still given up on her charitable works.
She still seemed heavily involved in the area, chairing the Early Education Alliance for Ready Students and acting as a Georgia State Advisory Council on Early Childhood Education member.
To this date, Stephanie has her hands in charitable works.
Also, read Wyclef Jean And His Irresolute Relationship History; Also Known As A Philanthropist With Huge Net Worth
She has been honored with various awards, such as the Rev. Robert Ross Johnson Humanitarian Award for her contributions. Just as her work carries volume and value, her words are voluminous and captivating.
On one of her honorable ceremonies, she spits out some beautiful words. She said, 
True kindness is a way of being. It is not the same as nice. Nice is about superficial acts that don't really require much sacrifice. True kindness leaves an indelible impression.
Stephanie is still on her way to marking much more significance in her life. She split with Blank, but she has moved on the way further and has been leading a beautiful life alongside her husband, David.
Blank also moved on and took steps further into his life as he tied the knots with his third wife, Angela Macuga, in 2016. The couple had met back in 2012 for the first time.
Eventually, they fell for each other, and by 2014 they had gotten engaged. After tying the knot in 2016, the pair welcomed an adorable daughter, Emily Macuga.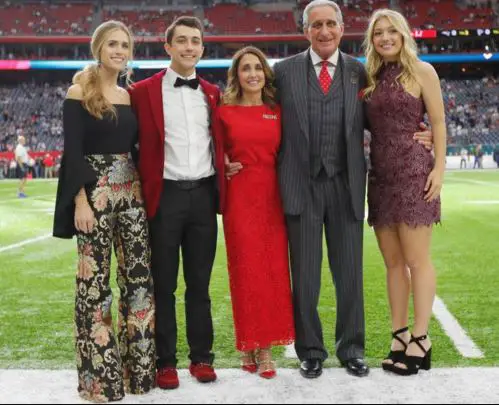 Arthur Blank alongside his former wife, Angela Macuga, and children (Image Source: lifeofdad)
But, in 2019, the journey they paved together ended. The reasons were never made public, but they are estimated to have divorced on good terms.
He might haven't been able to pursue his wedding further, but he has ensured that each of his children is groomed the right way.
His son Kenny has worked as a journalist, his daughter, Denna, graduated from Harvard University and is the executive director of the Kendeda Fund. 
Likewise, other children, he has had been climbing the heights of success. So the billionaire's kids have been marking significant accomplishments in their lives. 
Arthur Blank today is the chairman of AMB Group LLC. He is still a billionaire who is never tired of working and dreaming high and has still not stopped being an inspiration to many young aspirants. Indeed, he is a role model for a reason.