Entertainment
Ben Mallah Is Proud To Call Himself A Multi-Millionaire
Ben Mallah has come a long way from growing up in a poor family to having a multi-million net worth & a loving wife that he met through unusual circumstances.
On a YouTube video posted on 26th July 2021, Investor Ben Mallah proudly boasts his status of being a $250 million waiter.
A Waiter?
Well, not actually as it was just a humorous YouTube video posted on his channel where he takes up the role of a waiter.
Ben Mallah's YouTube Video
The 5-minute video takes the viewers through Mallah taking up orders in a restaurant and serving his friends.
Oh, wait!
TWO HUNDRED AND FIFTY MILLION, and we revealed it like it was just a small amount.
Apologies!
Mallah made all of his money from being a real state tycoon. As every real estate legend, he buys properties and sells them.
A Multi-Million Net Worth
Mallah lives a life that every people envision to live. He owns Tampa Bay's most expensive house, a Florida Palace located in Tampa, Florida.
The online media personality purchased the house for $16.5 million back in 2012.
The house has eight bedrooms and 7.5 bathrooms.
The multi-million dollar mansion is located right by the beach area.
However, the Multimillionaire's business flourishing career got affected by the pandemic, which led to a 20 to 25 percent decrease in his properties.
Due to the financial hit, Tampa Bay Times reported that the real estate developer listed four of his properties for sale.
In order to keep the hotels running, he had to spend roughly a million per month. Sharing his disappointment in the matter, he said,
"It's just a really sad situation,... It's like starting from scratch again."
The losses are a part of a business, and for someone who has a sea of money-losing a bucket of water might not be that bad. Isn't it?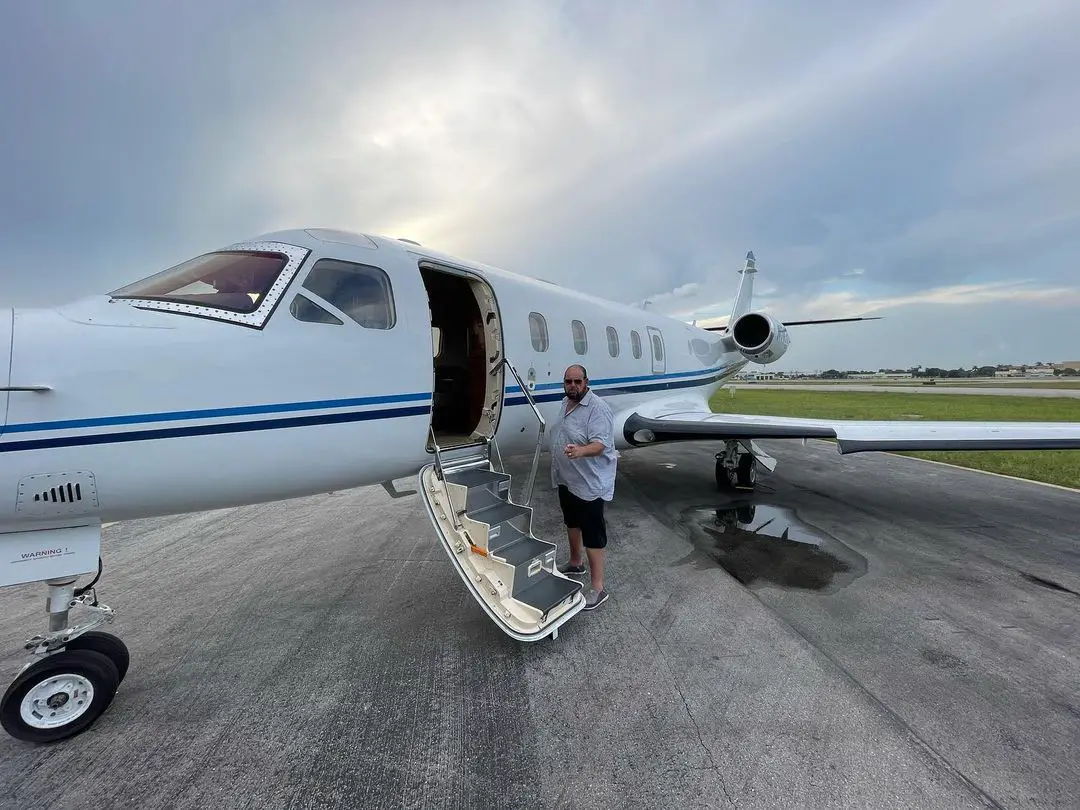 Ben Mallah On His Private Jet (Source- Instagram)
Regardless, Mallah lives a lavish life, driving some of the world's most expensive cars, and owns a private jet that takes him on gorgeous destinations whenever he plans to go on a vacation with his family.
Is Ben Mallah Married?
Mallah, age 56, is a happily married man that has promised to live the rest of his life with his wife Karla Nila. Nila fled Mexico at the age of 7 to live with her grandparents as she was an orphan.
At the time Mallah had just dived into the world of real state with the help of his partner Wilton. Mallah joined Wilton's partnership after he left the Army in Wilton's MarWil Investments.
Who knew the decision eventually would open a path for Ben to find the love of his life.
Mallah's company, MarWil, took over the building when Nila was just 14 years old and Mallah was 34.
Mallah who had just gone through a divorce with his previous wife in 1999 helped Nila's grandfather locate in a more stable job, So he hired him as a maintenance manager.
Also, Mallah helped relocate her family into a safer apartment. Eventually, the two families became one when Mallah married Nila when she turned 18 in 2004.
The two will soon embark on a journey of 18 years of marriage in January of 2022.
The 56-year-old now enjoys his lavish life alongside his wife and his family consisting of a son named Aaron Mallah and two sons from his ex-wife, Ben Mallah Jr., and Vinson Malla.
Mallah's journey to success is a remarkable story that needs to be told again and again. Ben has come a long way from growing up in a poor family and working as a messenger on Wall Street to now being one of the wealthy real state moguls.
Ben Mallah's Wiki
Ben grew up in a family with very little money and his father made his kids carry slices of cheese from home when they went out for burgers and their ketchup bottles were filled with water in incase they run row.
Mallah on multiple times has expressed his spitefulness of being poor. He quit school at the age of 14 and worked in the garment district until he enlisted in the Army at 17.
After returning he made money to pay off rent by picking up cigarette butts and trash around his apartment building.
Seeing his work ethic his now business partner who actually was his business partner of the time, Mark Wilton put him in charge of the building, and therefore, the rest is history!