Entertainment
Bridget Phetasy Spills The Tea On How She Met Her Husband
Bridget Phetasy's recent announcement about being married has tremendously increased the questions regarding her husband and her family.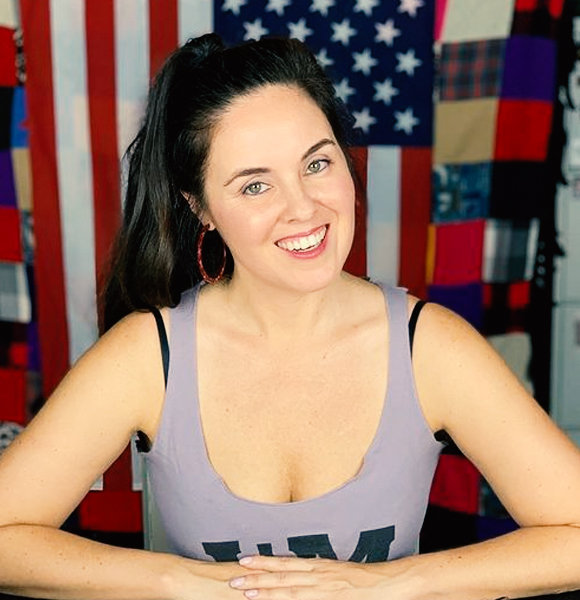 "I'm married..." announcing through her recent Twitter post, the podcast host Bridget Phetasy has her followers curious about who her husband is.

Giving a detailed scoop, she further shared her story of meeting her husband on a podcast with Will Conway.
Who Is Phetasy's Husband?
"He was not like any of the boys I have traditionally been with or men I guess, in many respects."
Bridget said on Baggage Claim Podcast on May 27, 2021.
Bridget met her husband when she was at the lowest point of her life due to addiction and had to join rehabilitation for sobriety. 
She openly admitted to having a long list of guys she had been with in the past, but none were as praise-worthy as her husband. In her words,
He was so kind, and loving, and stable and different.
Bridget Phetasy talking about how she met her husband (Source: YouTube)
Despite tremendous love between the two, they remained apart for a while as the situation was not in their favor. 
When she met him, she had just come out of the rot and was beginning to reinvent her life and, prioritizing her love life did not seem to be a good idea for the direction she was headed to.
Justifying her time apart from her husband, she said,
My first year[of sobriety], I was single, and I needed that. I needed to be uncomfortable with myself. I needed that time to focus on myself, and I felt that I was taking that from him...and I felt like our only chance was really if we took a break.
Well, the separation was not easy, but it did lead to their togetherness again. After almost fifteen months of separation, the two reconnected, never to leave each other's side ever again.
Without further delay, Bridget and her husband tied the knot in November 2020 and later spent their honeymoon in Africa. Bridget calls her wedding the right decision.
Indeed taking a break did let the two have enough time to reflect on their own life and come back together with a more robust relationship.
Bridget Talks About Marriage And Family
Bridget, who is also a writer, has eloquently expressed her thoughts on marriage and men. Having been married twice and been in a few relationships in the past, she has her share of experience on the forte of love and heartbreaks.
In an article in Medium, she writes how she wished she had someone to talk her out of getting married young. But, unfortunately, her relationship with her first husband, with whom she eloped, did not last long.
Doing her own survey among her Twitter followers on things they wished they knew before marriage, she prepared a list of some vital tips to sustain a relationship and build lasting family relationships. Some of her pointers on relationships go as follows,
"Do it for the right reasons, all great relationships require effort, finances fuel fights, know your partner…"
Her understanding of the relationship partially also comes from the troubled relationship between her parents, who divorced while she was at the age of eleven.
With all the knowledge on sustaining a marriage, Bridget's journey with her current husband will probably be smooth sailing.  
Phetasy's Net Worth
While Bridget Phetasy, age 43, found herself in a stable relationship, her career, on the other hand, is also gradually on the rise.
The Ivy League graduate who refers to herself as a comedian on her social media bio is a podcast host of Walk-Ins Welcome. At the same time, she also runs the show Dumpster Fire with Bridget Phetasy.
No wonder she earns an impressive net worth from her podcast and show. Further adding to her sources is her YouTube channel which has 49 thousand subscribers as of 2021.
Besides, her merch sales also somewhat add to her fortune.