Entertainment
Chamath Palihapitiya Relishes A Happy Life With His Girlfriend After Divorce
Chamath Palihapitiya and his girlfriend's humorous posts and captions reciprocate how much they are in love with each other.
After one failed relationship, Chamath Palihapitiya decided to give love another chance.
Now he is in a relationship with his new girlfriend, and their bond seems undetachable. 
Forever Valentine 
"Happy Valentine's @chamath we fall and we get up again and never stop having fun,"  captioned the CEO's girlfriend by sharing a picture of them jumping from (what seems like) a kayak into the water on Valentine's day.
To which Chamath replied with "I love this picture."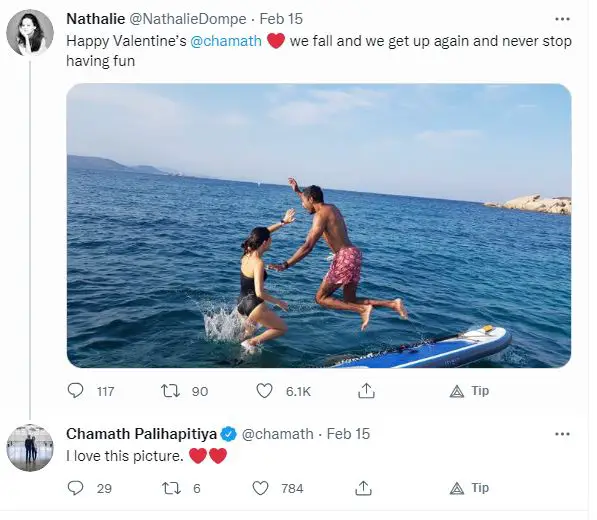 Chamath Palihapitiya's girlfriend's post on Valentine's Day (Source- Twitter) 
The pair are very expressive on social media when it comes to showing love for each other. 
Nathalie Dompe, Palihapitiya's girlfriend, is a model and an Italian Pharmaceutical heiress. She is the Director of Dompé Farmaceutici SpA.
The Italian model and the father of four share a very humorous relationship on their social media.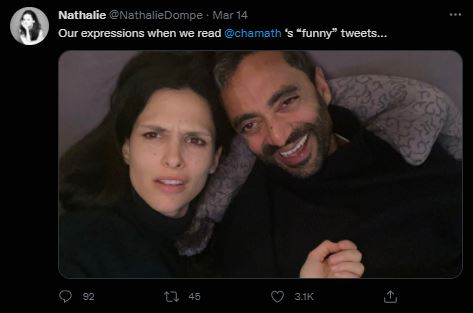 Chamath And His Girlfriend Nathalie Dompe (Via- Twitter)
The two love to post witty captions targeting each other that always keep their followers entertained. 
Further, the couple's love has also flourished in parenthood as the two are now loving parents of a child.
As the 44-year-old has kept children from his previous marriage out of media attention, he has reciprocated the same energy to his child with Dompe.
Chamath has three other children from his previous marriage. 
Falling Out With His Ex-Wife 
The Sri Lankan-born CEO of Social Capital divorced his partner, Brigette Lau, in 2018. 
Lau was not just his life partner, but she was also his partner and co-founder of the CEO's company, Social Capital.
The CEO fell in love with his then-wife during his college days, and he moved with her to California after graduating from college. 
Despite being divorced from his ex-wife, Palihapitiya relationship with his children has always been healthy. 
In an interview with CNBC, he revealed that he does not believe in co-dependency between a father and their child. He said,
"Here's the life that I live with my children, which may not be for everyone, ...I don't like this co-dependency of 'they need to rely on me, and when they can't, I feed them a device because that becomes a babysitter'..."
Further, the Social Capital CEO sat on a podcast interview with VOX and talked about his relationship with his ex-wife. 
The 44-year-old business personnel revealed that due to issues in decision-making, he and his wife could not work through their marriage and decided to go their separate ways.
Besides, even after separation, the 44-year-old still regards his wife as an incredible person. 
"I was married to a wonderful woman and she's an incredible person. But I had such a limited toolkit. And what I mean by that is, I didn't even understand what it meant to be emotionally intimate with somebody." 
The ex-pair now shares the custody of all their children and co-parent them together. 
Lau, after divorce, left the company and now works as a Group General Manager at DLPH.