Entertainment
Cole Beasley's Happy Family Life Alongside His Wife And Kids
Rather than Cole Beasley's NFL accomplishments his heartwarming posts of his kids and wife are the true show-stealers.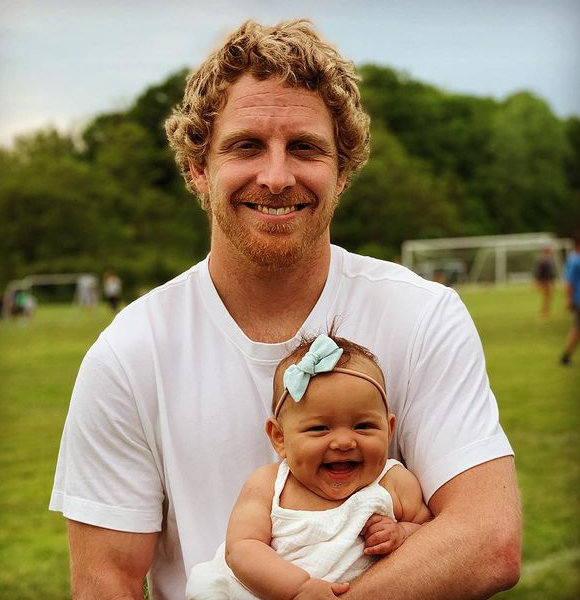 American Football player Cole Beasley loves his wife and his children more than anything in the world, and he happily admits to the fact every time.
On the happy occasion of the birth of his second son on January 17, 2017, he posted a beautiful collage of his first newborn son and his second newborn son with their mother. He wrote,
No filter. Both my boys. love them and their mama more than anything in the world.
Cole Beasley's Wife With Their New Born Sons (Source Instagram)
Since the time, the family has only grown closer together and well, grown in numbers as well.
Family Of Five
"Welcome my sweet baby. Jovie Carter Beasley."
Wrote, the NFL star, on welcoming his baby daughter into the world.
The Buffalo Bills player was over the top to welcome his newborn daughter into the world. On January 16, 2019, he took to his Instagram account to post a picture of his newborn daughter, Jovie Carter Beasley.
He and his beautiful wife sure have their hands full trying to manage day-outs with their children, especially when there are two kids and a toddler.
The father of three shared the struggle of getting a good family picture when they are with their kids. Posting a picture with his wife and children in the observatory, he wrote,
Us realizing that getting them ready for this picture is about to be damn near impossible. Lol love having fun with you still after all this time.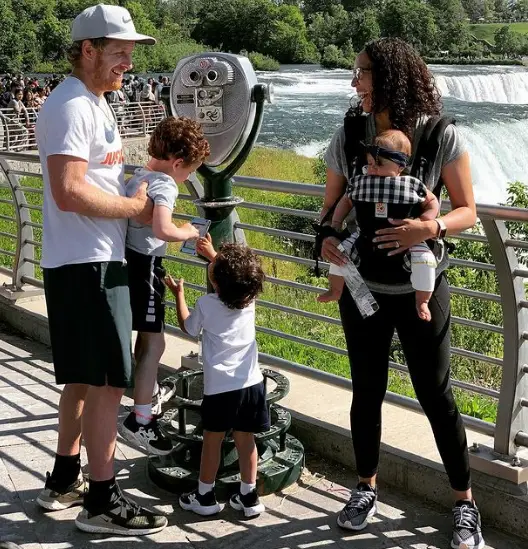 Beasley With His Wife And Kids (Source Instagram)
Beasley's Instagram account is a testament to the love he shares for his children and wife.
He posts day-out pictures with his two boys, taking them to football practices, fishing, playing nerf guns, etc. And the amazing dad loves holding his little 2-year-old daughter close to his heart.
In all the chaos and change in life, the wide receiver, however, does not fail to recognize the love for the mother of his children. After all, that is who he said "I DO" to on his wedding.
Expressing his love for his wife on her birthday, he wrote,
I wanna wish a very happy birthday to my wonderful bride and my very bestest friend in the whole entire universe. I love you more than anything in the world...well except for our boys cause I love them the same. ... I love you mama and I hope you have your most happy birthday!!
Beasley's fulfilling personal life is well balanced by his busy and successful professional career.
Cole Beasley's Net Worth? 
The Buffalo Bills player joined the team back on March 13, 2019, with a contract of $29 million for four years. Before joining the Buffalo Bills, he was signed by Dallas Cowboys after being undrafted in the 2012 NFL Draft.
He continued playing for the Dallas Cowboys up until 2018. He also renewed his contract with the Cowboys back in 2015 for a whopping value of $13.6 million.
Apart from his football career, he is also the owner of his official store named, Base 11 where he sells his merch, which caters to Men, Women, and Kids.
Apart from his own business, he also has a passion for singing. He has released several songs, namely, Expand, Gouda, and Everything Is Everything which can be accessed from various streaming platforms.
Having a huge following of over 591k on Instagram (2021), he is approached for brand endorsements, which also serve as his income source.
With so many ventures up his sleeve, he has accumulated a net worth of $14 million.
Beasley's Bio
Born on April 26, 1989, Beasley's real name is Cole Dickson Beasley. As of 2021, he is 32 years of age. He studied high school at Little Elm High School.
Later, he went to college at Southern Methodist University with a scholarship. As of 2020, he lives in Orchard Park, New York, on his house with his family.
His house that he purchased in 2019 for over a million dollars is a 6 bedroom, 5 bathroom house.
He openly voiced his choice of not getting vaccinated even if it cost him his career in June 2021.
On August 25th, 2021, Beasley, alongside his teammate, was fined 15,000 dollars for not following Covid-19 protocols.