Sports
Everything You Need to Know about Colt Brennan
Colt Brennan, an American football player's sudden demise garnered quite the attention and piqued curiosity regarding his uncertain death. So what was really the reason?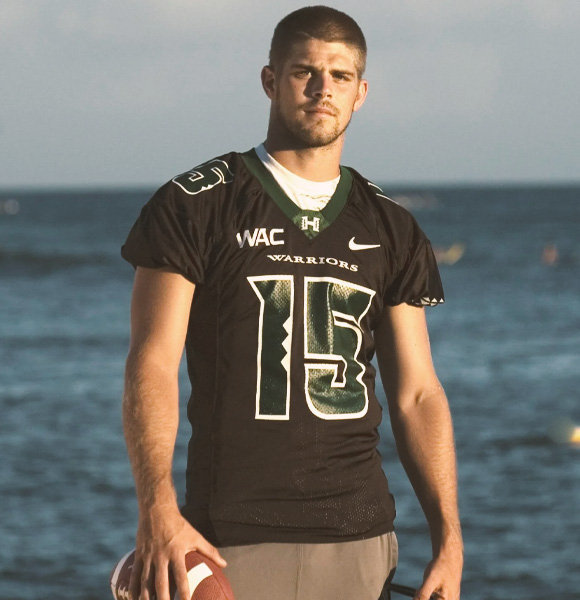 Recent news of Colt Brennan's demise has garnered quite the attention and piqued curiosity regarding his uncertain death. Upon his untimely death, Brennan's father's statement, to some extent, revealed one of the reasons behind his demise. 
Colt Brennan's Death
Colt Brennan, an American football player, passed away on May 10, 2021, at Hoag Hospital located in Newport, California. 
Before his death, the athlete was going through a rehabilitation program, and his parents were both supportive of him and wanted the best for their son. 
Touching on the topic of his struggle, Brennan's father Terry quoted, 
"We knew he was struggling, and his activities showed that he was struggling. Everything we tried just kind of blew upon us."
Also, his father added that his son lost consciousness after being laced with fentanyl, and he breathed his last surrounded by his family. 
Furthermore, Colt's drug addiction was followed by an accident involving his ex-girlfriend, which became the point of his career breakdown.
Brennan, after this accident, paid heavily in his career just because of the injury he faced during this incident.
Colt Brennan's Girlfriend Involvement
Colt Brennan was previously in a relationship with his girlfriend Shakti Stream. Their relationship was open, and the two were often spotted by the media. 
Back in 2010, Brennan's ex-girlfriend Shakti was accused of driving her Toyota SUV carelessly and negligently, causing her to cross Queen Kaahumanu Highway's centerline near Makalawena Beach in North Kona and collide with Dr. Theresa Wang's 1996 Saab sedan head-on.
In November of 2010, the lawsuit was filed in Big Island Circuit Court as per the Staradvertiser.
Brennan and Stream were both injured in the crash, but they were treated and released from separate hospitals. Since then, no information about his girlfriend has been released, and it has been widely reported that both of them split soon after.
Colt never got into another relationship officially after the incident with his ex-girlfriend Shakti.
Insight on Colt Brennan's Family 
Colt's family is composed of a sweet bonding between his mom, siblings, and dad. By the looks of Brennan's social media, the family seemed pretty close with each other. 
Brennan frequently shared pictures of his family members through his Instagram and seemed more of a 'Family Guy' person. 
He did not leave any occasion to express his gratitude and appreciation towards his family. On the occasion of Mother's Day, Brennon expressed his love for his mother and shared a beautiful picture of them dancing together. 
Besides, Colt formed his own family without a wife after he adopted a kid and became his "GodFather." On July 01, 2013, the late player took to Instagram and let his followers know that he was now a godfather. 
His love for kids was not a new thing because he often shared pictures of himself with other kids before becoming a godfather. 
Brennan, a good father, good son, good brother, and a hardworking player, was chad a fulfilling life altogether. Alongside his happy family life, the late player was involved with several professional sports organizations, which piqued the interest of his fans about his net worth.
Colt Brennan's Net Worth
Every player wishes to sign a contract for a million dollars project in their career beginning. Brennan, a former American football player, made his dream come true when he acquired this value early in his career.
Colt Brennan signed his first contract of four years on July 14, 2008, consisting of $1.8 million with a $450,450 average salary.
In addition to his large contracts, he was able to set several records. For example, on November 23, 2007, he set a new record for the second-most career touchdowns.
In the same year, he set an NCAA record for most 400-yard games and tied an NCAA record for most career touchdown passes by a quarterback-receiver combination.
In 2006 and 2007, the NCAA single-season record for most touchdown passes and the NCAA two-season record for most touchdown passes were broken. As a result, we can conclude that 2007 was a watershed moment for Colt.
After 2007, he was signed to several clubs and projects, but he was often released from the teams. Finally, Brennan was assigned to the Arena Football League's Los Angeles Kiss on October 29, 2013. However, he was let go by Kiss on March 8, 2014, after being diagnosed with a brain injury resulting from a car accident involving his ex-girlfriend. 
Brennan was involved in numerous legal issues after 2010, and his career suffered as a result.
After the incident, he went through several ups and downs, but his family and followers were always there to support him. 
We at Live RamUp forward our deepest condolences towards Brennan's family and close ones and wish for his soul to be at peace.