Entertainment
Corey Scherer Makes His Breakup Public Through Twitter
Even after Corey Scherer's split with his ex-girlfriend fans still wonder if the two are getting back together. Corey Scherer Takes To Twitter And Makes His Breakup Public
On July 25, 2019, Corey Scherer took to his Twitter and confirmed his split with his long-time girlfriend.
"I want to start this off by saying thankyou guys for all the years you have supported Devyn, and I,"
Said Scherer on his Twitter account.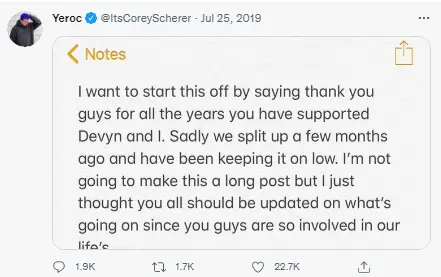 Corey Scherer's Breakup Post On His Twitter (Source Twitter) 
He let his fans know that the pair split up months ago, but he still felt the need to tell his fans as they were invested in their relationship since the beginning. 
Corey's Relationship With His Ex-Girlfriend 
Corey was in a relationship with his girlfriend Devyn since 2015. 
Devyn is a YouTuber and a beauty Influencer. The YouTube world has been aware of the two's relationship since the start. 
Like Devyn, Scherer is also a YouTuber, and he used to feature his then-girlfriend on his videos. The two also had a YouTube channel together named Corey and Devyn.
Corey and Devyn were very open about their relationship with their fans and often hosted "Couples Q&A" segment on their YouTube channel. 
On a segment posted on 3rd December 2017 to their YouTube channel, the couple responded to a fan asking how the two fell in love. 
To which Devyn responded- 
"He was always really energetic and really happy and positive ... we just got along and clicked in a lot of ways" er. 
Corey further added to the answer and said,
"What made it official, like (looking at Devyn) when I knew that you are the girl that I want ... would be when we became best friends"
Caption- Corey And Devyn Answers Fans Questions On Their YouTube Channel
The segment did give away a lot of their dynamic together and showed how much the couple loved each other. 
Because of their public relationship, many of their fans have grown to love them and continue to question the two about getting back together. 
However, both Corey and Devyn have not addressed fans' questions to date and are probably single. 
More On Corey Scherer
Corey Scherer, age 25, started as a Dancer and Choreographer who progressed to Vine. His Vines showed his humorous side to people, and in no time, he was a Vine phenomenon, garnering over 2 million followers over time.
As all the Viners progressed to YouTube, so did Scherer. He created a video titled "Whatsup Amymarie Gaertner?!" where he collaborated with big names from Vine, including BigNik, Allicattt, and Gabbie Hannah. 
Slowly, he evolved to become a YouTuber and a social media influencer. 
Born in 1995, Scherer's birthday falls on September 13.
At just the age of 25, he has amassed over a million Instagram followers.
As of recent, he is focusing on his music career. He has released his music named "Buss It" and is also a producer for a music label named NOGXNRE.