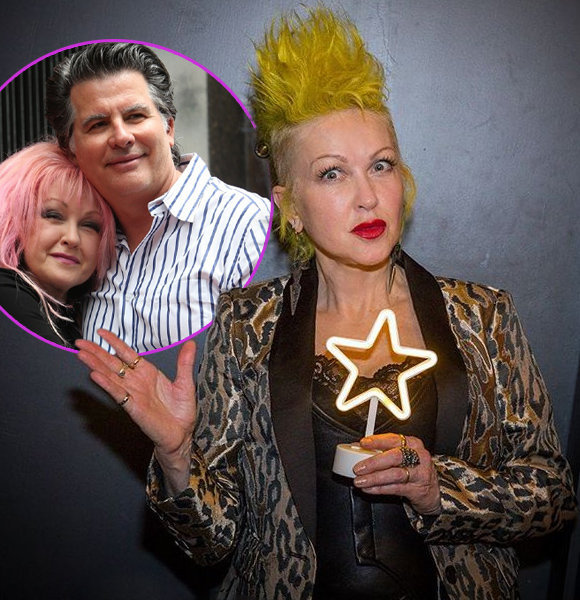 "All I can say is that he is my best friend, he's wildly creative and I just wanted to share my whole life with him," said Girls Just Wanna Have Fun singer Cyndi Lauper talking about her husband with Closer Weekly.
Having been through a rough road with a failed relationship in the past, the singer now knows the secret to a happy and lasting marriage. She quoted,
I heard George Harrison's wife say once that the secret [to marriage] is to stay married and work it out.
Three decades and a son later, the couple is still together, rocking their married life.
Inside Cyndi's Happy Married Life
Cyndi's wish of getting to share her life with her then-lover David Thorton became a reality when they exchanged vows on November 24, 1991.
The decades-long love story began when the two first met while filming Off and Running, where they starred together.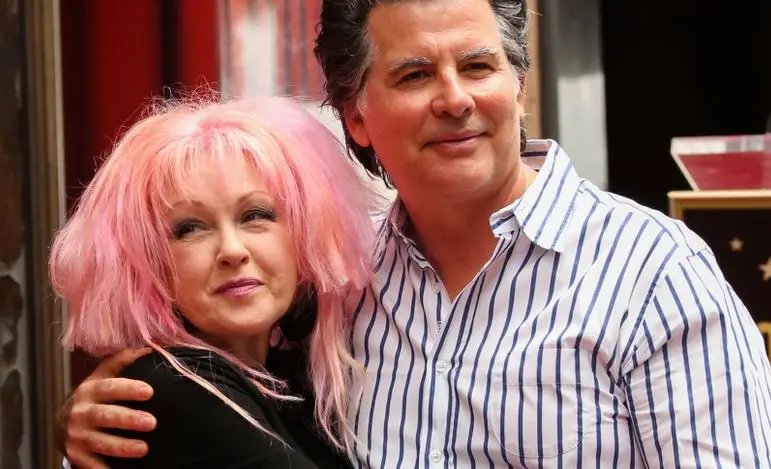 Cyndi and her husband, David Thorton (Source: Closer Weekly)
Thanks to the 1991 released film, it brought her to her future husband. At the time, Cyndi was going through a hard time due to her separation from her former boyfriend, Dave Wolff, who used to be her manager.
Meeting David 'changed everything for her. But, both coming from their share of failed relationships previously, they took some time off to spend a month alone with each other at Cape Cod.
After discovering she could totally stand his company, the pair did not wait to tie the knot any longer.
The married couple later became parents to their only child, Dex Lauper.
As the singer knew marriage demands a lot of effort, she also considered retiring from her music career to raise her son and be present when her son who is now 23 years of age.
In an interview with ABC News, Cyndi shared the discussion she had with her husband about their parenting situation, saying,
We also talked about 'When you're done, you're done. You don't have to do anymore. You do what you want to do and that's it. [We're] a couple that's trying to raise a kid and trying to still be together.
However, motherhood was not an easy ride for the superstar. With a demanding career that often drove her away, leaving her growing son at home, she constantly worried about not giving her son enough time.
Cyndi does not have any children apart from her son, Dex. But, at least she found solace on the fact that her hard work and hard-earned fortune were to give Dex the life she never had growing up.
More so, the proud parents' effort to proper parenting did not go worthless. Their little one is known to have a down-to-earth personality and is much wiser for his age. 
Get to Know Cyndi's Husband and Son
The happy family of three as we see today would not have been possible without Cyndi's supportive husband, David.
Despite being an actor, which demanded a lot of his time, as a sincere husband and parent, the actor took a break from his career to look after his son.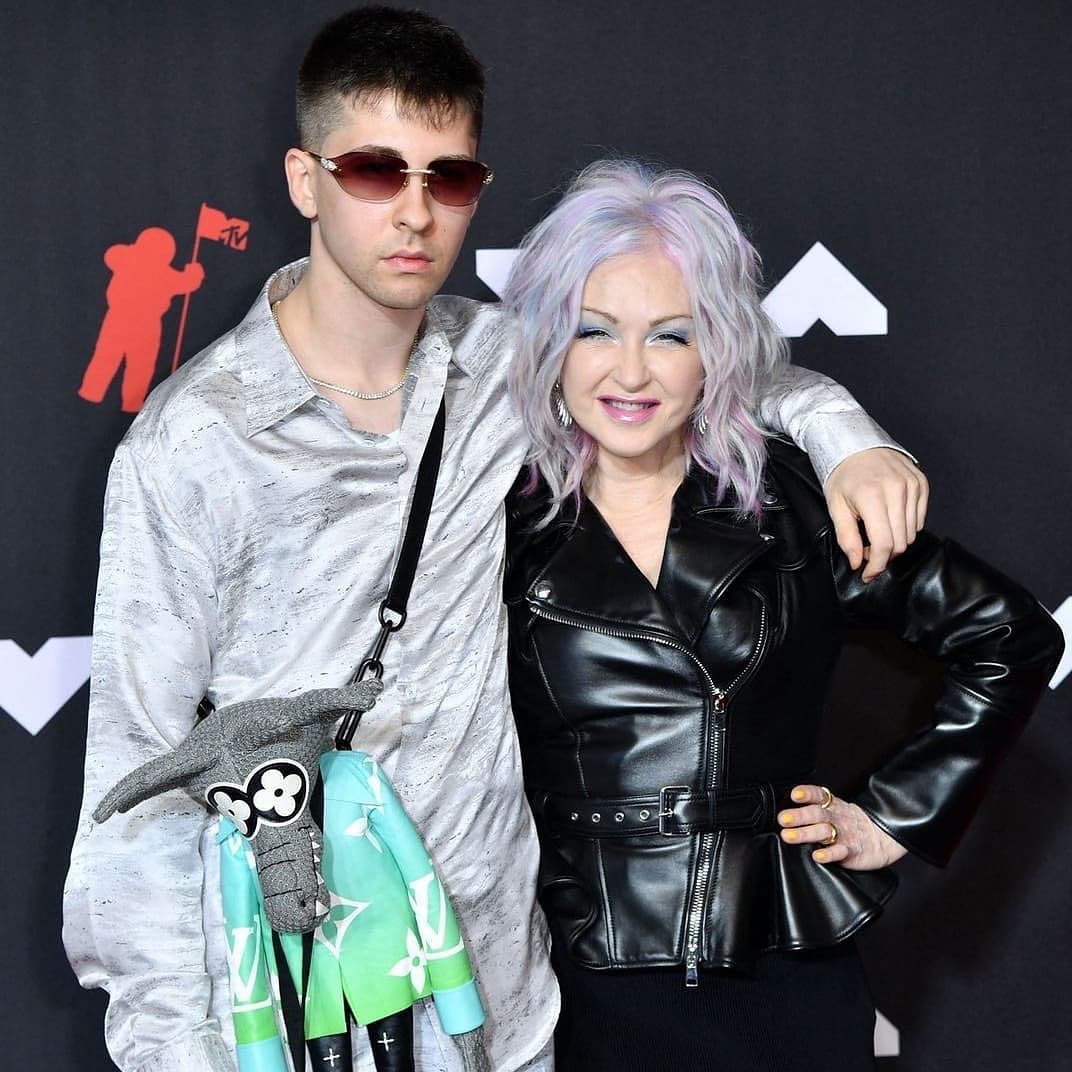 Cyndi Lauper png with her son, Dex Lauper (Source: Instagram)
Talking about his acting career, the South Carolina-born is most recognized for his work in Home Alone 3, Here and There, and John Q.
Having two influential personalities as parents, Dex also grew up to have a shining career on his own. After all, as a son of the music diva, it's not surprising to see him pick music as a career.
Starting his engagement in music from a young age, he released his debut album, Wavy, while he was only eighteen. While he is paving his way into the music industry, the raw talent's future already seems promising with the music he has blessed his fans with.
Despite Cyndi's prosperous family life being under the limelight time and again, she is often misunderstood for being a lesbian.
Though the singer has been married to her husband for a long time, her passionate support for the LGBTQIA+ community has people flood the internet with the question 'is Cyndi Lauper a lesbian?'
Cyndi Lauper, A LGBTQIA+ Activist
No, the singer is not a lesbian but her belief in human rights for all, despite the gender differences, makes her inspirational activist fighting for equality of the LGBTQIA+ community.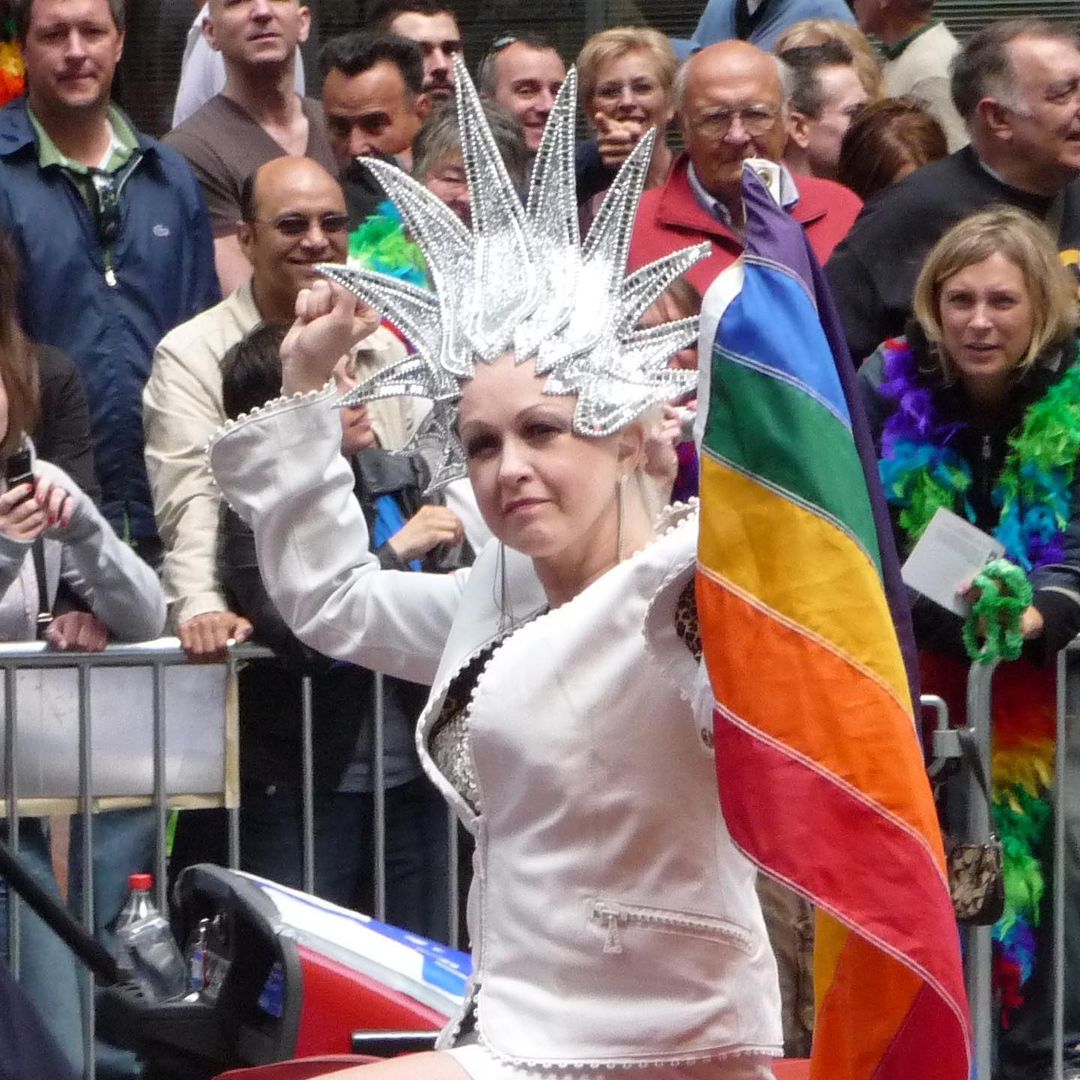 Cyndi's celebrating Pride month (Source: Instagram)
Using her platform with wider reach, her initiated awareness programs include the Give a Damn Campaign and True Colors Tour.
She even opened True Color Residence, located in New York, the first-ever housing facility mainly built for the youth of the LGBTQIA+ community between the ages of eighteen and twenty-four.
As much as Cyndi is known for her legacy in music, Cyndi has also earned the title of 'gay icon' for her avid support and undying effort to uplift the LGBTQIA+ community.